Signed, sealed, delivered: Crew makes it official with K-Rod
Having achieved 'peace' with club, veteran reliever eager to help Milwaukee find glory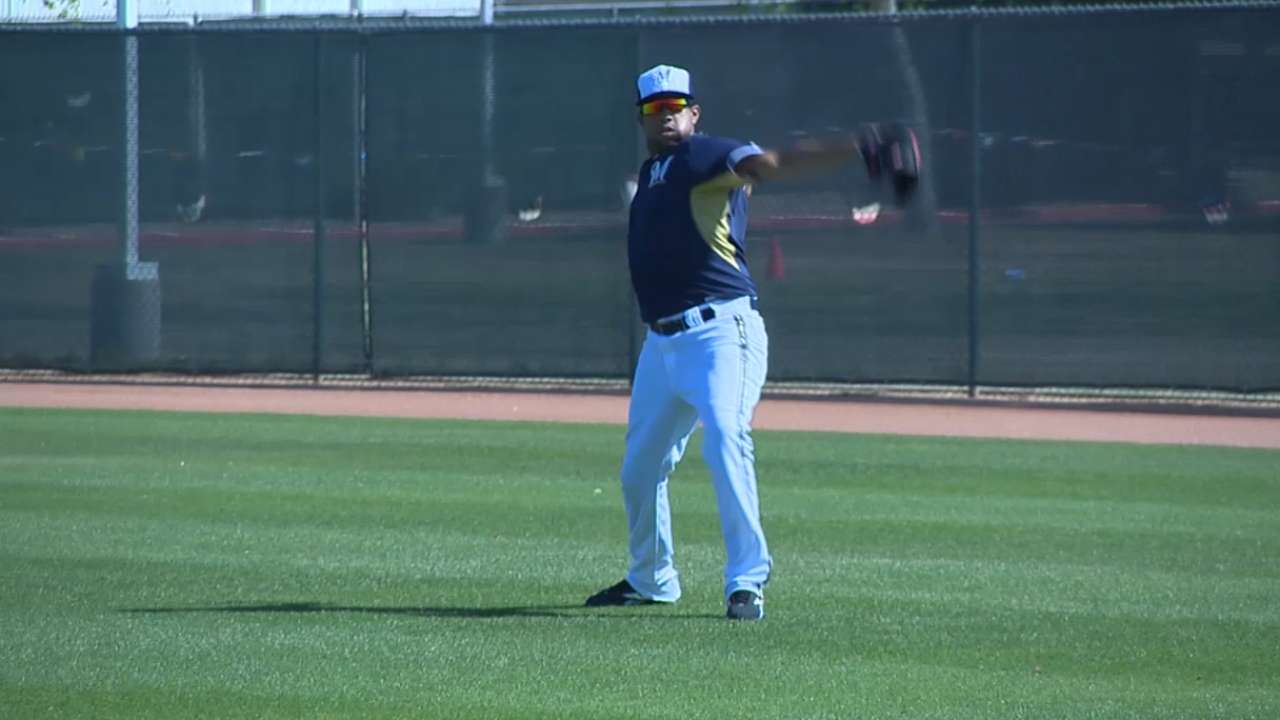 PHOENIX -- After signing his two-year, $13 million contract Saturday morning, Francisco Rodriguez said comfort and a sense of unfinished business were the factors that brought him back to the Brewers.
"It's not about the money. I already learned my lesson once, and I didn't want to go through the experience I had before," said Rodriguez, whose previous multiyear deal was three years and $37 million with the Mets. "It's about peace and feeling comfortable in a place. You can't buy peace."
He has found peace with the Brewers, who technically have acquired Rodriguez five times. They traded for him on the night of the 2011 All-Star Game, brought him back that winter when he accepted arbitration, then signed him as a free agent in 2013, '14 and '15.
On his current contract, Rodriguez is guaranteed $3.5 million in 2015 and $5.5 million in '16, plus $2 million in deferred salary and a $2 million buyout on the club option, the Milwaukee Journal-Sentinel reported.
What keeps bringing Rodriguez back?
"Me and my family are really, really, really happy," he said. "It's the place we feel comfortable, it's the place we want to be," Rodriguez said. "It's going to be fun. I know we have to finish what we started last year, with the fall down that we had the last month."
Installed as the Brewers' closer on Opening Day last season because of Jim Henderson's shoulder woes, Rodriguez didn't allow a run until his 20th appearance, made the National League All-Star team and went on to convert 44 of 49 save opportunities while moving up to 10th on the all-time leaderboard with 348 saves. He's 10 saves shy of his mentor, former Angels closer Troy Percival.
One of Rodriguez's blown saves -- Aug. 27 at San Diego, when Rodriguez may have been squeezed by the home-plate umpire in a critical situation -- stands out as key in the Brewers' late-season slide. It was the difference between winning and losing a road series, and wound up being the second of a nine-game losing streak that bumped the Brewers from first place for the first time since early April.
"But we're confident we're going to bounce back and finish what we started," Rodriguez said.
Rodriguez must get started himself. He had been on a flat ground throwing program at home in Venezuela but has not pitched off a mound since the end of last season. Manager Ron Roenicke said it would be at least a week before Rodriguez gets into a game, and that his first appearance could be in a controlled situation in Minor League camp.
"I've always pitched five to six innings [in Spring Training], that's it," Rodriguez said. "That's always been my program."
With that, his latest Brewers stint was underway.
"Feels like home," he said. "That's the right word."
Adam McCalvy is a reporter for MLB.com. Read his blog, Brew Beat, and follow him on Twitter at @AdamMcCalvy. This story was not subject to the approval of Major League Baseball or its clubs.