Taylor out 4-6 weeks with fractured bone in right wrist
24-year-old had been battling with Miller for starting shortstop job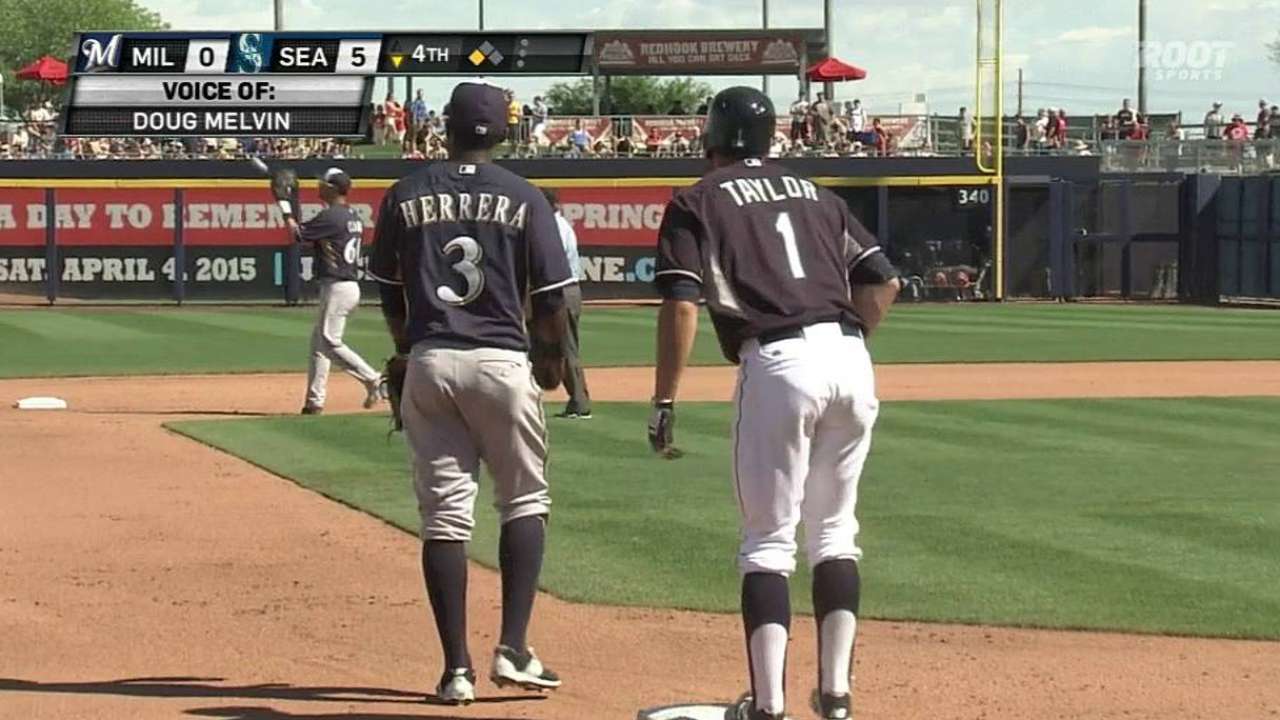 SCOTTSDALE, Ariz. - This isn't the way Brad Miller wanted to win the competition for the Mariners starting shortstop position.
With teammate Chris Taylor sidelined four-to-six weeks with a broken bone in his right wrist, Miller was left as the lone survivor in the two-man race Saturday. But Miller called it "brutal" news when hearing of his friend's injury, which occurred Friday when Taylor took a fastball off his hand.
"We spend every minute together," Miller said. "There's one shortstop on a team. I get it. But for us, we push each other, we work hard and we cheer for the other one. The last thing we want to see is somebody [get hurt], because he plays the game the right way, that's for sure. He's a guy I definitely respect because I want to play like that, too. I want to play hard all the time."
Barring further misfortune, Miller will now play all the time for the Mariners to start the season. Taylor's wrist will be in a brace for a week or two and it'll likely be several weeks past the team's April 6 opener before he can get back on the field.
"It's tough news," said manager Lloyd McClendon. "He's worked extremely hard and was in competition for the shortstop job and playing extremely well. It's tough. But he'll be back."
McClendon had intended to let Miller and Taylor battle to the final days of Spring Training and Taylor was off to a strong start, hitting .421 (8-for-19) with four extra base hits in eight games. Miller went 1-for-2 with a walk in Saturday's 11-4 victory over the D-backs and is batting .412 (7-for-17) with two doubles and two home runs.
"They've both played extremely well," McClendon said. "You just hate to see the competition end this way. But those things happen. It's part of the game."
Taylor, 24, was hit in the hand area by a fastball from Milwaukee's Jim Henderson in the sixth inning of Friday's 10-5 victory over the Brewers. The pitch was ruled a foul tip and after taking a few practice swings, Taylor stayed in the game and wound up singling up the middle and sending Henderson sprawling on the next pitch.
"As far as my focus, it doesn't change anything," said Miller. "It's just a bummer because I know Chris and how hard he works. I mean, he hit a line drive and knocked the guy on his butt right after it happened. We were, 'OK, he's fine.' This is just not fun."
Miller said he hung out with Taylor on Friday night and his teammate hoped the wrist was just sore. But an MRI test Saturday revealed a fractured triquetrum bone.
"It's a tough break for the kid," general manager Jack Zduriencik said. "He had the broken pinkie finger a year ago in Triple-A. Now he's battling for a job and has done a really nice job for us. It would have been interesting to watch it unfold. Unfortunately it's a setback for him. He's a good kid, a tough kid. He'll just have to get back."
Miller and 21-year-old prospect Ketel Marte are now the primary shortstops in camp, with veteran utility man Willie Bloomquist also capable of playing the position.
"The positive to all of this is when you have depth, you can sustain an injury like this," Zduriencik said. "I hate to see it happen to anybody. I've said from Day 1, this is a nice ballclub. We need to stay healthy. It's unfortunate for him. I feel for him."
Taylor broke his finger on May 19 last year while playing for Triple-A Tacoma, delaying his callup to the Mariners. After he was added to Seattle's roster on July 24, he played 47 games and hit .287 in 136 at-bats.
Greg Johns, a journalist in the Seattle area for more than 20 years, began covering the Mariners for MLB.com in November 2010.
This story was not subject to the approval of Major League Baseball or its clubs.