Napoli slugs two homers in loss to Pirates
Top prospect Owens works three hitless innings for Red Sox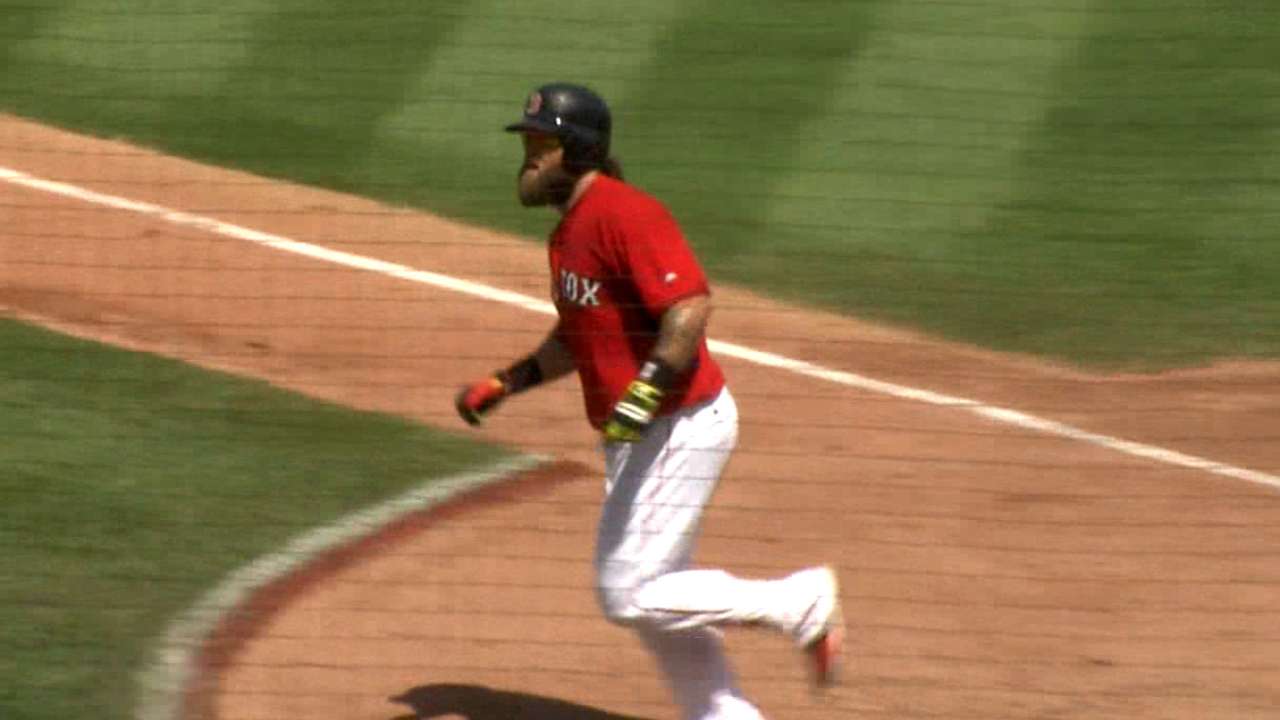 FORT MYERS, Fla. -- Mike Napoli slugged his first two home runs of the spring off Gerrit Cole, but the Pirates scored three runs in the eighth in a 5-2 Grapefruit League win on Saturday afternoon at JetBlue Park.
With one out in the second inning, Napoli pummeled a 1-2 pitch from Cole way over the Green Monster in left field for a solo shot and a 1-0 lead. He crushed a 2-2 offering in the fourth, pulling this one closer to the line. Napoli, who went deep 17 times in 119 games last year, is now 7-for-15 this spring.
"I want to be able to hit offspeed in the zone," Napoli said. "For me, I had a pause. … I was ready to hit a fastball but I was able to pause and be in a good hitting position to fire on something offspeed in the zone. So that's a good sign for me. I have to keep working on it."
Those were the only blemishes against Cole, who increased his workload to 3 2/3 innings in his third Grapefruit League start. The right-hander gave up four hits, walked none, struck out one and hit a batter while throwing 65 pitches.
"I just happened to goose [sic] both," said Cole. "First the curveball. Then I threw a good changeup to [Pablo] Sandoval earlier in the fourth, and I figured I could try it against Napoli -- and I goosed it again."
With the game tied at 2 in the top of the eighth, the Pirates scored on a grounder to second by Gustavo Nunez before Adam Frazier delivered a two-run single to make it 5-2.
Henry Owens, the Red Sox top pitching prospect, matched up against Cole as he got his first start of the spring. Owens walked three, but gave up no hits and picked up three strikeouts -- two against Pittsburgh's Gregory Polanco, showing off his offspeed stuff in the process.
The Pirates tied the game in the fourth against Red Sox closer Koji Uehara, with Pedro Florimon delivering an RBI double to left field to score Starling Marte. But center fielder Jackie Bradley Jr. later saved a run, making a strong throw home on Alen Hanson's fly ball to hold Tony Sanchez at third. Catcher Blake Swihart then relayed the ball to third to nab Sanchez for an inning-ending double play.
That wasn't the only fine defensive play for Boston, with starting center fielder Mookie Betts robbing Jaff Decker of a hit with a diving catch to lead off the game. It was Betts' second such play in as many days.
Pittsburgh tied it again in the sixth off Anthony Varvaro, as Marte tripled high off the Monster in left-center field and scored on Sanchez's single. Marte also walked, doubled and stole a base in the game.
Up next: The Red Sox will hit the road on Sunday, traveling to Clearwater, Fla., to take on the Phillies at 1:05 p.m. ET. Fans can watch that game live on MLB.TV. Left-hander Wade Miley, one of the club's offseason acquisitions, is scheduled to make his second start of the spring after tossing three scoreless innings against the Cardinals on Monday. Heath Hembree, Tom Layne and Brandon Workman are among the relievers expected to follow him.
Andrew Simon is a reporter for MLB.com. Follow him on Twitter @AndrewSimonMLB. This story was not subject to the approval of Major League Baseball or its clubs.