Farrell pleased with team's progress this spring
Opening Day lineup coming together; Castillo nearing return from left oblique strain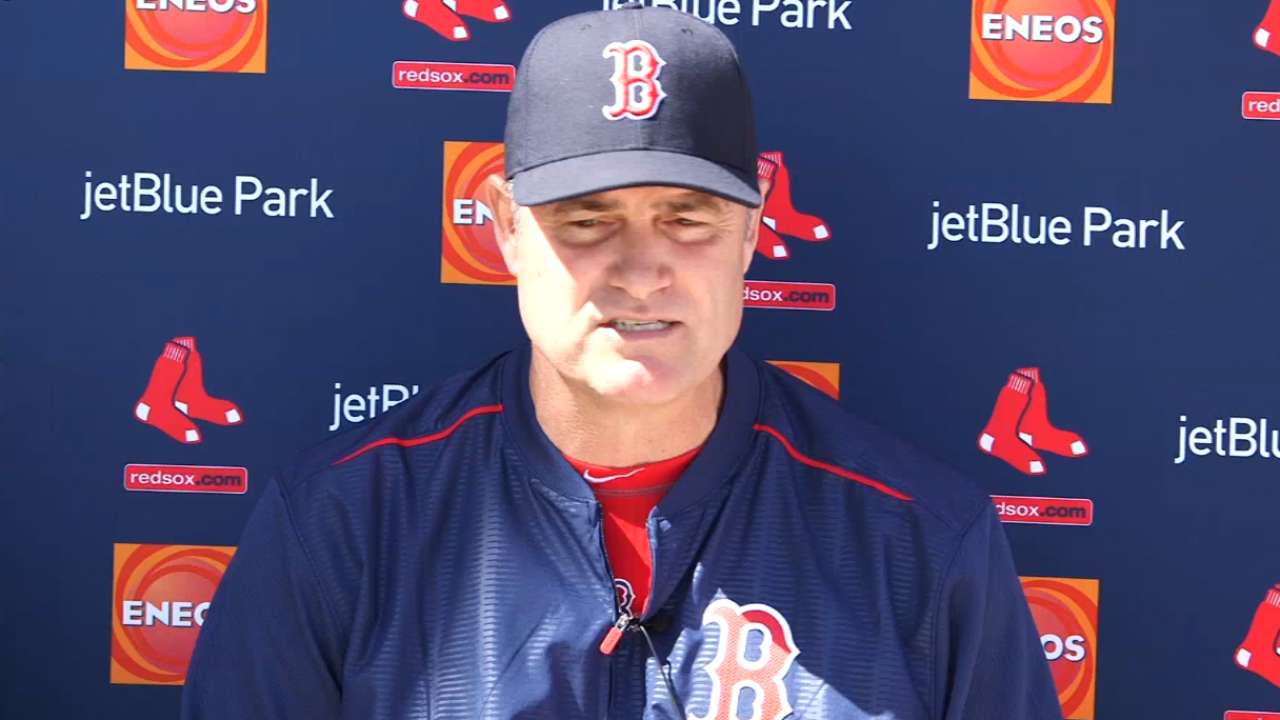 FORT MYERS, Fla. -- With more than three weeks remaining before Opening Day, Red Sox manager John Farrell feels like his new-look roster is coming together smoothly.
A team that lost 91 games and finished fifth in the American League East last season added three new faces to its starting rotation while signing third baseman Pablo Sandoval and left fielder Hanley Ramirez, and trading for catcher Ryan Hanigan.
"I've been very pleased with the way camp has gone, first and foremost," Farrell said before Saturday's game against the Pirates at JetBlue Park. "The work ethic, the attention to detail by our guys, the number of new players that have been here have begun to, I think, gel very well. Our clubhouse is growing more united and tighter by the day, and I think that's just a product of being around a group of guys that are hungry, that are talented and have every reason to think they're going to be good teammates."
Beyond the chemistry aspect, the Sox have impressed Farrell with the way they have held up to their workloads. On Saturday, Xander Bogaerts, Mike Napoli, Dustin Pedroia, Ramirez and Sandoval all were in the starting lineup for the third day in a row, with each scheduled for two at-bats.
"Guys have bounced back pretty good from a physical standpoint," Farrell said.
"I think it speaks to how well guys came into camp, the shape they're in. We're going to go through the normal soreness of hours on the field and games played. We can't replicate that in the offseason, but our guys, they've handled the volume very well."
With most of the club's regulars playing on Saturday, and Mookie Betts and Pedroia occupying the top two spots in the lineup, veteran right fielder Shane Victorino was batting seventh. Victorino has spent much of his career at or near the top of the order, but Farrell suggested he could be "settling in" to the No. 7 hole.
Though Victorino is coming off an injury-plagued 2014 during which he played only 30 games, Farrell said that placement is about the lineup's depth rather than concerns about Victorino.
"Before we even play a game, let's face it, we've got to go out and perform," Farrell said. "But the track records are there. They're strong. I think each day that we have a lineup that we project to begin the season with on the field, there's added trust being built among them. They're getting to know what the guy in front of them and behind them is capable of. That's why I think it's important for us to have a consistent lineup so those spots in the order gel and those relationships build."
Worth noting
• Outfielder Rusney Castillo continues to increase the intensity of his soft toss and tee work. The Red Sox hope he can take batting practice "sometime in the coming days," according to Farrell, who added that, "his return to the field is nearing." Castillo, who suffered a left oblique strain against Boston College on March 3, has not yet played in a Grapefruit League game.
• Farrell said that left-hander Robbie Ross is dealing with some left knee soreness. Ross, who last pitched on Sunday in his second spring outing, has had his next appearance pushed back.
Andrew Simon is a reporter for MLB.com. Follow him on Twitter @AndrewSimonMLB. This story was not subject to the approval of Major League Baseball or its clubs.