Bogusevic's pair of jacks helps power Phillies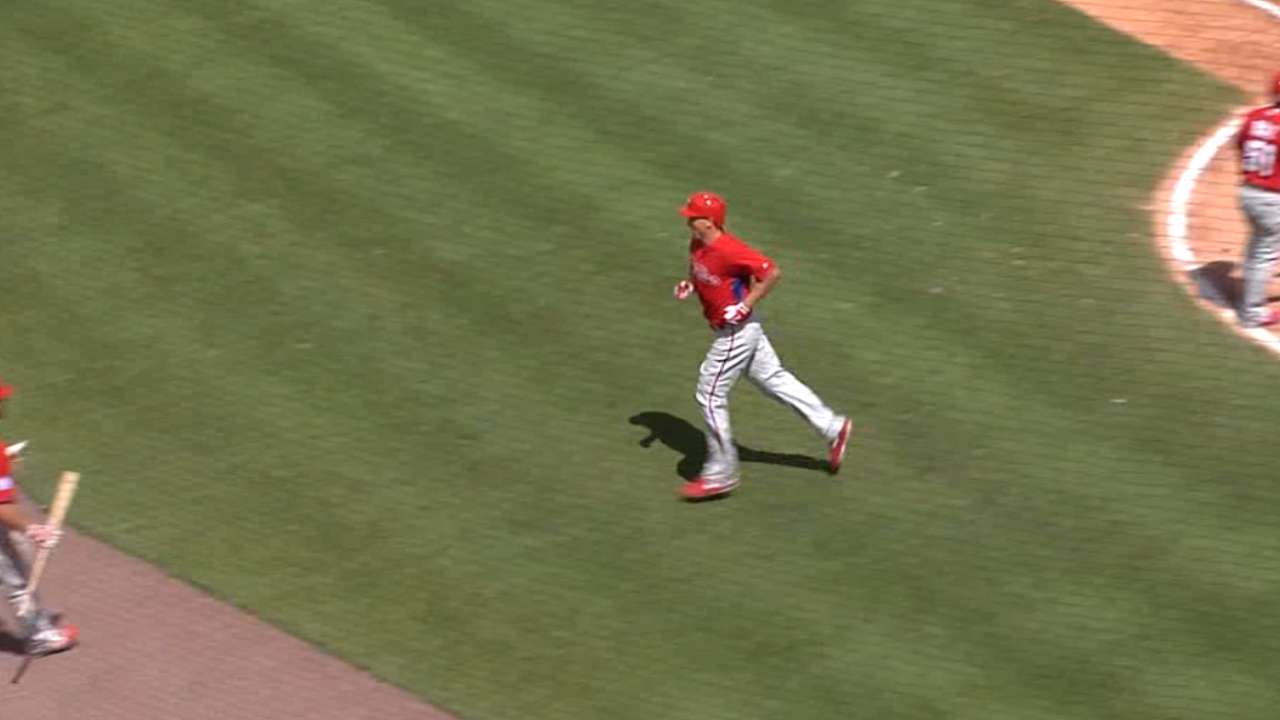 LAKELAND, Fla. -- Brian Bogusevic, a last-minute replacement in the Phillies' lineup, hit two home runs off Tigers starter Anibal Sanchez. However, it was a Russ Canzler single that set up the go-ahead run in the ninth for Philadelphia's second win over the Tigers in three days -- a 5-4 decision on Saturday afternoon at Joker Marchant Stadium.
Bogusevic wasn't in the lineup until Jeff Francoeur was scratched with a sore left oblique. He took over Francoeur's original cleanup spot and jumped a 91-mph fastball for a two-run homer, part of a 33-pitch opening inning for Sanchez in his third spring start. The ball landed near the bottom of the left-field berm, just out of Xavier Avery's reach at the fence.
"He's here in Spring Training having a look like everybody else. He's shown a good bat," manager Ryne Sandberg said of Bogusevic. "The ball really comes off his bat well. He's shown a good arm in the outfield. He's an interesting guy. We have some interesting players in camp, so we'll continue to look and watch."
Sanchez allowed hits to three of Philadelphia's first four hitters. He allowed one other hit over the rest of his four-inning performance. That, too, came from Bogusevic, who sent a slider out on a line over the right-field fence in the corner for a third-inning solo shot.
"We want to be a team that doesn't sit back and count on the home run, but with more contact and possibly cutting down on strikeouts and having a good approach, some of that can happen," said Sandberg, whose Phils have hit three homers in the last two spring games after belting two in the first 10 contests. "So that's a plus sign of what we're working on. When you hit the ball correctly and you hit down at it through the ball, you can backspin some balls out of the park."
The Tigers chipped away at the 4-1 deficit with help from Phillies starter Paul Clemens, who walked four batters and threw just 18 of 48 pitches for strikes over 2 1/3 innings. Jefry Marte's fifth-inning solo homer completed the comeback minutes after Marte's off-balance threw robbed Odubel Herrera of a bunt single leading off the top of the innings.
The two bullpens traded scoreless frames from there until Canzler hit a one-out single in the ninth off Alex Wilson and went to third base on Chris McGuiness' single. Catcher Shane Zeile's passed ball allowed Canzler to score.
Up next: Miguel Alfredo Gonzalez, competing for a spot in the rotation, will start for the Phillies split-squad that plays the Red Sox at Bright House Field on Sunday at 1:05 p.m. ET on MLB.TV. The right-hander will be looking to rebound after going 0-2 with an 11.25 ERA to open Grapefruit League play. The other split squad will travel to George M. Steinbrenner Field in Tampa, Fla., where right-hander Sean O'Sullivan will start against the Yankees.
Jason Beck is a reporter for MLB.com. Read Beck's Blog and follow him on Twitter @beckjason. This story was not subject to the approval of Major League Baseball or its clubs.