Storen sidelined after procedure on left hand
Injury to non-throwing hand not serious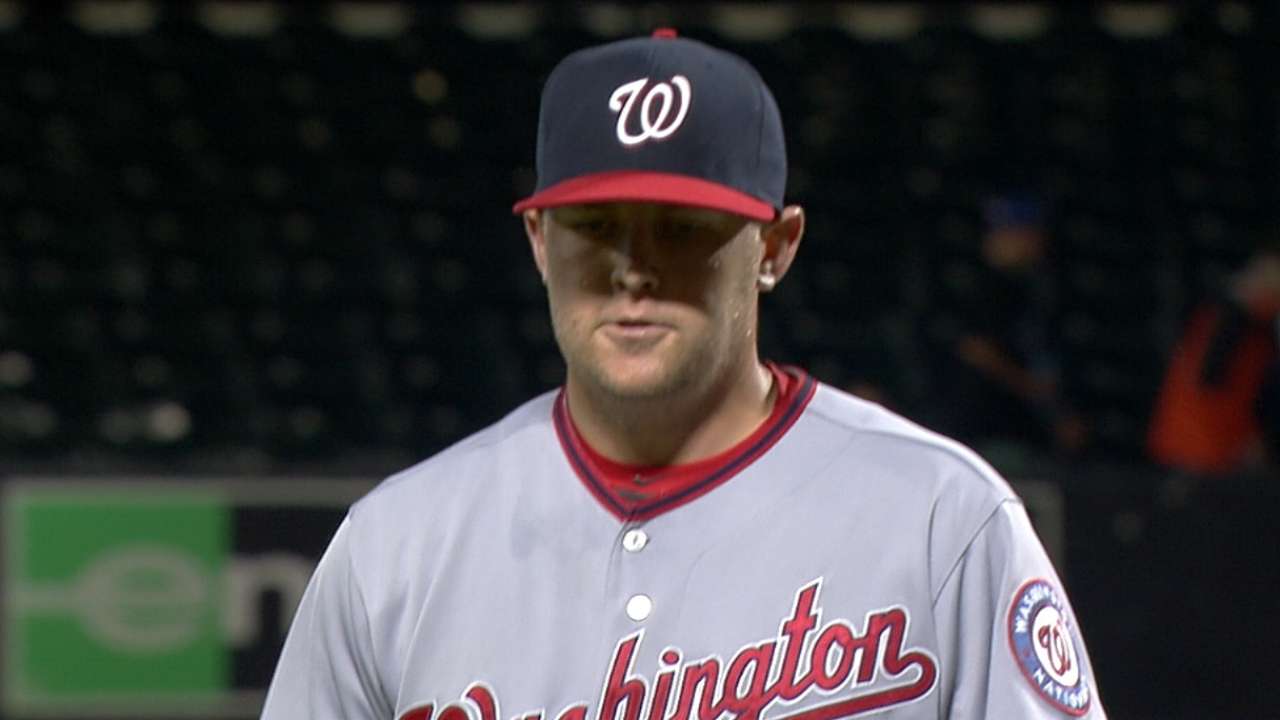 VIERA, Fla. -- Nationals closer Drew Storen returned to the clubhouse Saturday morning with his left hand wrapped one day after having a small procedure to remove the hook of the hamate bone.
Storen revealed he sustained the injury during a hitting drill Tuesday, when the knob of the bat drove into his palm. He did not seem too concerned about the injury to his non-throwing hand, which appears as if it will have minimal impact. He will be sidelined for the next few days while the stitches heal.
"I'm in pain, so might as well get it fixed," Storen said. "That way it's healing pain instead of just pain."
The moment the injury happened, Storen said he knew something was wrong. Still, he pitched the next day against the Tigers, attempting to catch throws back from the catcher in the web of his glove to avoid making contact with his palm. Storen said the injury had no effect on his pitches -- he allowed one run on two hits in one inning -- but he worried that he risked further injury on a batted ball back to the mound or if he would have to apply a tag.
Ultimately, Storen decided to go through the procedure, which he said took about 20 minutes, when he found out how quickly he could return to pitching.
"There's really no need to be a hero when it can be such a quick turnaround," he said.
The Nationals can breathe a sigh of relief. Storen is the third player this week to get injured, joining Anthony Rendon (left knee) and Denard Span (abdomen).
Because Storen is a reliever and rarely swings a bat, he will not need to do any rehab. Once he returns to pitching in a few days, someone will likely catch throws back to the mound for him.
Jamal Collier is a reporter for MLB.com. Follow him on Twitter at @jamalcollier. This story was not subject to the approval of Major League Baseball or its clubs.