Wieters gets back behind plate in game action
Grapefruit League debut expected Tuesday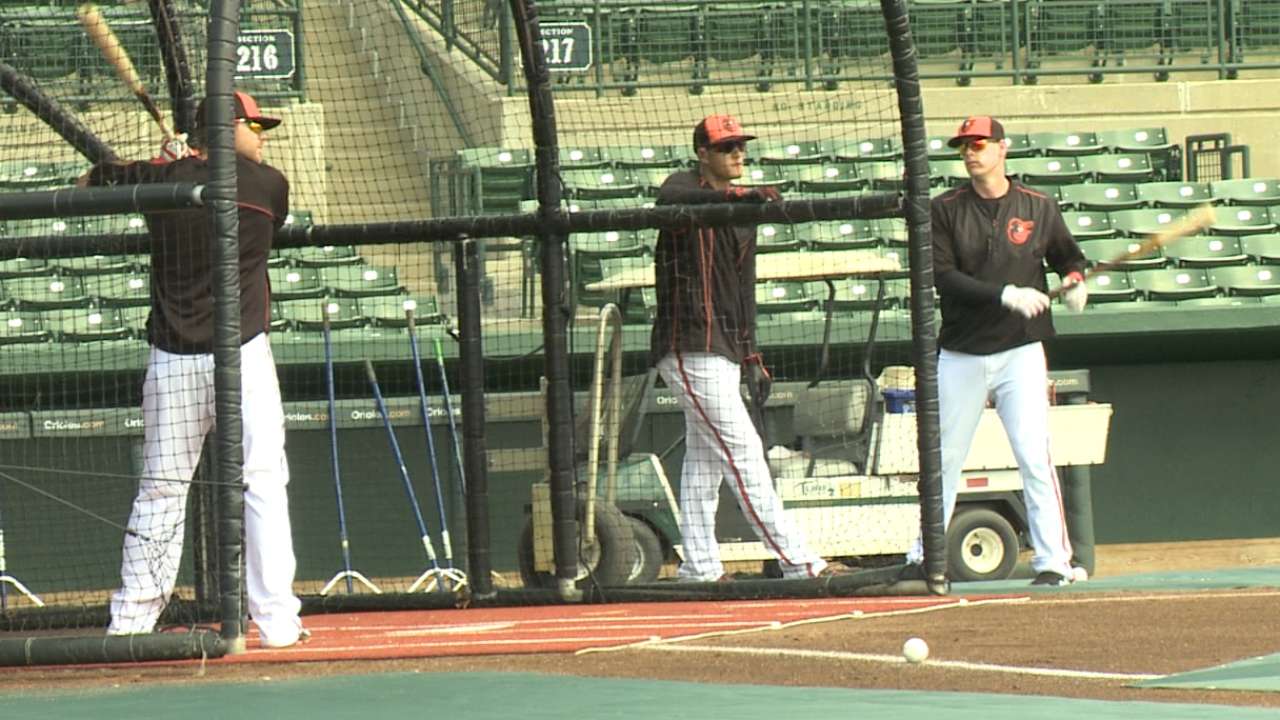 SARASOTA, Fla. -- Matt Wieters just wanted to see how it felt in a game scenario, so in between innings of Saturday's exhibition contest -- played on the back fields against the Puerto Rican development team -- he threw a ball to second base. Bench coach John Russell reminded him to rein it in.
"He told me to knock it off," Wieters said laughing. "It wasn't going to be anything stressful, but I just wanted to get one down there."
If all goes well over the next few days, Wieters -- who caught six innings Saturday -- won't have to wait much longer. The All-Star, coming off Tommy John surgery in June, will also catch in a "B" game against the Pirates Minor Leaguers on Sunday morning. Assuming that goes well, he will take Monday off before making his Grapefruit League debut Tuesday. That day, the 17th, will be exactly nine months from his surgery, and the first time Wieters will be cleared to throw full-throttle to the bases.
"If you know Matt Wieters, I don't think there's any anxiety about anything," Russell said. "Anybody coming off surgery, when you go back out there, you get the feeling that, 'OK, it's not going to hurt,' and to block [those thoughts] out. And he's done that already. In his throwing and everything else, he knows he's going to be able to do it.
"So, with him, I don't think there's any real anxiety with it. It's just getting back into it and getting back into the routine of it. I think that's what he's anxious for, to get the innings behind him and get ready to go. More than anything, it's not anxiety, it's just the anticipation of getting where he wants to be."
Wieters did some easy throwing to the bases on Saturday morning and manager Buck Showalter said the team got the clock on him for the first time post-surgery. Showalter said the Orioles, knowing exactly where Wieters is at when he's normal, were encouraged by the morning session.
"John thinks his arm is going to be stronger probably than it ever has been," Showalter said. "[Wieters] had a year off, basically. He was talking about how well the ball is coming out of his hand. You can tell by Matt's face. With nobody running, he's there. If you came out here and watched him throw, you wouldn't think he'd ever been hurt."
Chris Tillman, who went three scoreless innings, Tommy Hunter and Darren O'Day pitched to Wieters with numerous other Orioles pitchers attending the game to watch the All-Star's return.
"It kinda looked like he hadn't missed a beat," said Russell, who managed the game with Showalter on the main field. "I told him afterward I only saw two balls that he kind of miscaught. He looked comfortable and he was catching some pretty good pitching, too. He moved well. He was relaxed, no anxiety, but that's Matt. He looked really good. I was really, really pleased with him."
There are still hurdles for Wieters, who hasn't mapped out a schedule beyond his spring debut. And some of those are mental.
"I think anytime where anybody is on the bases, someone takes off, I don't feel…I don't think about it is the biggest thing," he said. "And hopefully, that will come sooner rather than later."
Brittany Ghiroli is a reporter for MLB.com. Read her blog, Britt's Bird Watch, and follow her on Facebook and Twitter @britt_ghiroli. This story was not subject to the approval of Major League Baseball or its clubs.