MLB.com Columnist
Terence Moore
Ferrell just the latest celebrity to show love for baseball
From actors to politicians, game has a long history of well-known fans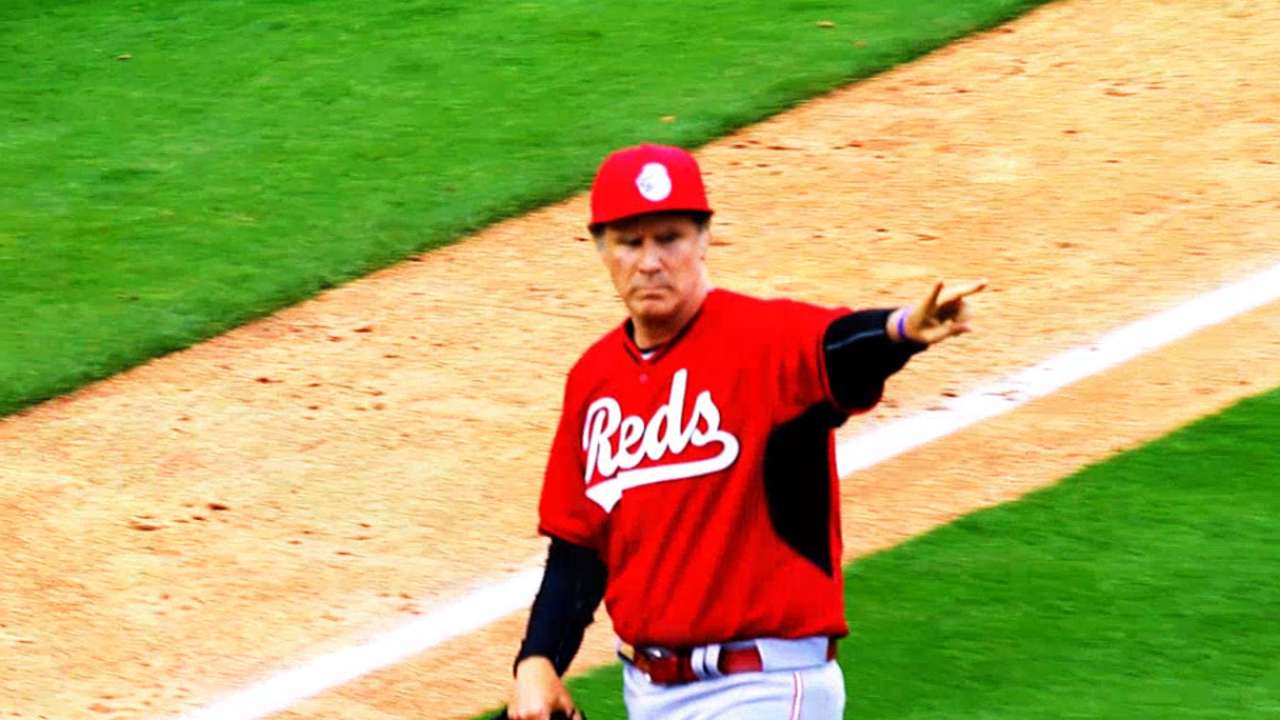 With the world buzzing over Will Ferrell playing 10 positions for 10 teams in five Cactus League games, he is just the latest celebrity to show the sport that made Babe Ruth synonymous with mom, the American flag and apple pie remains our National Pastime. That's because, more than any other sport, baseball isn't a fad for many of the who's who.
It is a lifetime obsession.
I still smile at the memory of comedian Jonathan Winters taking his seat on the Tonight Show with Johnny Carson during the early 1970s, wearing a perfectly fitted cap of my Big Red Machine. He gave you the impression he knew everything from the lifetime batting average of Cesar Geronimo to the number of times Sparky Anderson skipped over the foul line on the way to the mound.
The great Jonathan Winters? A Reds fan?
How cool was that?
Upon further review, it only figured. He was born and raised in southwestern Ohio, where cheering for, say, the Phillies was not an option. He was from Reds Country, which produced both Nick Clooney, a Cincinnati talk-show icon, and his sister, Rosemary, who became a nationally acclaimed singer and co-star of the movie, "White Christmas," with Bing Crosby.
Maybe you've heard of Nick's son and Rosemary's nephew: George Clooney -- who is also a diehard Reds fan. NBC sports announcer Al Michaels mentioned in his recently published book that, when he first met the Hollywood heavyweight a few years ago, George wanted him to tell story after story about his early days in broadcasting with the Big Red Machine.
Video: TWIB: Big Red celeb memories
He isn't alone as a diehard baseball fan among today's rich and famous. See Ferrell. If you take a quick look at his movie roles, you'll see he is equal parts comedian and sports enthusiast. He was a NASCAR driver in "Talladega Nights: The Ballad of Ricky Bobby," as well as a skater in "Blades of Glory." He coached soccer in "Kicking and Screaming," and was the owner, coach and player for a professional basketball team in "Semi-Pro." He also produced chuckles in real life, when he playfully introduced Chicago Bulls players before a game in New Orleans, and led the marching band during a football game at the University of Southern California, his alma mater.
That said, baseball is ingrained the deepest in Ferrell's heart. He became Harry Caray more than the man himself during his Saturday Night Live skits about the iconic Cubs announcer. Then came this week, when Ferrell lived one of his fantasies by jumping from team to team during Spring Training in Arizona. He donned the uniform for each of those clubs. This was done partly for his upcoming HBO special to raise funds for charity. But mostly it was done to satisfy his infatuation with baseball, and you just know many of his peers are envious.
For every Ashley Judd, who rarely misses a dribble on campus for the University of Kentucky basketball team, or Jack Nicholson, who attends so many Los Angeles Lakers games that he is the unofficial team mascot, there are a slew of notable folks who proudly wear Yankees caps:
Denzel Washington, Penny Marshall, Donald Trump, Chris Rock, Brad Pitt, Bob Dylan, Jay Z, Rudy Giuliani, Billy Crystal and Kate Hudson.
Video: Crystal on being a Yankee
Oh, and the same goes for Nicholson, by the way.
That's just for starters -- and just for the Yankees when it comes to the marriages between celebrities and baseball. You also have all of those Red Sox disciples, ranging from author Stephen King and historian Doris Kearns Goodwin to actors Ben Affleck and Matt Damon.
Speaking of Affleck, his adoration for all things Red Sox (and dislike of all things Yankees) is so strong that he refused to follow the orders of the director for his movie, "Gone Girl," to wear a Yankees cap for a particular scene. They compromised. Affleck donned a Mets cap, which likely brought joy to Jerry Seinfeld, a devoted fan of New York's National League team. One of the most famous scenes of Seinfeld's award-winning sitcom involved former Mets star Keith Hernandez, and Hernandez even made a cameo.
Elsewhere around the Majors, Steve Perry adds his voice to his allegiance for the Giants. In other words, it isn't a coincidence that the former lead singer of Journey likes to belt out the group's classic song, "Don't Stop Believin'," before games at AT&T Park. Across San Francisco Bay, hip-hop artist Hammer was a bat boy for the A's, and he still bleeds kelly green and gold. You also have political columnist George Will hugging the Cubs, and rapper Nelly doing the same with his hometown Cardinals.
Nobody is a more rabid Rays fan than ESPN college basketball analyst Dick Vitale. Of course, nobody is a bigger White Sox fan than Barack Obama, the President of the United States.
Presidents have been attached to baseball since William Howard Taft became the first commander in chief to throw out a first pitch back in 1910 on Opening Day for the Washington Senators. Many of Taft's successors have followed suit, and others have gone further than that. Ronald Reagan announced Cubs games on the radio before his presidency. George W. Bush served as an owner of the Rangers. George H. W. Bush was a regular in the stands for years at Astros games after his presidency. Georgia native Jimmy Carter regularly attends Braves games at Turner Field.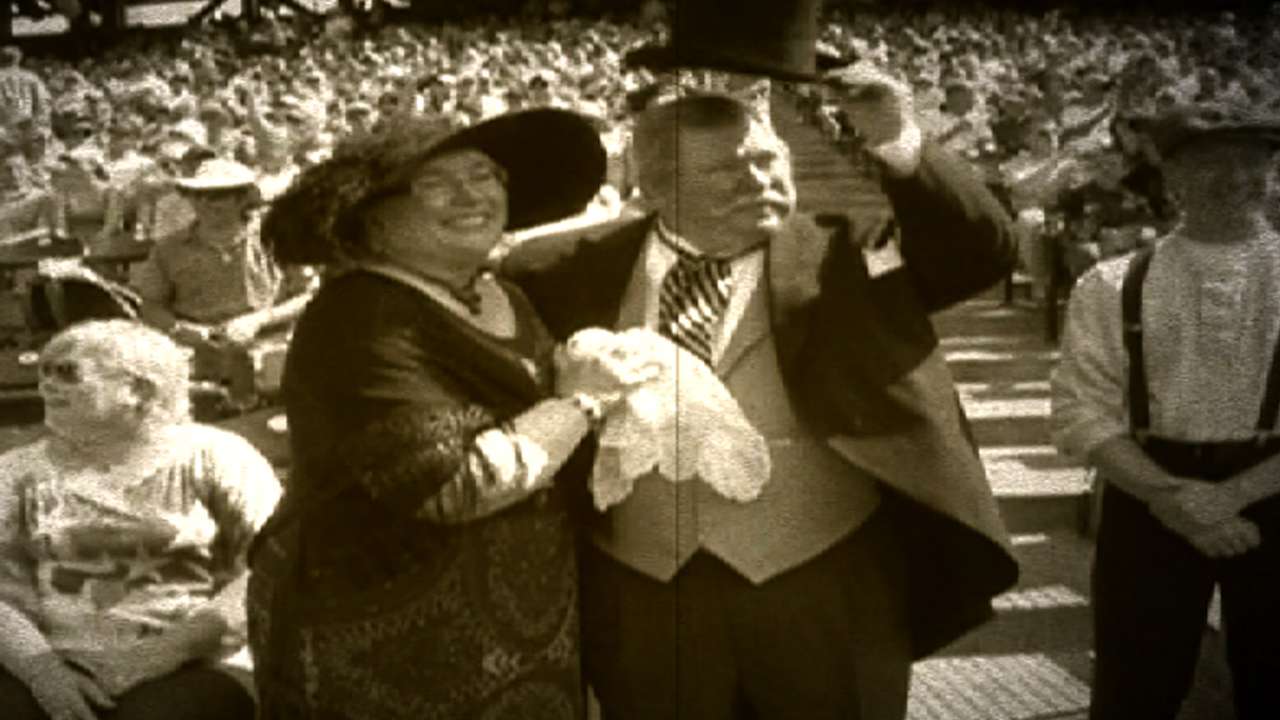 Neither Obama nor any of his predecessors in the Oval Office ever did what Ferrell just did. Well, maybe they did in their dreams.
Like all baseball fans ... famous or not.
Terence Moore has covered a variety of sports for more than three decades and contributes columns to MLB.com.
This story was not subject to the approval of Major League Baseball or its clubs.