Wheeler not concerned about his ailments
Plans to treat right elbow tendinitis, blister with rest before throwing a bullpen session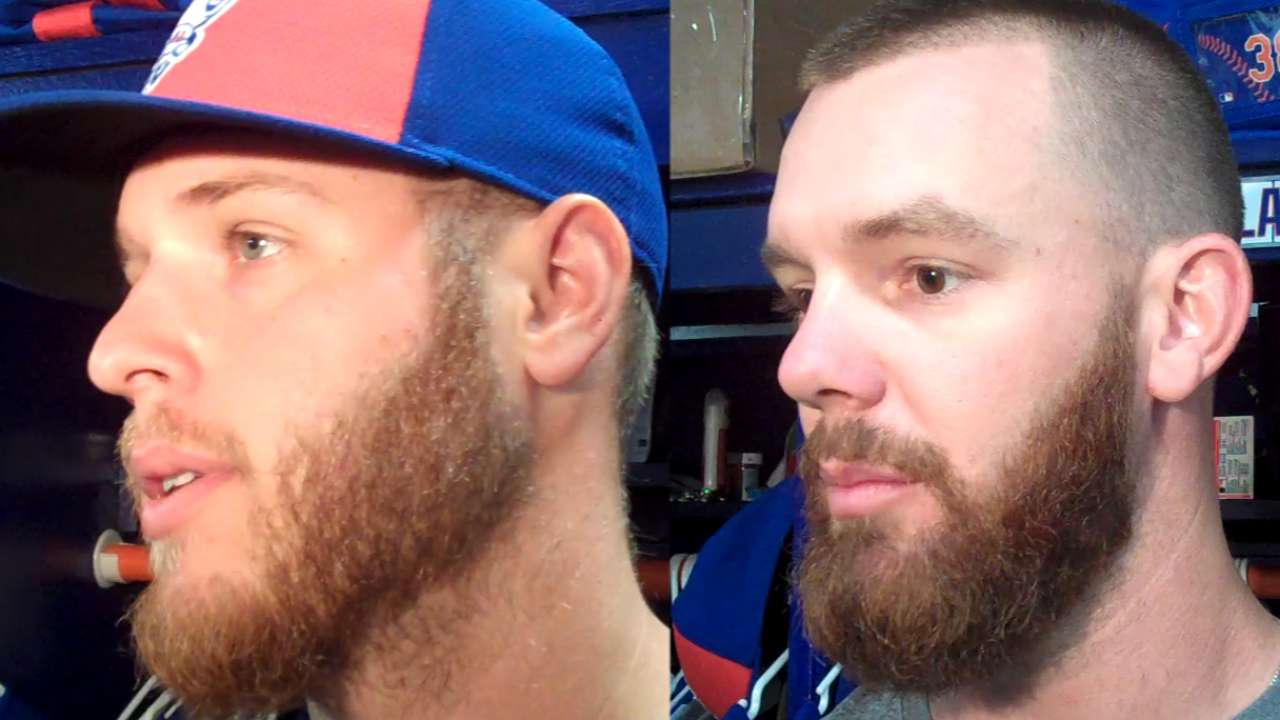 PORT ST. LUCIE, Fla. -- Rather than prepare for his scheduled Grapefruit League start against the Nationals, Mets pitcher Zack Wheeler spent his Saturday morning downplaying the elbow injury and blister that forced him to the sidelines.
"It's something that I've had before and had to deal with," Wheeler said of the tendinitis in his right elbow. "It mainly sort of picked up last year, but I've had it my whole career. It's been that way. I've dealt with it and stuff. I'm just going day to day with it."
For now, that means a brief period of rest. The Mets handled Wheeler's discomfort last season with anti-inflammatories and other treatments, but no injections. And Wheeler simply pitched through the pain -- finishing 11-11 with a 3.54 ERA in his first full season, including an 8-3 record and 2.71 ERA over his final 16 starts. The blister under the fingernail of his right index finger is a recurring issue that he has had since high school. It's also something he believes he can manage.
"Every pitcher in here pitches through pain at some point," Wheeler said. "It's just a matter of dealing with it. ... You don't want to push yourself during Spring Training. The games don't mean anything here. I'm just trying to get myself right for the season, when the games actually do mean something."
Wheeler underwent an MRI on Saturday, according to manager Terry Collins, with plans to rest for a few days, throw a bullpen next week and make his next scheduled start, all with an eye toward competing for an Opening Day assignment. Right-hander Tyler Pill took his spot on Saturday against the Nationals, throwing 2 1/3 scoreless innings in a 13-4 victory.
Still, the club has reason to be concerned, considering Major League Baseball's growing number of elbow injuries turning into operations. Over the past 20 months, Mets pitchers Matt Harvey, Bobby Parnell and Jeremy Hefner (twice) have undergone Tommy John surgery. Reliever Josh Edgin is currently considering an operation, as well. Outside of the Mets' clubhouse, Rangers ace Yu Darvish is about to join the growing ranks of top-flight arms headed for the operating table.
"He has such tremendous torque on his arm, there are always going to be issues," Collins said of Wheeler. "The finger was an issue a couple of times [last season]. There was a game in the middle of the summer he talked about his elbow was bothering him a little bit, so we took him out, we backed him up a day and he was fine. I think the second half, he showed that it didn't bother him one bit. You can't do what he did and put up the numbers he did in the second half of the season with a sore arm."
"You always have that in the back of your head, but you try not to change anything you're doing -- arm angle, mechanics, that kind of stuff," Wheeler added. "You just keep doing what you're doing and trust it."
Anthony DiComo is a reporter for MLB.com. Follow him on Twitter @AnthonyDicomo. This story was not subject to the approval of Major League Baseball or its clubs.