Pomeranz, vying for starting spot, impresses with poise on mound
A's lefty says escaping from jam part of Spring Training 'process'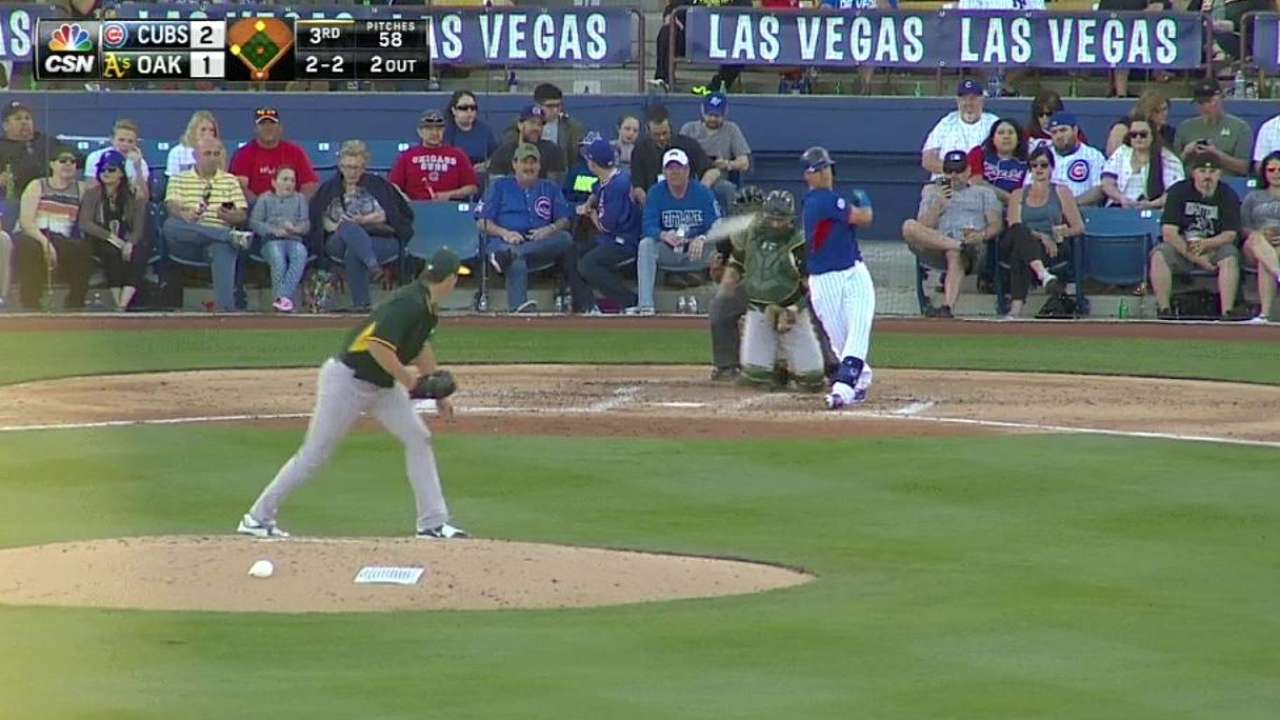 LAS VEGAS -- A's lefty Drew Pomeranz labored in the third and final inning of his second spring start against the Cubs at Cashman Field on Friday, but it was in that same frame he also greatly impressed.
Pomeranz retired six of his first seven batters, three by strikeout, but loaded the bases in the third, leading to a pair of unearned runs when first baseman Matt Olson recorded two errors on Anthony Rizzo's ensuing grounder.
That's when Pomeranz rediscovered his groove, striking out each of his next three batters to finish with six strikeouts.
"It was a two-batter period where he lost command a little bit, but other than that, he strikes out the side and, if we don't make an error, it's probably a little bit of a different inning," said manager Bob Melvin. "His stuff was good. Probably just for two hitters [he] lost command but I thought he showed a little something to be able to strike out the side and get out of the inning."
"That was my first time with three ups, and I got a little out of rhythm and had a hard time locating my fastball there, and then I got it back together," Pomeranz said. "I think today was part of my Spring Training process, getting out of rhythm and trying to bring myself back."
Facing a 60-pitch limit, Pomeranz was forced to throw 59 pitches -- only 35 of them strikes -- in his three innings, preventing him from returning for a scheduled fourth frame.
• The A's announced Friday that infield prospect Rangel Ravelo, acquired in the Jeff Samardzija trade, underwent successful surgery on his right wrist.
The partial ECU tendon repair was performed by Dr. Mark Leber in Phoenix. Ravelo is not expected to participate in baseball activities for the next six to eight weeks but a full recovery is anticipated.
Jane Lee is a reporter for MLB.com. This story was not subject to the approval of Major League Baseball or its clubs.