Will Yankees carry 3 lefties in bullpen?
Shreve making his case to join fellow southpaws Miller, Wilson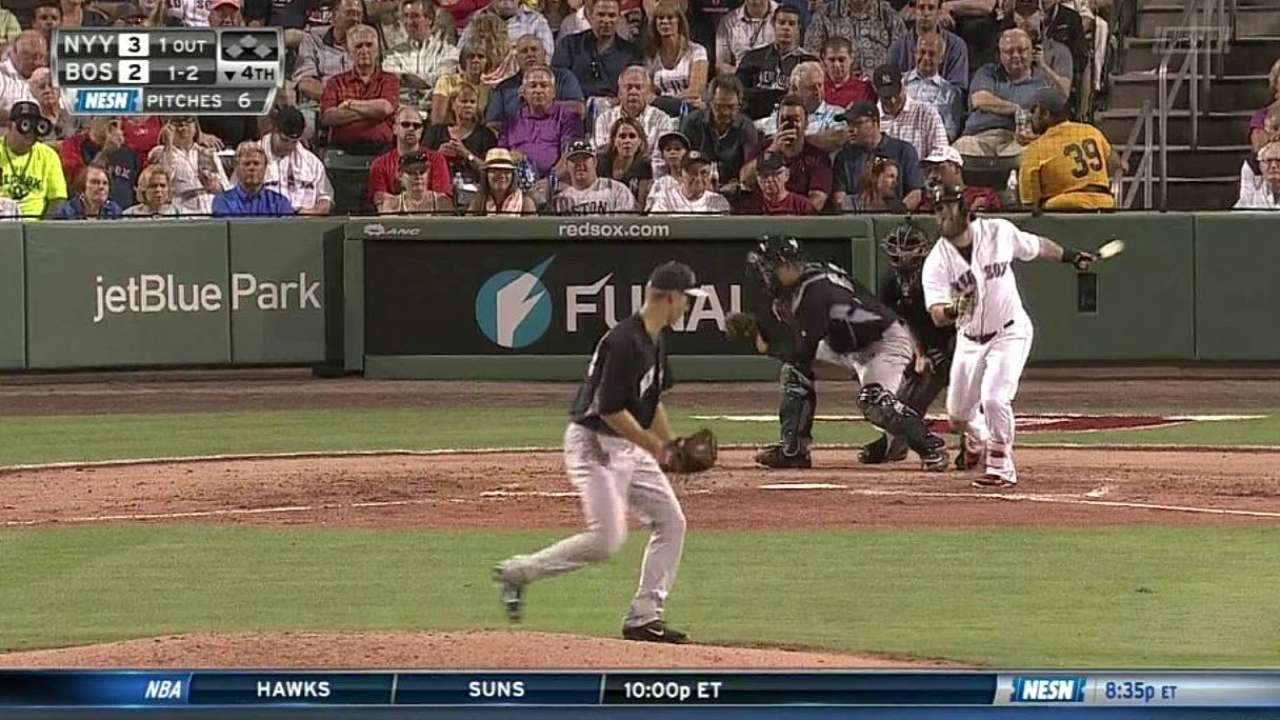 FORT MYERS, Fla. -- Chasen Shreve has only 12 1/3 Major League innings to his credit, so when the left-hander took the mound for the Yankees against a stacked Red Sox lineup on Friday night, he was pumped.
"It gets the juices flowing," he said. "It gets you going, but you've got to stay focused. Focus on the glove, focus on making good pitches."
Shreve did just that, continuing a solid spring that is putting him in contention for a bullpen spot with his new organization. The 24-year-old entered in the fourth inning and tossed two scoreless frames during the Yanks' 5-3 win despite facing a slew of right-handed batters, including Pablo Sandoval, Mike Napoli and Dustin Pedroia.
He issued one walk but also whiffed Napoli, who looked awkward flailing at a changeup for strike three. With that performance, Shreve has allowed one run on two hits in five innings this spring, with five strikeouts. That success could put him in line to serve as a third southpaw out of the New York bullpen, behind fellow newcomers Andrew Miller and Justin Wilson.
"He's someone that's definitely in consideration for our bullpen," Yankees manager Joe Girardi said. "Could we take three lefties? Possibly. So he's definitely in the mix."
Girardi complimented Shreve's use of his fastball inside to the righties, and it was an improved heater that spurred his development last year.
Shreve changed his mechanics, making a conscious decision to let loose and throw the ball with greater velocity. While his fastball had clocked in at 86-89 mph before, Shreve said, last year it averaged 92.5 mph during his brief time in the Majors with Atlanta.
"Just decided to throw harder and stop worrying about trying to not walk people instead of throwing quality strikes," he said. "It was more of my choice to throw harder instead of trying to spot everything."
The adjustment worked. Shreve's strikeouts shot up, and his walks shot down. The Braves called him up from Double-A in July, and over two stints with the big league club, he allowed only one run over his 12 1/3 innings, with three walks and 15 K's.
Traded to the Yankees this offseason, Shreve now has a new organization to impress. So far, he has impressed the Yanks.
"Right now, I'm just trying to pitch well and maybe make the team," he said. "Hopefully, I can. That's the goal. But if not, I'm going to keep working and try to be in New York one day."
Andrew Simon is a reporter for MLB.com. Follow him on Twitter @AndrewSimonMLB. This story was not subject to the approval of Major League Baseball or its clubs.