Warren trying to impress Yankees, prepare for season
A candidate for rotation after Capuano injury, righty allows two runs vs. Red Sox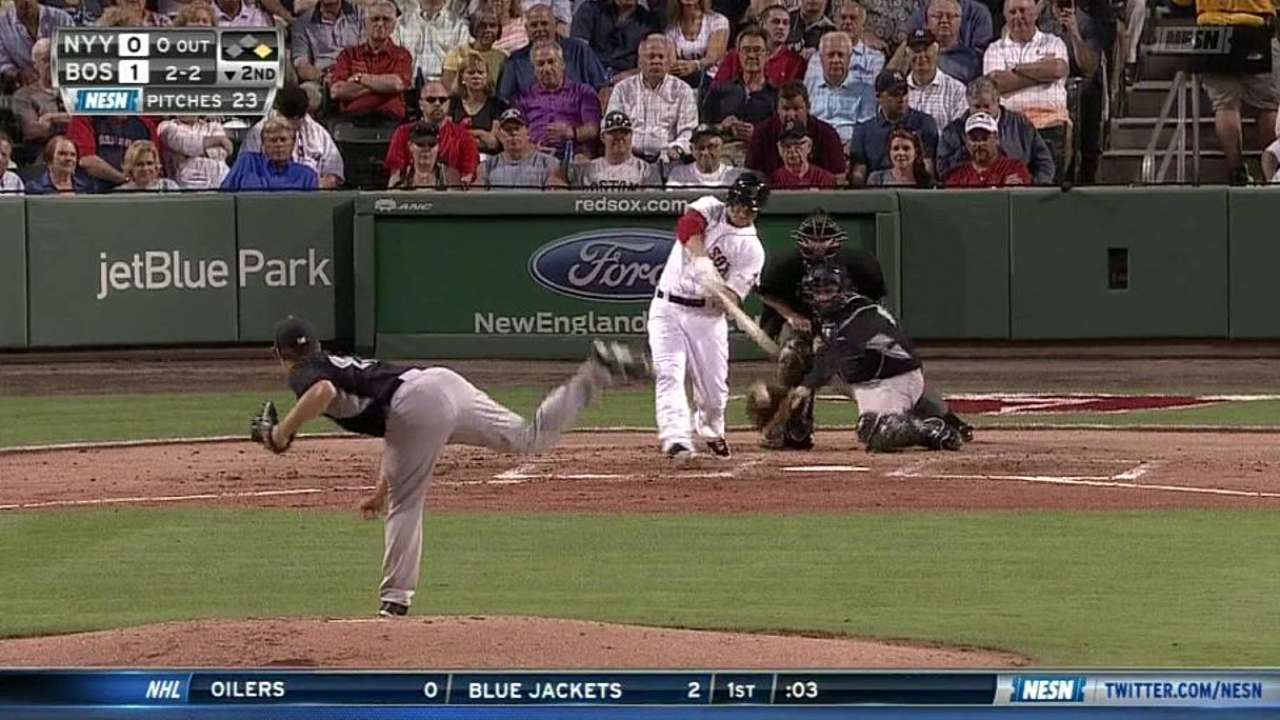 FORT MYERS, Fla. -- When Adam Warren made his first two starts of the spring, he was building up his arm, just in case. Then Chris Capuano suffered a right quadriceps strain on Wednesday, an injury expected to put him on the disabled list to begin the regular season.
"Now the 'just in case' is a reality," Yankees manager Joe Girardi said on Friday, before Warren took the mound in the Yanks' 5-3 win against the Red Sox at JetBlue Park.
Suddenly, the No. 5 spot in the club's rotation is open, with Warren among a list of candidates that also includes Esmil Rogers, Chase Whitley, Bryan Mitchell and non-roster invitee Scott Baker. Warren increased his workload to three innings and 59 pitches Friday, giving up two earned runs on four hits, with no walks and two strikeouts.
It wasn't a make-or-break outing, with Girardi saying beforehand that it wouldn't "determine whether he's in that spot or not." Warren, who could earn his first extended shot as a big league starter, acknowledged the higher stakes but also sees them as a potential distraction.
"At this point, I'm not really thinking about it," the right-hander said. "I'm trying to get myself ready for the season. I'm still trying to get myself back in the swing of starting a little bit. But at the same time, it does put a little more meaning to it. You want to go out there and impress, but at the same time, I want to go out there and work on some things and get ready for the season as well, so it's kind of a mixture."
Warren started all 90 of his games in the Minors, posting a 3.11 ERA, but he has appeared out of the bullpen all but three times in the Majors. Last season, each of his 69 outings came in relief, with the longest lasting two innings.
The 27-year-old had allowed one run over five innings in his first two spring starts, but a Red Sox lineup packed with regulars made him work hard on Friday. Mookie Betts and Dustin Pedroia began the bottom of the first with singles, leading to a run, and David Ortiz added an RBI single during a 30-pitch third inning.
Going forward, Warren wants to continue building endurance and sharpening his slider, which remained a work in progress against Boston.
"I felt good," Warren said. "It was kind of a battle out there because they were fouling off some good pitches and making me go deep in the count. It's nice to face a lineup like that, a good lineup. It's a test to see where you're at in the middle of Spring Training, see how your stuff's working. I was pleased with my stuff. I know I need to work on some things, but as far as where I'm at now, I'm happy and I've just got to keep moving forward."
Andrew Simon is a reporter for MLB.com. Follow him on Twitter @AndrewSimonMLB. This story was not subject to the approval of Major League Baseball or its clubs.