Dominguez drives in a pair and Waldrop scores twice
Marquis solid despite giving up first hit and run of spring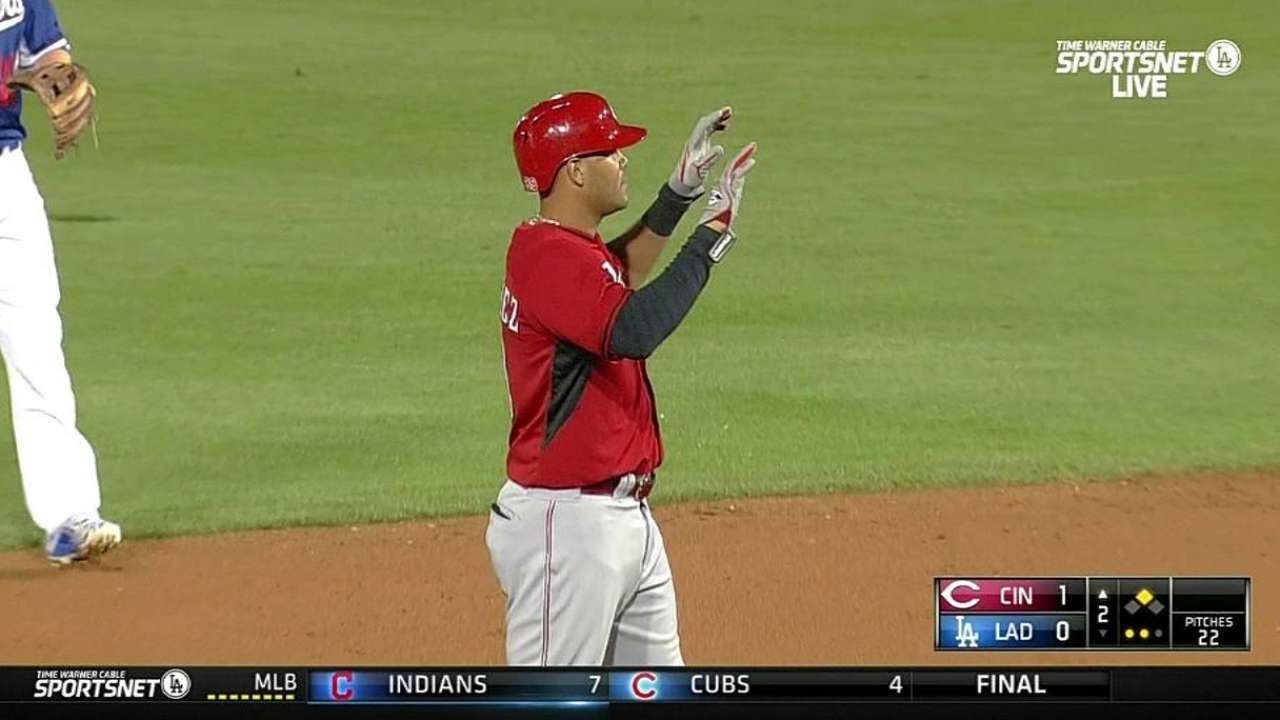 GLENDALE, Ariz. -- Chris Dominguez drove in two runs and Kyle Waldrop scored twice for the Reds against the Dodgers on Friday night in a 3-3 tie.
The Reds scored in the second inning off Dodgers starting pitcher Brandon McCarthy, on a two-out walk to Waldrop, who stole second base and was doubled home by Dominguez. That was the lone run off McCarthy in three innings.
The Reds extended their lead in the fourth inning against Joel Peralta, who was making his first appearance of the spring after dealing with a stiff shoulder. With one out, Waldrop tripled and, with two outs, scored on an infield single by Donald Lutz.
The Dodgers cut into the lead in the bottom of the fourth against Jason Marquis with a double from Justin Turner and RBI single by Adrian Gonzalez.
Marquis, bidding for the fifth starter job, allowed the one run in four innings, giving up his first hit and run of the spring. Marquis also saw stretch of 17 in a row retired end.
"I'm in a competition, so no runs, no hits is the ultimate goal every time I step on the mound," Marquis said. "But it was nice to get out of the stretch a little bit, get my timing down with men on base.
"Through the course of the season, that's where a majority of your pitches are thrown from anyway. I felt pretty good. I went back out in the bullpen and threw some more pitches. I did most of my work from the stretch out there. I just tried to build off of where I was my last game and I felt like I was right there. all in all, I thought things went well."
Cincinnati added a run off Carlos Frias in the fifth on a leadoff double by Marlon Byrd, a groundout by Waldrop and sacrifice fly from Dominguez.
Marquis was followed by Aroldis Chapman, who pitched a perfect fifth inning but the Dodgers scraped for a run off him in the sixth. Joc Pederson followed his second infield single with a steal of second base, went to third on a groundout by Darwin Barney and scored on a groundout by Enrique Hernandez.
Darnell Sweeney doubled of Keyvius Sampson to lead off the Dodgers' ninth and moved to third on a fly by Hernandez. Sweeney then scored on a sacrifice fly to left field from Corey Seager.
Sampson struck out Kyle Jensen to end the game.
Up next: After giving Jay Bruce an extra day to rehab his strained right calf, the Reds expect to have their right fielder in the lineup when they host the Rockies Saturday at 4:05 p.m. ET in Goodyear Ballpark. Anthony DeSclafani, who gave up three third-inning runs his last time out, will make his third start of spring. J.J. Hoover and prospect Michael Lorenzen are also among pitchers who will see action.
Ken Gurnick is a reporter for MLB.com. This story was not subject to the approval of Major League Baseball or its clubs.