Segura tweaks batting stance after difficult year
Shortstop working to regain All-Star form with hitting coach after season marred by tragedy
PHOENIX -- Coming off a disappointing 2014 season, Brewers shortstop Jean Segura knew he had to make adjustments in the batter's box this spring.
With help from the Brewers' new hitting coach, Darnell Coles, Segura now stands more upright in the box with a narrower stance. The minor changes should allow Segura to gain more power from his legs, and free up his hands to stay back and attack the ball.
But the mechanical modifications are not Segura's main alteration this spring. Segura, who turns 25 on Tuesday, said finding the right frame of mind at the plate is his main key for success in 2015.
"This game is more mental than physical," Segura said. "I have to enjoy my game, play relaxed, don't put too much pressure on myself."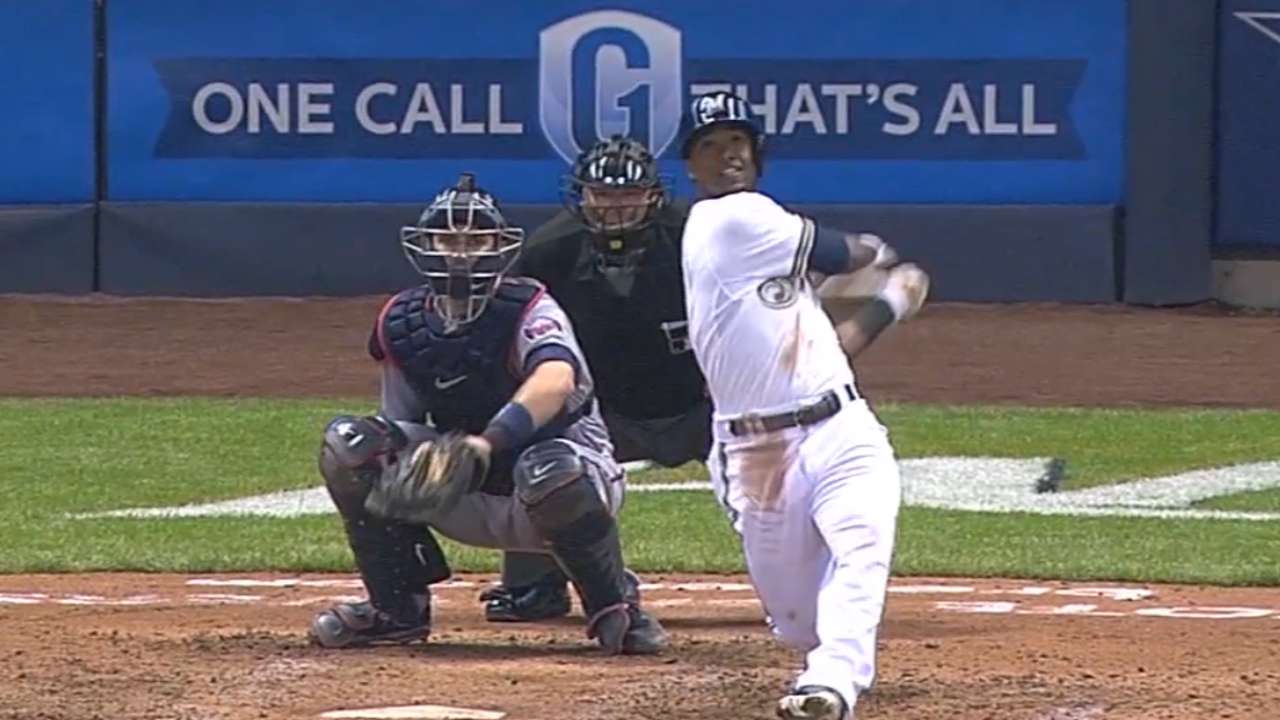 Segura posted a .246 batting average with five home runs last season, and his struggles were magnified after his All-Star 2013 season in which he batted .294 with 12 home runs.
"That year surprised me because I didn't know I could do those type of things in the big leagues right away," Segura said. "You know I got the ability to do it again, so we'll see."
Last season was marred by tragedy off the field in July, when Segura's 9-month-old son died in the Dominican Republic.
Understandably, Segura was not able to always focus on baseball. Brewers reliever Rob Wooten has noticed a renewed level of concentration from Segura this spring.
"He seems to be in a great place, has a good support system here," Wooten said. "His at-bats look really good too. I think he's a huge key to our success this year."
One of the reasons Segura's at-bats look better is his patience at the plate. Segura drew only 28 walks last season, but Coles is working with Segura to take more pitches on the corners.
"He says look for the pitch that I can drive," Segura said. "The more pitches you lay off out of the zone, the more chance you get to get a base hit."
Whether Segura can recapture his 2013 level of production remains to be seen. Removing all unnecessary pressures, Segura said he does not have any personal goals for 2015.
"I don't want to put some goals forward and forget about it later," Segura said. "At the end of the year, we'll see where we are."
Ari Kaye is a graduate student at Arizona State University. This story is part of a Cactus League partnership between MLB.com and ASU's Walter Cronkite School of Journalism and Mass Communication. This story was not subject to the approval of Major League Baseball or its clubs.