Gray's confidence soars after getting out of jam
Top prospect stays in rotation mix with two scoreless innings vs. White Sox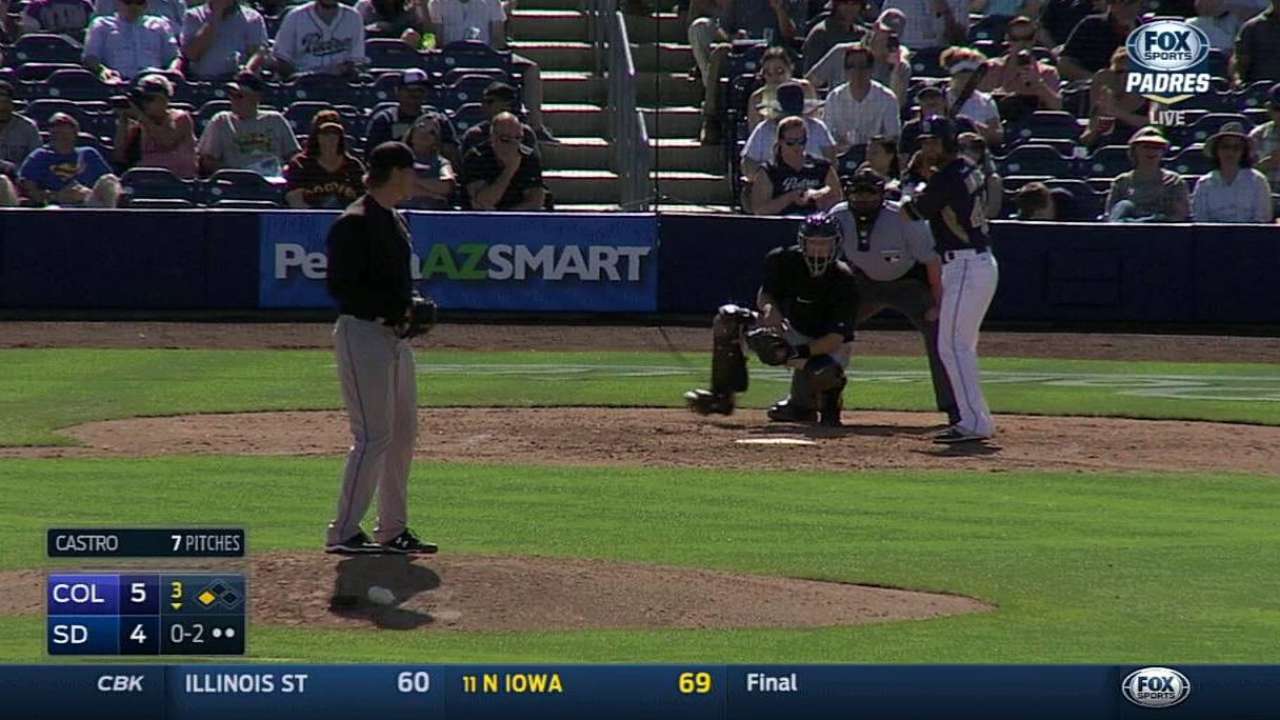 SCOTTSDALE, Ariz. -- Jon Gray felt in control before he found himself in a pickle Friday afternoon. And when he got out of it, it only boosted his confidence.
The Rockies' top prospect yielded a leadoff triple in his first inning Friday, when a Jose Abreu liner got by Rockies center fielder Drew Stubbs. But with the help of a drawn-in Rockies infield, Gray got a ground out, a putout at the plate and another grounder to end the inning.
"I really kept my emotions under control and stayed positive," Gray said. "No negative thoughts, got rid of negative thoughts. Told myself the guy wasn't scoring. And held him there. It's really encouraging when you've got the defense behind you. We've got the best defense in baseball, the best infield. It's just really comforting that they're behind you and can back you up."
Gray entered camp this year with his sights set on the rotation, and he's done all that he can to stay in the mix. Over three outings, the young right-hander has thrown six scoreless innings. He's surrendered just four hits and one walk while striking out five.
"They're baby steps to the bigger goal," Gray said. "One of the goals I have is to not give up a run. Every outing is just a baby step toward that goal."
Both Gray and manager Walt Weiss say that the 23-year-old is a different person since his first big league camp last year. He logged 6 2/3 innings that spring, allowing four runs on nine hits. Then in 24 starts with Double-A Tulsa, he went 10-5 with a 3.91 ERA.
"Realistically, the first time in camp you're trying to take a lot of it in and learn and grow from it," Weiss said. "I'm sure he came into Spring Training this year with a little different outlook, very different from what it was a year ago."
Worth noting:
• Outfielder Roger Bernadina, a non-roster invitee, is dealing with a left wrist injury that has kept him out of play since Saturday.
"He's probably a few more days away from game action," manager Walt Weiss said. "It's a wrist injury and we all know in this game, as a hitter, how difficult they can be. He's probably, I would guesstimate, another 3-4-5 days away."
In six spring at-bats, Bernadina has a hit, a run, an RBI and two strikeouts.
• Weiss said Jorge De La Rosa's side session this week went well, and the team hopes to "get him back on track here in the near future."
The left-hander was scheduled to pitch in a game on Thursday, but had the start pushed back because of a lingering left groin issue. He has not yet made his Cactus League debut.
Joey Nowak is a reporter for MLB.com. Follow him on Twitter at @joeynowak. This story was not subject to the approval of Major League Baseball or its clubs.