MLB.com Columnist
Richard Justice
Top prospect Gallo striving to become more than a stat line
Rangers' slugger adding plate discipline to power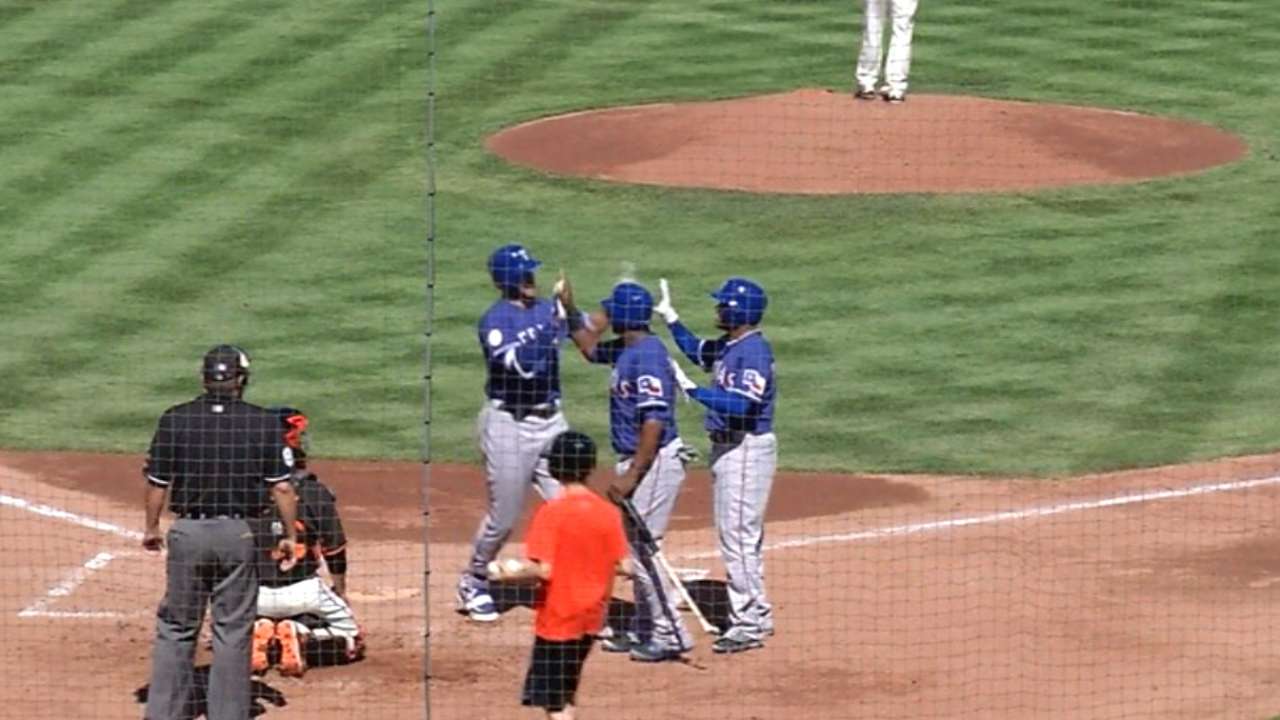 SCOTTSDALE, Ariz.-- Joey Gallo's power is the kind that changes games. Actually, it's the kind that can change the course of a franchise, too.
"This cat here, he touches the ball, he's going to do some damage," Rangers manager Jeff Banister said.
He'd just seen his top prospect, one of the most coveted in the game, do just that. He'd seen more than that, too.
First, though, the power. When Giants starter Jake Peavy let a first-pitch cutter catch too much of the plate in the top of the second inning Friday afternoon, Gallo launched a towering moonshot home run to right field.
"I just kind of reacted," he said. "It kind of just fell into my bat a little bit. I think he left it out over the plate."
Whether it actually clanged off the light standard is beside the point. Years from now, we'll remember that it did. Regardless, it was a moment that spoke volumes about why MLB.com has this 21-year-old third baseman ranked the No. 6 prospect in the game.
At a time when offense, especially home runs, have become baseball's most coveted asset, Gallo has thrown up amazing numbers in the minor leagues -- 82 home runs the last two seasons.
He has been the most watched, the most anticipated player, in the hearts and minds of Rangers fans for a long time.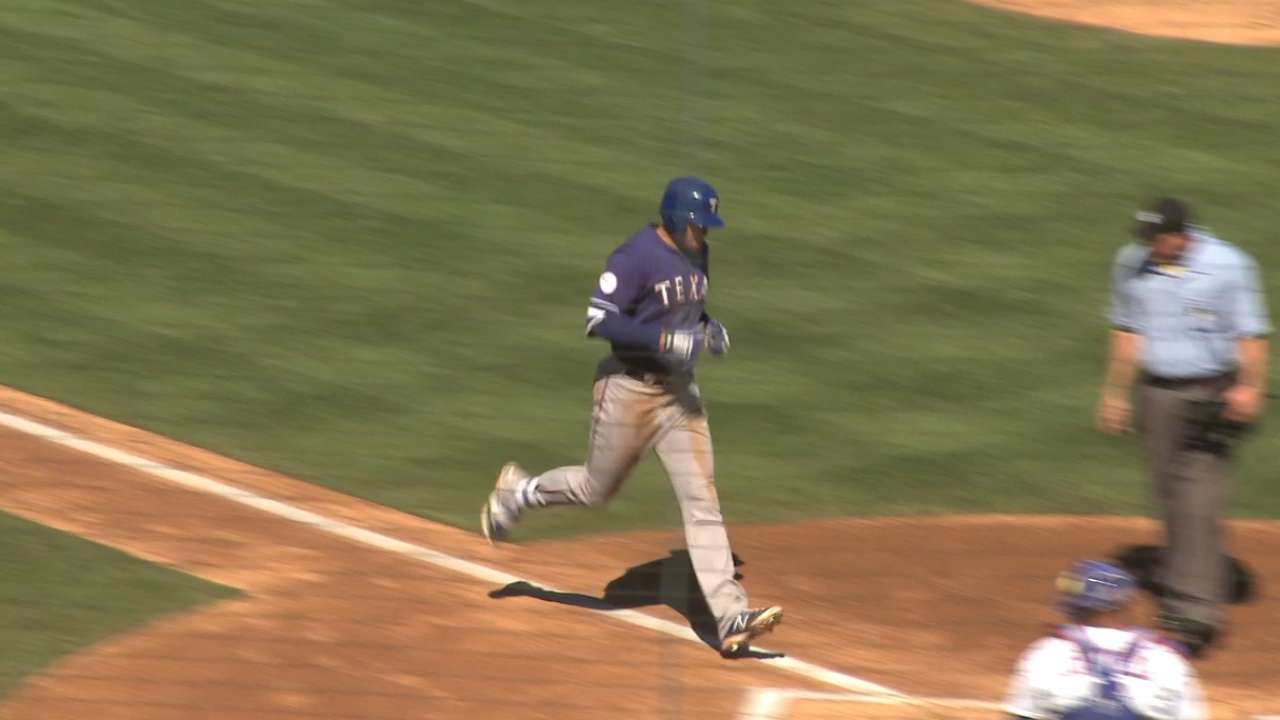 "I love the power, obviously," Banister said. "I love that he lets it loose. He's not afraid of the moment. He wants to get in the box. He wants to swing the bat."
In some ways, the best of this day was yet to come. In Gallo's next at-bat, he fought off a fastball from Giants lefty Javier Lopez and singled to center.
Because Gallo hit .183 against lefties (with one walk and 34 strikeouts in 60 at-bats) after being promoted to Double-A Frisco last summer, this is one of the litmus tests of his first big league camp.
"It seems like he's coming right at you," Gallo said of Lopez. "I just wanted to get something I could square up the middle. I was pretty locked in. I was pretty fortunate to get a fastball I could drive and hit."
He then promptly stole second base. So far, so good?
"I feel great," Gallo said. "Everything right now is going pretty well."
He's hitting .333 with two home runs and has a .429 on-base percentage this spring. He has as many walks (three) as strikeouts (three).
At 6-foot-5, 230 pounds, Gallo LOOKS the part of a big-time slugger. Now, there's the matter of timing. Gallo said his No. 1 goal this spring was to separate who he actually is from those dazzling numbers.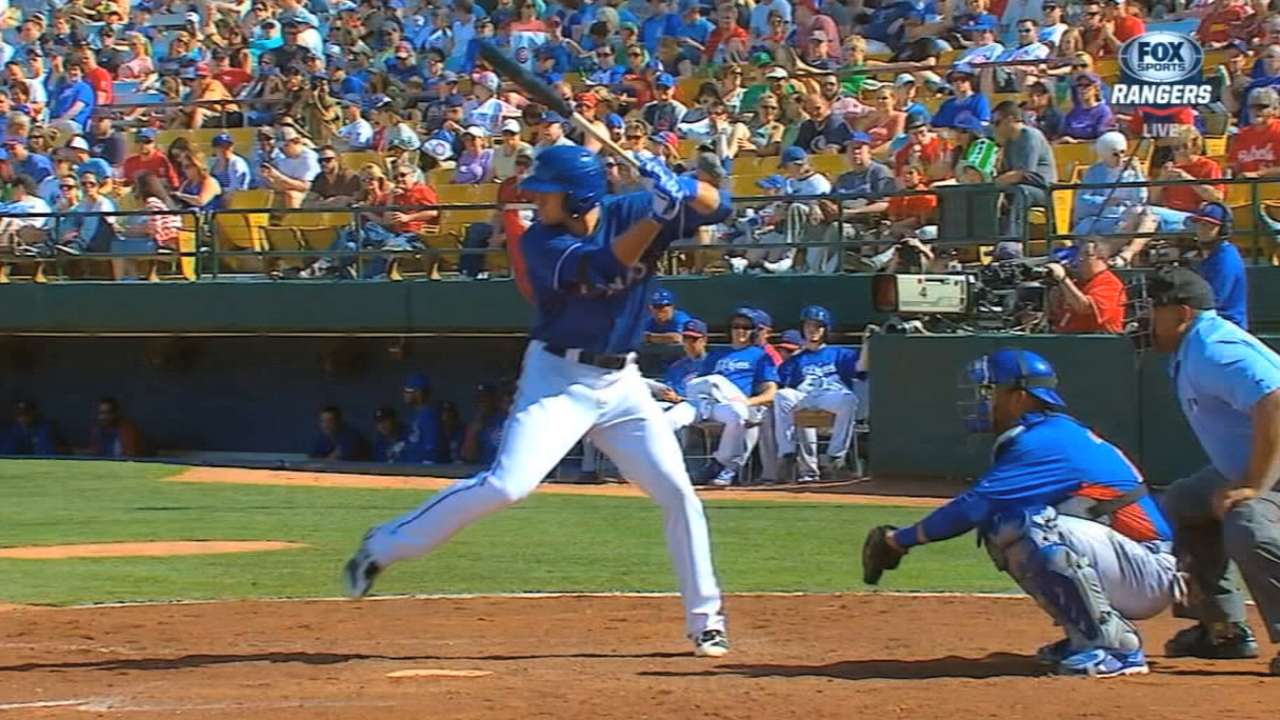 "For me, I think it was important for people [to] actually put their eyes on me and see me play -- to be something other than a stat line," he said. "I just want to go out and see how I fare against some of the big league pitching and how I can mesh with some of the guys in here for whenever the time comes and I get up there."
Being a stat line isn't all that bad when it looks like his. He followed up a 40-homer 2013 season with 42 in 2014. He's the first Minor Leaguer to hit that many in back-to-back seasons since Ron Kittle had 40 in 1981 and 50 in 1982.
Part of what the Rangers are attempting to do this spring is figure out how close he is to being ready. Gallo has just 291 plate at-bats in Double-AA ball, and he struggled with those -- overall .232 batting average with 115 strikeouts.
He seems likely to open the 2015 season back at Double-AA Frisco, but a strong spring could persuade the Rangers otherwise.
"I came into camp wanting to be more patient and see more pitches," Gallo said. "Obviously, tone down the strikeouts when I get two strikes. I've been pretty good at that so far."
The Rangers have Adrian Beltre, one of the three best third basemen on the planet, signed for two more seasons. When asked what the Rangers will do if Gallo flies through the system, General Manager Jon Daniels has a simple answer. He hopes that's exactly what happens and that Gallo makes it enormously difficult to send him back to the Minors.
"I think it's just about going out there and competing," Gallo said. "It's too early to tell if I'm good enough to be on the team or not. That's not up to me anyway."
Richard Justice is a columnist for MLB.com. Read his blog, Justice4U. This story was not subject to the approval of Major League Baseball or its clubs.