Eyeing rotation spot, Bassitt has mixed results
Right-hander gives up five runs in spring start as he works on pitches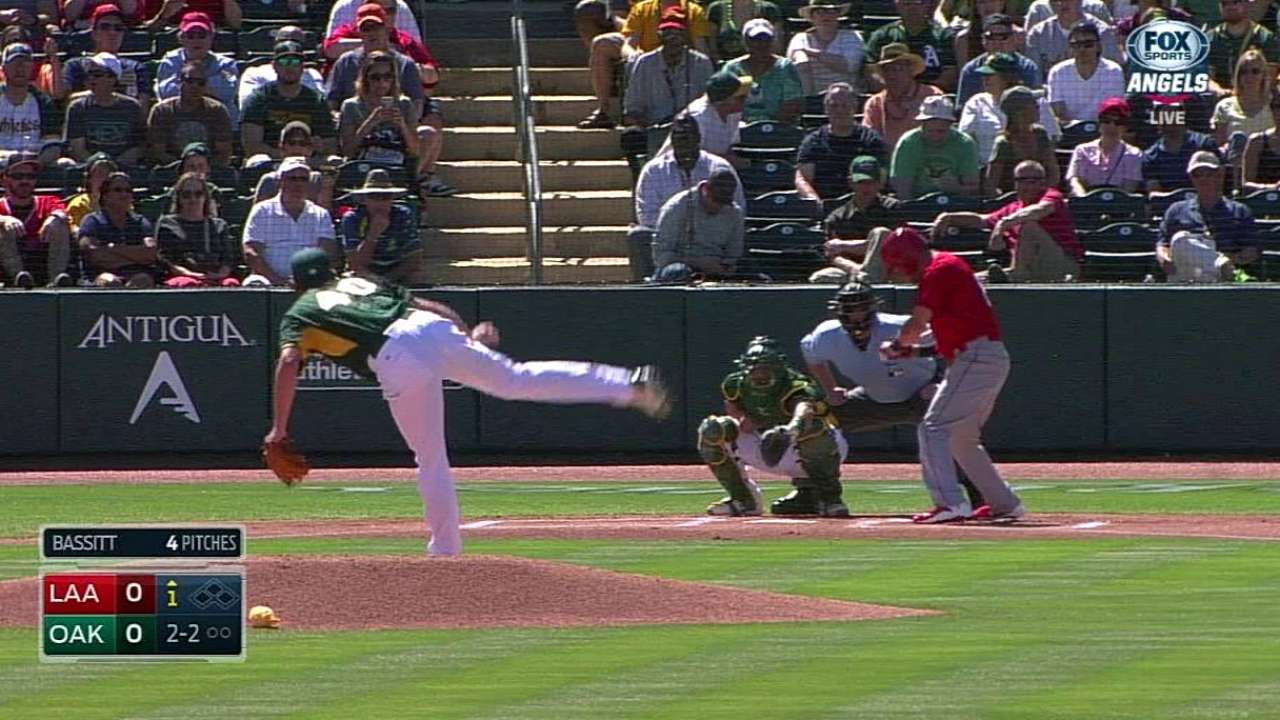 SURPRISE, Ariz. -- Right-hander Chris Bassitt has some aspects of his game to work on, and that's the whole idea of Spring Training. Still, his hopes of winning a spot in the A's rotation are hanging in the balance, so results aren't something he can just throw out the window.
Some of his results Friday he might want to just push aside after he gave up five earned runs on seven hits, including a three-run home run to the Royals' Salvador Perez in the first inning. But he has to hold onto the fact that he was working on his pitches -- including a new approach of throwing his changeup to right-handers, a pitch that ended up leaving the yard courtesy of Perez.
"It's hard, but at the same time I have to put my trust in the organization that they know you're trying to get ready for the season," said Bassitt, the 26-year-old acquired from the White Sox in the Jeff Samardzija deal.
The way Bassitt's day started, it was looking like the results might be a positive. Bassitt got two quick outs before a Lorenzo Cain double started a string of four straight hits, punctuated by Perez's homer. By the time Royals No. 8 hitter Brett Eibner led off the second with a triple, he'd given up a cycle of hits.
"Obviously, everybody's here to get their work in and we're here to evaluate. Watching what we saw, the stuff's there," said Mike Aldrete, the A's bench coach serving as manager for the squad in Arizona. "You take a look at those first two hitters and I don't think I was the only one going, 'Oh, wow, we have something going here.'"
Said Bassitt, who threw 33 strikes among his 47 pitches: "You make a few mistakes to a lineup like that and they'll make you pay, and that's what happened today."
John Schlegel is a national reporter for MLB.com. You can follow him on Twitter @JohnSchlegelMLB. This story was not subject to the approval of Major League Baseball or its clubs.