Maxwell aims to make outfield grade with Giants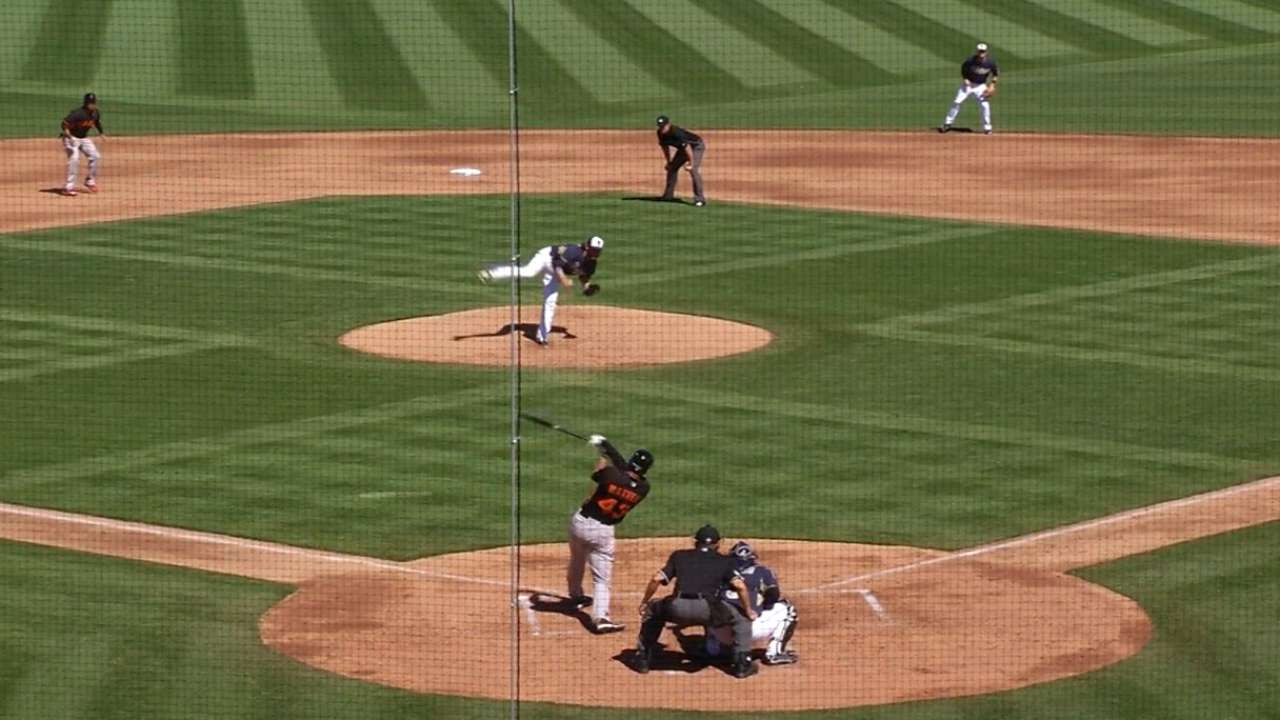 SCOTTSDALE, Ariz. -- Giants outfielder Justin Maxwell decided long ago that he'd rather try to master baseball than obtain a master's degree. So he's continuing his baseball education, while facing the challenge of winning a reserve role on the club's Opening Night roster.
Maxwell's field of competitors includes Gary Brown, Jarrett Parker and Juan Perez, who has spent his entire six-year career in the Giants' organization and was deemed valuable enough to start Game 7 of last year's World Series. None of them might make the team if Travis Ishikawa is considered an extra outfielder as well as a first baseman, and he earns a place on the 25-man squad.
But Maxwell, 31, has displayed the wherewithal to distinguish himself,despite his .176 (3-for-17) spring average. He graduated from Sherwood (Md.) High School with a 4.0 grade-point average and was accepted to Harvard University.
Maxwell recalled that he was poised to enroll at Harvard until spring of his high school senior year, when he caught the attention of some University of Maryland baseball coaches. They offered Maxwell a scholarship. He had to make a choice, which wasn't too difficult. He didn't qualify for a scholarship at Harvard, where grants are need-based. His parents, both dentists, earned an income that eliminated him from scholarship consideration. Most of all, baseball gripped him. Attending Maryland and playing collegiately in the tough Atlantic Coast Conference would help Maxwell reach his ultimate goal.
"I had a lot of people who obviously were against me going to Maryland with Harvard on the table, but I wanted to play Major League Baseball," Maxwell said. "That's where my mind was at and I thank God. He worked it out for me."
Maxwell still threw himself into academics at Maryland. He majored in animal science and graduated in 2005, which put him on course to become a veterinarian. "I haven't used my degree yet," he said. When it was suggested that he might not have to do so for a while, Maxwell grinned and said, "That's the plan."
Six times in the last eight years, Maxwell has spent varying portions of the season in the Majors. His prodigious power, reflected by his 34 home runs in 808 career at-bats, has been stunted by a variety of injuries. Those include wrist, shoulder, ankle and hand maladies.
Maxwell has played for Washington (2007, 2009-10), Houston (2012-13) and Kansas City (2013-14). Yet, he seems destined to be a Giant -- due largely to His father, Austin, who was well-acquainted with powerful people. Austin Maxwell served as the White House dentist spanning the Bill Clinton and George W. Bush administrations. "He can't tell me anything about it," Justin Maxwell said, referring to the need for confidentiality.
However, the elder Maxwell could tell his son plenty about his favorite ballplayer, Giants legend Willie Mays. Through familial osmosis, Justin became a Giants fan as a youth. Austin Maxwell spent 24 years in the Navy, so the family never stayed in one place long enough for Justin to embrace the local or regional team.
"The Giants were my team," Justin Maxwell said. "They were the team that I latched onto when I was a kid. I remember drawing the 'SF' whenever I would doodle. I enjoyed watching Barry [Bonds] break the [home-run] record when I was in college. It's kind of ironic that I get to wear the uniform. That's pretty cool."
Chris Haft is a reporter for MLB.com. Read his blog, Haft-Baked Ideas, and follow him on Twitter at @sfgiantsbeat. This story was not subject to the approval of Major League Baseball or its clubs.