Taylor making most of extra playing time at the plate
Mariners shortstop hopeful showing off newfound power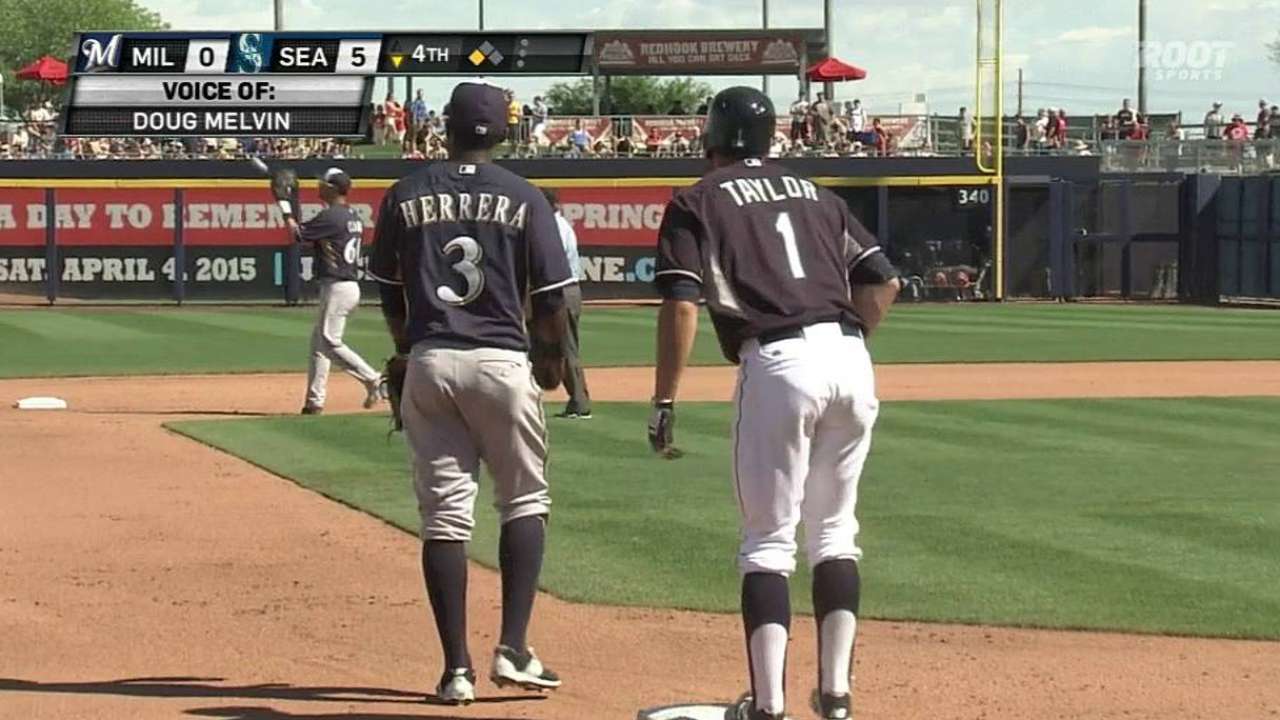 PEORIA, Ariz. -- Chris Taylor wasn't about to let a fastball off the wrist slow his ongoing quest in the Mariners shortstop race Friday.
Taylor was nicked near his right hand by a Jim Henderson 0-2 fastball in the sixth inning of Seattle's 10-5 win over the Brewers. The pitch was called a foul tip by home plate umpire Josh Byrne. So after being checked out by manager Lloyd McClendon and trainer Rick Griffin, Taylor took a practice swing, stepped back in and nearly undressed Henderson with a sharp single back through the box.
"That always feels good," Taylor said with a small smile after leaving Henderson sitting on his backside. "I don't know. I just felt comfortable up there. It was just one of those days."
Indeed, that base hit capped a 3-for-3 day with a triple for Taylor, raising his Cactus League batting average to .421 as he continues putting a strong foot forward in his competition with Brad Miller at shortstop.
Taylor had to ice his wrist afterward, but said he thought it was OK despite some immediate swelling. There has been no cooling off in the contest for shortstop, with Miller making a strong throw from deep in the hole for an outstanding defensive play Friday and Taylor racking up a nice day at the plate while filling in for Robinson Cano at second.
The two youngsters are not making an easy choice for McClendon, who says he'll let the battle play out through the entire spring before making a decision.
"That was the way I was hoping it would be," McClendon said. "As we continue to move forward, I think things will get even more interesting and the competition will heat up at a lot of different positions, not just shortstop. I think we have three or four different areas where it should be pretty interesting."
One position not up for grabs is second base. With Cano missing six games while attending his grandfather's funeral in the Dominican Republic, McClendon was able to play both Miller and Taylor every day, flip-flopping the two between short and second.
Taylor just smiled when asked if he was pushing to unseat Cano permanently.
"I think I'm going to try to slide back over to shortstop," he said.
But the extra playing time has been welcome.
"I'm just glad I'm getting [at-bats]," said Taylor, whose 19 at-bats are tied for second on the team behind D.J. Peterson's 22 through 11 games. "I have no problem bouncing back and forth between short and second. I'm glad I get to see some live arms and get back in that competitive, game-ready mode and get that feeling back."
Taylor hit .287 in 136 at-bats last year after being called up by the Mariners in late July, but posted just a .346 slugging percentage and had just eight doubles and no triples or homers among his 39 hits. This spring he's already cracked a double, two triples and a home run among eight hits.
"That's something I'm really working on improving with the coaches," he said of driving the ball this spring. "One of the things was standing a little taller and creating a little more separation. And I think that's showing a little bit."
Greg Johns is a reporter for MLB.com. Follow him on Twitter @GregJohnsMLB as well as his Mariners Musings blog. This story was not subject to the approval of Major League Baseball or its clubs.