Healthy Rondon expands Tigers' late-inning options
If Nathan falters as closer, Soria could take over, opening setup role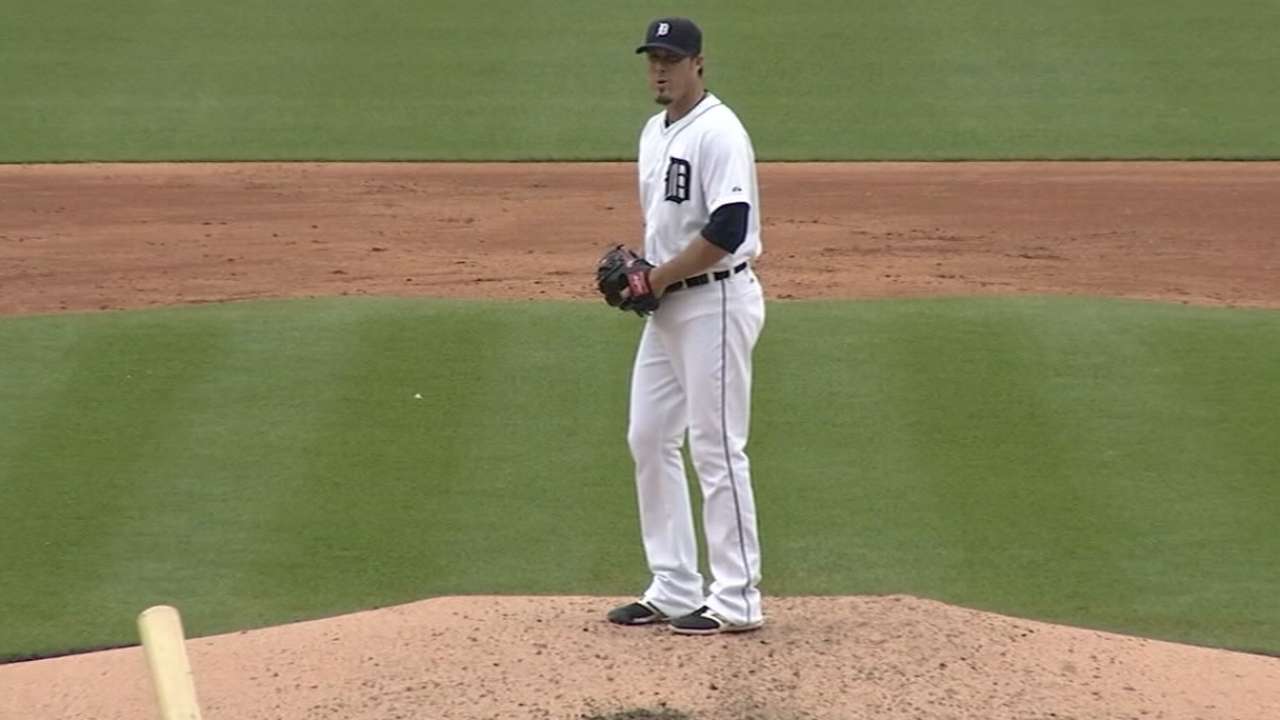 LAKE BUENA VISTA, Fla. -- Bruce Rondon will get his chance to follow up his solid return in the next couple of days, likely Sunday against the Marlins during the Tigers' two-day trip to Jupiter. He felt fine Friday morning, according to manager Brad Ausmus, after hitting 100 mph on the Joker Marchant Stadium radar gun Thursday afternoon in his first outing in almost a full year.
"I'm glad his velocity is there," Ausmus said. "I was more excited to hear that he feels fine."
Also this weekend, Joe Nathan will get a chance to try to brush aside the five-hit, two-out debacle he suffered in the same Thursday matinee as Rondon's return. If Nathan can post a clean inning, it would be the third in his last four outings, and it would temper some trepidation of Tigers fans who fear Nathan's struggles could be terminal.
"Obviously not a great outing, not an outing he wants," Ausmus said of Thursday's appearance. "But I say it when guys do well, and I'll say it when guys do poorly: I don't put too much stock in Spring Training results. Especially with veterans, it's more about getting repetitions."
It's an intersection of Tigers relief pitching -- one young hurler and potential future closer back on the rise, an embattled veteran closer trying to hold on -- that might sum up the decisions the Tigers eventually entertain, either to replace Nathan at some point or to succeed him later. It's not a question of whether Rondon is anywhere near ready to close, but what the Tigers might have to do to adjust if Nathan at some point can't close.
Ausmus has made it clear since January that Nathan is his closer. It was a vote of confidence from the start of the offseason, when team president/general manager Dave Dombrowski said Nathan would be the closer going into the season but "has to perform up to the capabilities required of doing it."
Likewise, Dombrowski and Ausmus made it clear upon picking up Joakim Soria's option for next season that they expected Soria to work as Detroit's eighth-inning setup man, giving him a set inning rather than the moving role he had down the stretch last season.
Soria saved 17 games for the Rangers before his trade to Detroit last July and has 178 saves for his seven-year Major League career. If the Tigers had to make a move, they wouldn't have to look far for their best option, rather than hitting the free-agent market like they did in April 2013 by bringing back Jose Valverde.
Filling the eighth inning under that scenario would be the bigger question. That's where a healthy return for Rondon, who was slated for eighth-inning setup duties last year before he underwent Tommy John surgery, could give them depth.
Joba Chamberlain moved to eighth-inning duties last year after Rondon's surgery and enjoyed surprising success through the first half of the season. However, he had a heavy workload with few effective options beside him, which is what led to the Soria trade in the first place.
Chamberlain has rebounded from his rough Spring Training debut with back-to-back solid innings, hitting 94 mph on the radar gun Friday against the Braves. The Tigers expect Nathan to bounce back, too. They have options if his struggles linger to become a bigger concern.
Jason Beck is a reporter for MLB.com. Read Beck's Blog and follow him on Twitter @beckjason. This story was not subject to the approval of Major League Baseball or its clubs.