Determined Nimmo among Mets' first three cuts
Top prospect confident he's on right track to Majors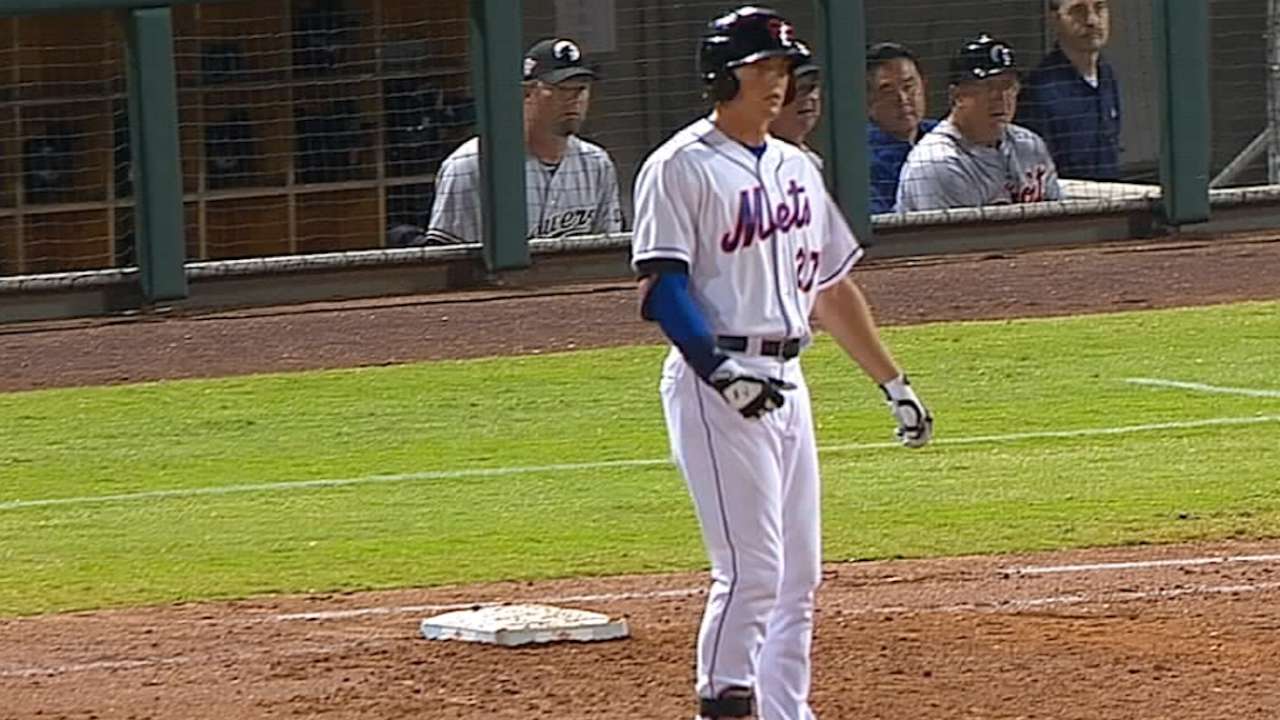 PORT ST. LUCIE, Fla. -- One year ago, Brandon Nimmo raised eyebrows the day he walked into his first big league camp. Gone, in Nimmo's recollection, was the "scrawny little kid" the Mets selected 13th overall in the 2011 First-Year Player Draft. In his place was a grown man who spent his winter at a performance academy in Florida, learning to eat right and packing on 20 pounds of muscle.
Nimmo proceeded to enjoy a breakout summer, elbowing his way into the landscape of the game's best outfield prospects. So although the Mets reassigned him, shortstop Gavin Cecchini and catcher Xorge Carrillo to Minor League camp Friday in their first round of big league cuts, Nimmo is confident he will be back before long.
"I need to be more consistent with hitting," said Nimmo, who appeared in only two Grapefruit League games due to a left thumb injury. "Obviously a little more power would be nice. But these are things that come with experience, and they're things that just come with playing this game and getting older. My big, big goal is to stay healthy. And that's really hard to control, but I'm going to try and do everything I can to control that, so that I can play every day, be out there and just get the at-bats. Because doing that, I'm going to learn the things that I need to learn."
Now 21, Nimmo is coming off a season in which he reached Double-A Binghamton for the first time, hitting .278 with 21 doubles, nine triples and 10 home runs, over 127 games split between there and Class A Advanced St. Lucie. It barely resembled what Nimmo did the three previous seasons, after the Mets raised eyebrows by drafting him -- a Wyoming high schooler with virtually no experience against top-flight competition -- one spot above Marlins pitcher Jose Fernandez.
Translating his new physique into results, Nimmo is, in that sense, vindicating the Mets.
"Some of it may just happen with maturation and age," vice president of amateur scouting and player development Paul DePodesta said. "But a lot of it comes from a young man taking ownership of his career in a profession. That's hard for a 19- or 20-year-old to do. But someone with Brandon's makeup, he's taken advantage of the resources available to him, and he's doing everything he can to be as good as he can possibly be."
Among the club's other cuts from big league camp Friday were Cecchini, another former first-rounder who reached Double-A last summer, and Carrillo, who spent most of his summer there as well. Cecchini was the Mets' top pick in the 2012 Draft.
Anthony DiComo is a reporter for MLB.com. Follow him on Twitter @AnthonyDicomo. This story was not subject to the approval of Major League Baseball or its clubs.