Greene shows crisp command, mixes pitches vs. Braves
Tigers right-hander hurls three perfect innings in second spring outing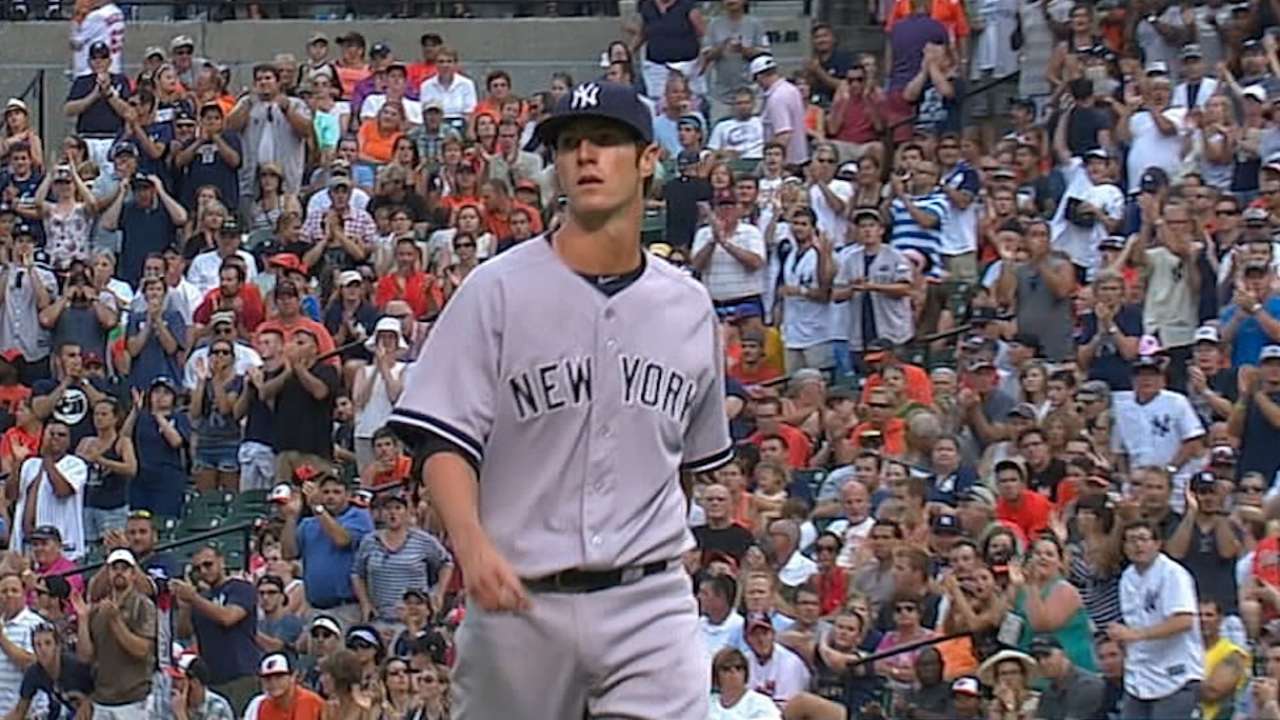 LAKE BUENA VISTA, Fla. -- Shane Greene is still in the process of getting to know his new teammates in Detroit. They seem to know his game pretty well already.
For them, the three perfect innings he posted against the Braves in Friday's 12-2 Tigers win looked awfully familiar.
"That's the Shane Greene that I know," catcher James McCann said. "We came up playing against each other through the system since my first year in 2012, and he's always impressed me with his stuff. That's the kind of stuff that I've always remembered."
Those who didn't see him on his way up remembered that type of stuff from his two wins with the Yankees against Detroit last summer, from the 94 mph sinker to the mid-90s four-seamer to the deceptive changeup.
He shut down the Tigers with that type of pitching in the regular season. Atlanta's Spring Training lineup didn't have much of a chance.
"That's pretty good stuff," Braves manager Fredi Gonzalez said. "That was a live fastball. It was moving in the strike zone. That was a pretty electric fastball."
For his first handful of pitches, Greene seemed to be pumping two-seamers, sticking the Champion Stadium radar gun at 94 mph. From there, he got into a mix that rarely revealed the same pitch at a similar velocity twice. He changed speeds and movement with regularity, and there wasn't much to be done about it.
He started off Zoilo Almonte with a strike leading off the third inning at 78 mph, followed by a two-seamer at 92, then a slider. He missed with a fastball at 94 for ball two, but finished him off by spotting a sinker.
He alternated fastballs with offspeed pitches for his final two hitters, both of whom popped out to second base. He finished with 32 pitches, 23 of them for strikes.
"He threw one real good changeup for a popup," manager Brad Ausmus said.
For someone who has been compared to Rick Porcello, both for the sinker at the heart of his game and the rotation spot he's taking, his pitching Friday seemed more like a mix between Porcello and current Tigers teammate Anibal Sanchez.
"I was locating my sinker on both sides of the plate. I was happy with that," he said. "I threw a couple fastballs up in the zone late, a couple good ones. A couple got away from me, but overall I felt really good."
It was a different look than his first outing, when he gave up three runs on six hits in two innings against the Astros at Joker Marchant Stadium. He was just getting in his work, but he was still trying to hone his command.
"His command was better, for sure," Ausmus said. "His changeup was better. He threw more of them the other day -- of course, he was out there longer -- but the ones he threw today were better. It's a pitch that we want him to get a feel for and use, especially against left-handed hitters."
Jason Beck is a reporter for MLB.com. Read Beck's Blog and follow him on Twitter @beckjason. This story was not subject to the approval of Major League Baseball or its clubs.