After unique journey, Moncada has eye on future with Sox
Cuban infielder, set to start season at Class A, introduced by Boston on Friday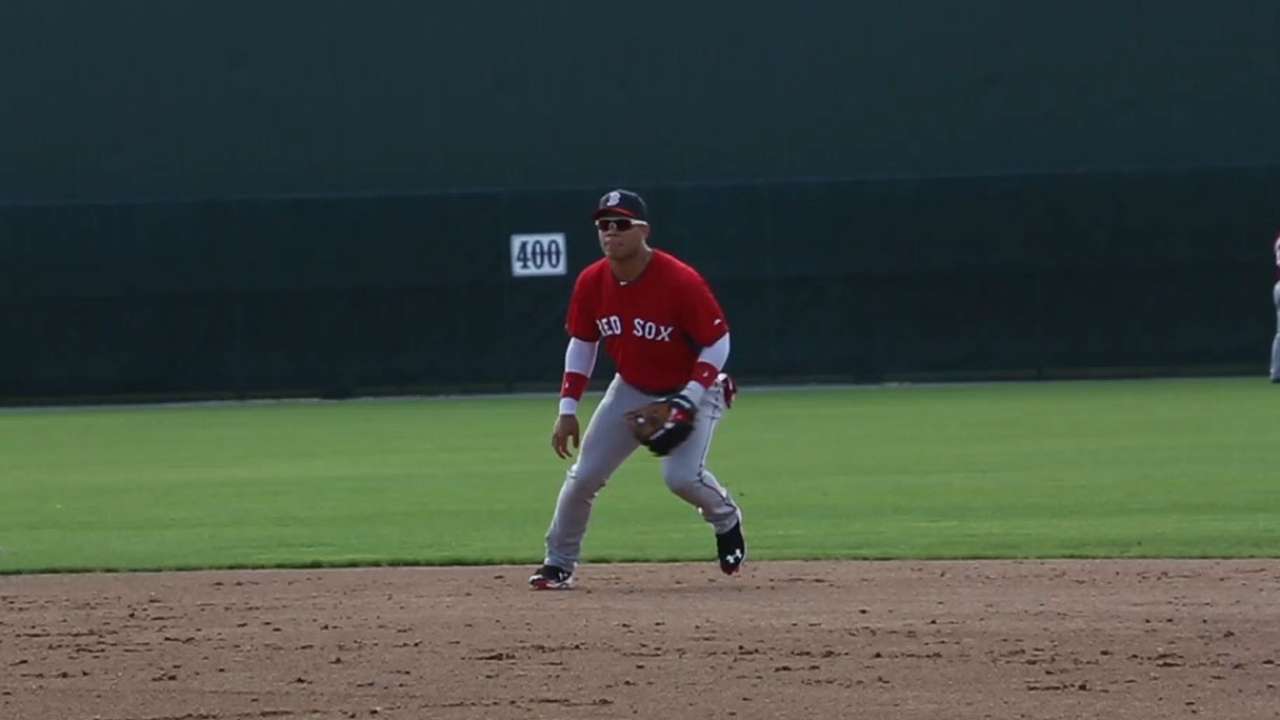 FORT MYERS, Fla. -- The sound of camera shutters clicking began as soon as Yoan Moncada opened the front door to the media interview room at JetBlue Park. It reached a crescendo when he plopped down in the middle seat on the dais in front of the assembled press.
Red Sox general manager Ben Cherington took his place on Moncada's right. Eddie Romero, the club's director of international scouting, sat on his left side, and Red Sox legend Luis Tiant -- dressed in a white, untucked guayabera shirt -- watched from the corner.
The Red Sox finalized their $31.5 million deal with the 19-year-old Thursday, and on Friday, the club introduced him to the baseball world. There sat a poised Moncada, wearing a new black suit and a hot pink undershirt, flanked by some of the most powerful men in the organization. Moncada was backed in the audience by a 67-year-old certified public accountant-turned-agent named David Hastings and his wife Jo, Billy the security guard, and Minor League player Carlos Mesa, who spent much of last year acting as Moncada's big brother. Mesa's wife and infant daughter also attended the introductory news conference.
Much has been written about Moncada over the last several months, mostly focusing on his past, his talent, his experience, the circumstances around his unique departure from Cuba and the teams that wanted to sign him. But on Friday, Moncada, who will be 20 on May 27, looked straight ahead, intent on gearing the attention toward his future.
"This is something that I've never done, being in front of the press like this," Moncada said. "But with my teammates, I'll be the same person I have always been. I'll be dedicated, caring, and a good teammate. That will never change. That would be like being a completely different person for me."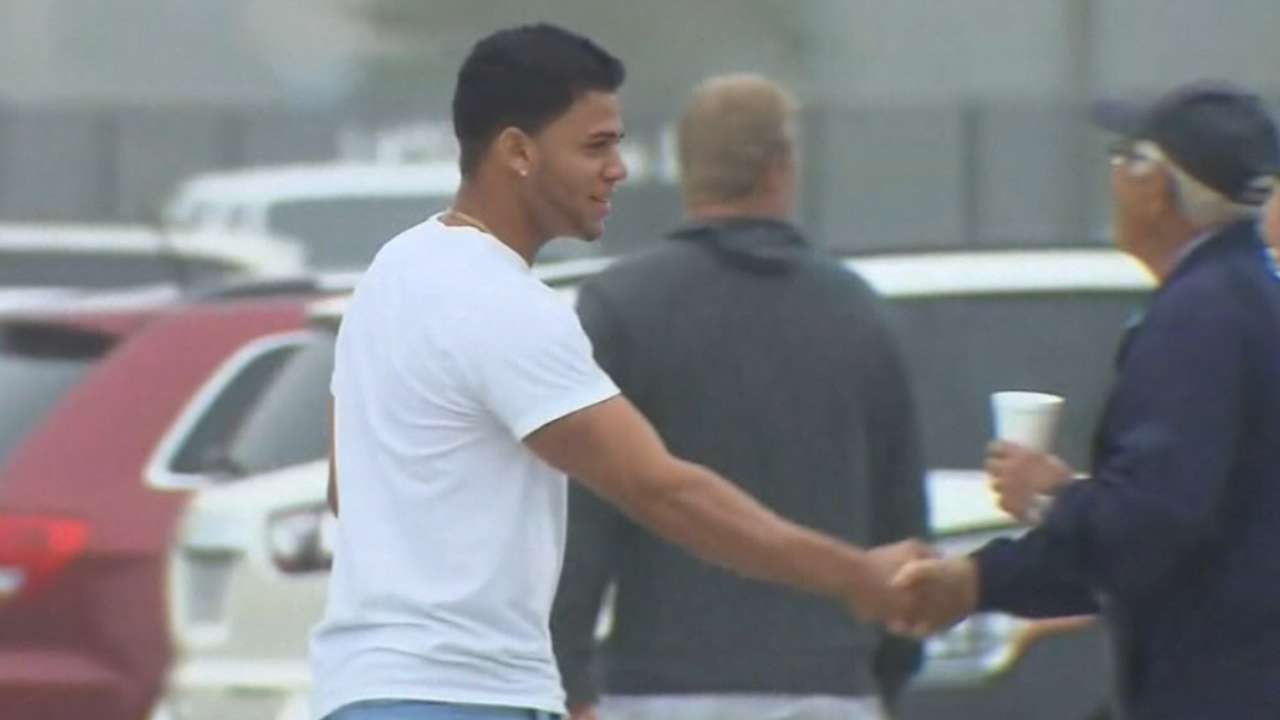 Moncada answered questions in Spanish with Romero acting as his translator for 45 minutes, while Hastings played the part of an ordinary accountant, modestly dressed in a white long-sleeved shirt with black vertical lines, black pants, and small glasses that disappeared into his short salt-and-pepper hair. Jo Hastings, in her blue sundress and Jackie Onasis-sized sunglasses, was giddy. Jo runs the family restaurant, La Habana, in Gulfport, Fla., and it was her job Friday to deliver the Twinkies, Moncada's favorite snack when he lived at their home, and a brand new box of fabric softener.
Moncada had somehow gone through 900 sheets of fabric softener in a span of 10 days for reasons known only to him. Moncada won't buy Twinkies, but he'll eat them.
"It's been an adventure to say the least," said David Hastings, who has an estimated 700 tax clients. "Being a CPA, we are used to multitasking. Once I got into, it was a learning process. Every day something new was coming up. It was fascinating. I really enjoyed it. I talked to so many different people and learned something from everyone."
Hastings jokingly said he "had a lot of invitations from other agents" to help him. In other words, other agents wanted to take his client off his hands.
Hastings was once viewed as an easy target. One general manager for a team involved in the Moncada negotiations recalled calling Hastings late last year to introduce himself. He then spent the next 15 minutes describing to Hastings what a general manager does.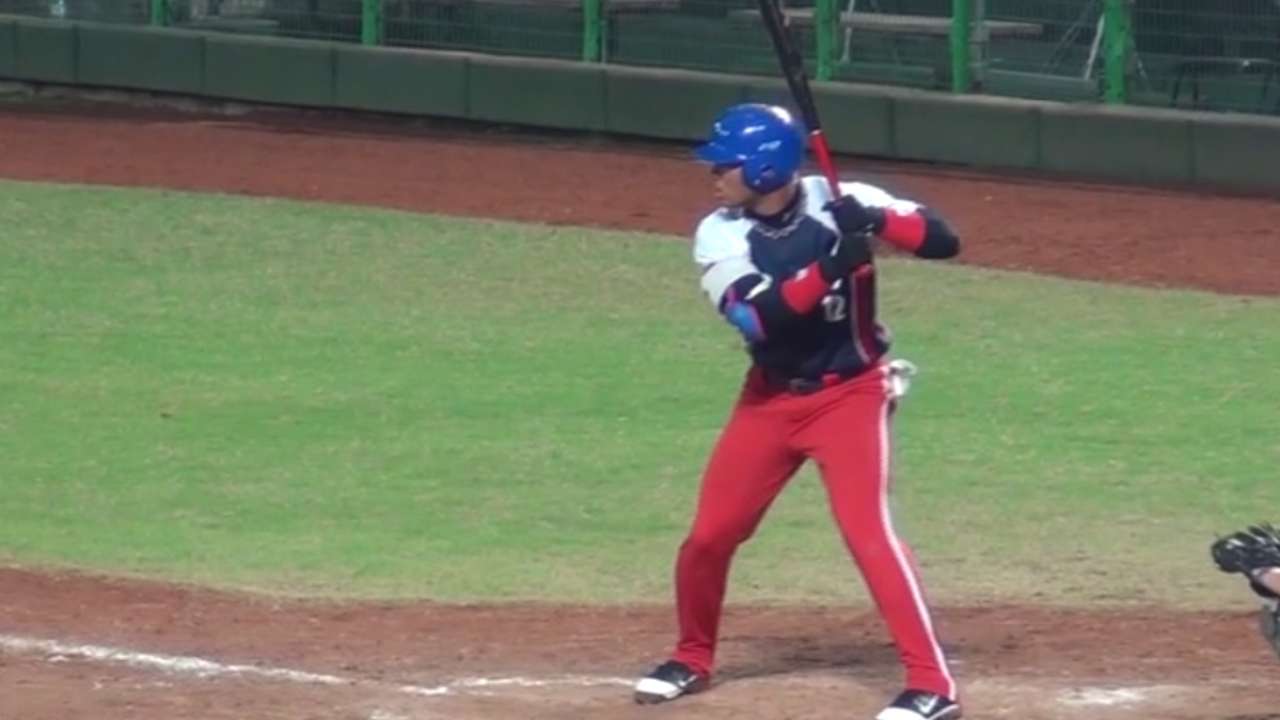 But by mid-February, Hastings had improved his game. He challenged MLB's policy on unblocking Cuban players by the U.S. government. More impressive, he had $25 million offers from the Padres and Red Sox in hand before he approached the Yankees. The Brewers also made a competitive offer. According to Hastings, New York offered Moncada $25 million and gave him one hour to accept. Moncada eventually chose the Red Sox. Boston also signed Mesa.
"If the Yankees want to continue to say they didn't have the opportunity for a counteroffer, that's up to them," Hastings said. "l treated everybody with respect in bidding process. When it came to the final decision, Yoan was excited to be a Red Sox. He wanted to play for Boston. That's how it ended up. But other teams had every opportunity."
The Red Sox began scouting Moncada and his Cuban teammates in international tournaments five years ago. They ramped up their efforts last November after watching the infielder perform in a showcase in front of all 30 teams in Guatemala City, Guatemala.
In addition to the Red Sox, Moncada also worked out privately for the Brewers, Cubs, D-backs, Dodgers, Giants, Padres, Rangers, Rays, Tigers and Yankees in the months leading up to his signing.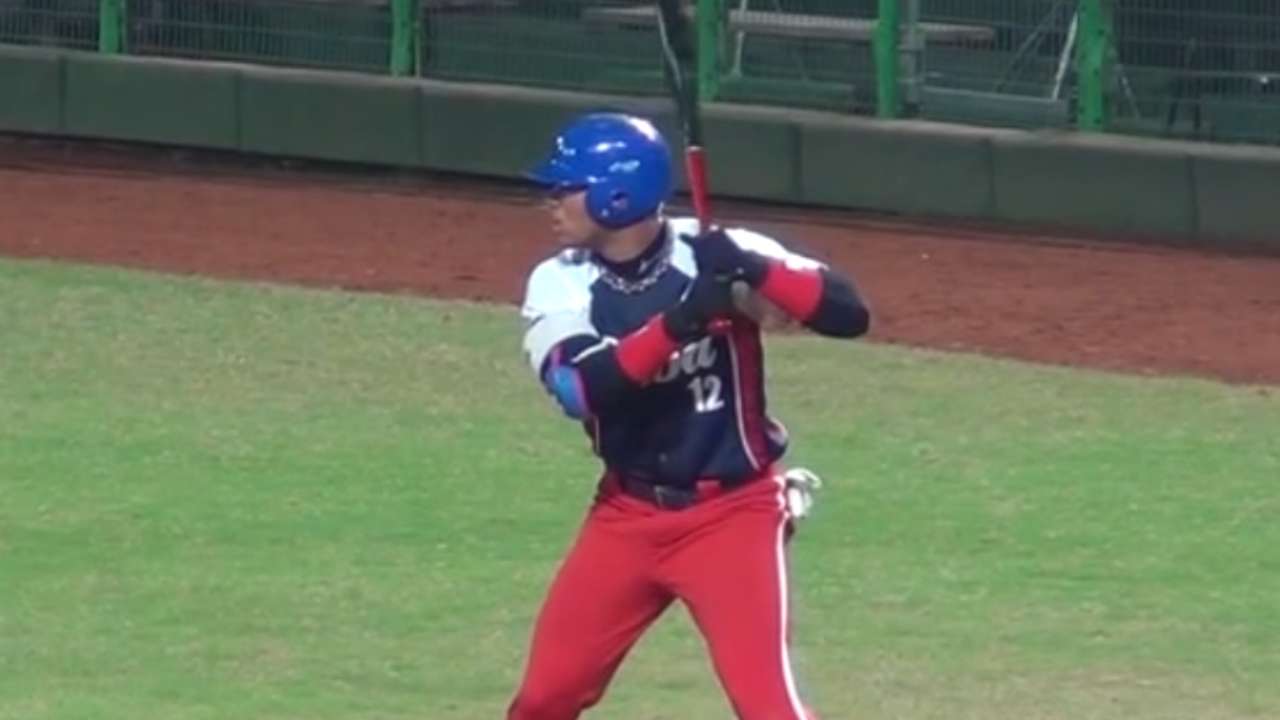 Moncada's story is as unique as his talent. According to sources, the infielder was granted his release from the Cienfuegos team in late 2013 and was later cleared by Cuba's National Baseball Commission after telling them he no longer had interest in playing in Cuba. He was issued a passport by the Cuban government, left on an airplane to Ecuador, and eventually made his way to Guatemala.
"My time in Guatemala was very difficult," Moncada said. "I was in a city with some violence, but at the same time, I was able to work out and even go to the movies on occasion. There were a lot of people there who helped me along the way. I'm very grateful for all who helped me, and I give thanks to God, too."
Hastings said he was introduced to Moncada by a client, and he didn't meet the player until the infielder landed in a country outside of Cuba. Like Hastings, the Red Sox declined to comment on how Moncada left the island or if he has a wife and child in the United States, as first referenced in a Vice.com article.
Moncada began living with the Hastings family, their eight cats and two dogs, after he left Guatemala last November. He moved out when he agreed to sign with the Red Sox in late February.
"His personal life is a private thing that I'm not going go into," Hastings said. "That's not my purpose to mention things like that. You can ask Yoan."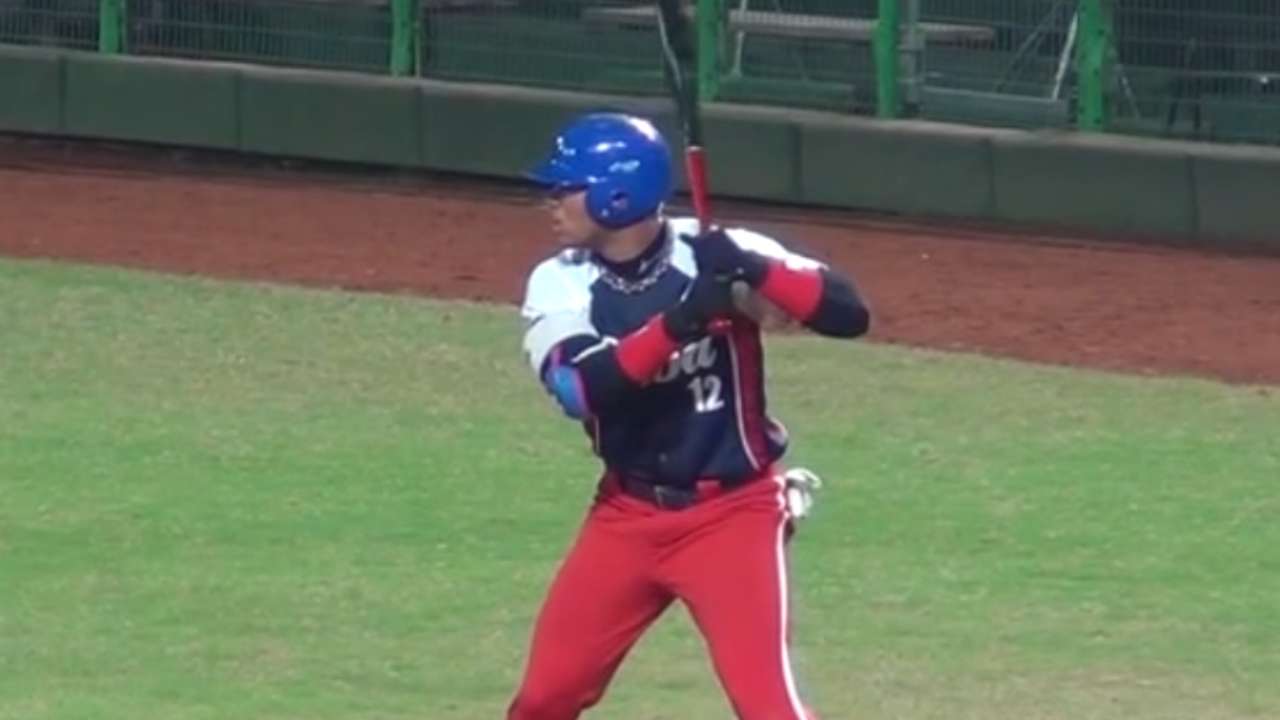 What's certain is that Moncada is trying to bring his parents to the United States.
"When I traveled with the Cuban team, it was for a week or maybe two weeks, and then I'd go back home, the place I have been since I was a child," he said. "I had the opportunity to come the United States, and it's been more than nine months since I've seen them, but hopefully they can come see me soon. I'd be very happy with that."
Moncada will work out in Minor League camp, and he is expected to start the season at Class A Greenville. He hopes to be in the Major Leagues next year, and he is aware that he may have to move away from second base, his favorite position, to make his big league dream come true.
"It was a difficult process to choose which team, because it's the first time I've ever been through anything like this," Moncada said. "My decision was mine and my parents back in Cuba. I called them and told them the situation. They also believe the Red Sox were the right choice. This is a tremendous organization with great players. I'm going to give it all I can to make it to the Major Leagues."
Jesse Sanchez is a national reporter for MLB.com. Follow him on Twitter @JesseSanchezMLB. This story was not subject to the approval of Major League Baseball or its clubs.