Detwiler says right wrist fine, X-rays negative
Lefty hit by liner, but remained in game to pitch two scoreless innings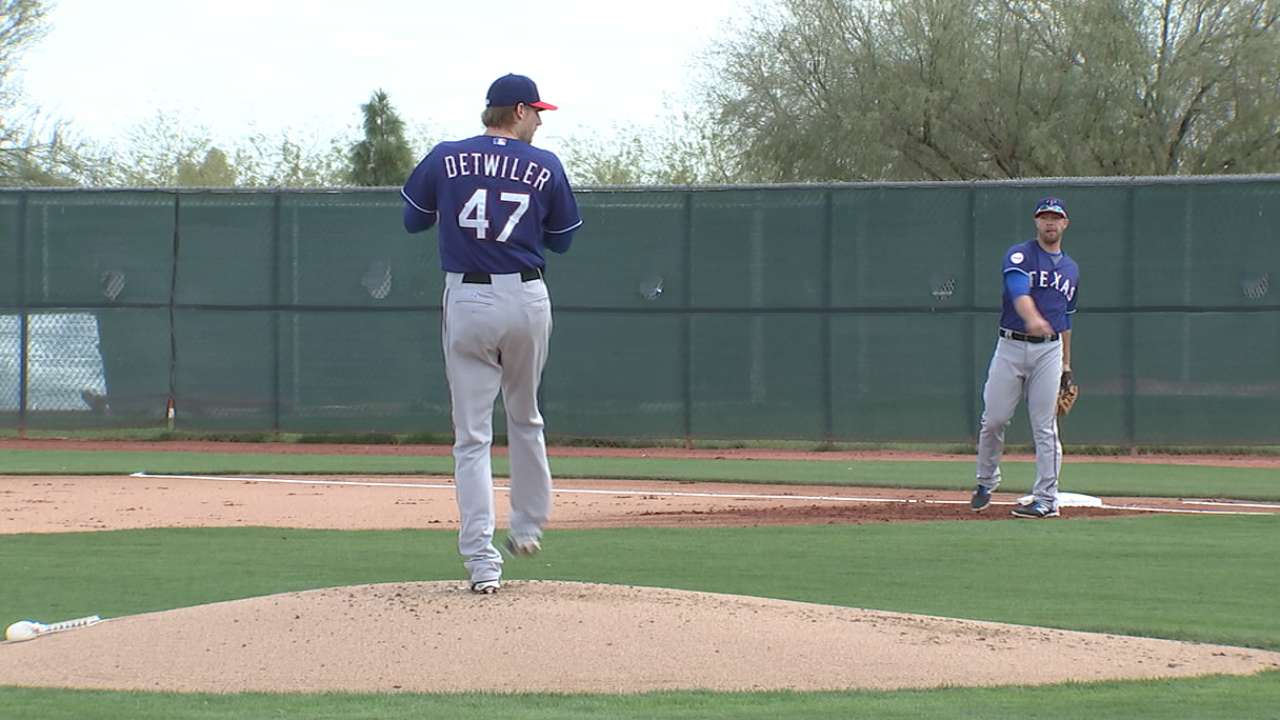 SCOTTSDALE, Ariz. -- Rangers starter Nick Martinez had runners at the corners with one out in the first inning and he survived the moment. Left-hander Ross Detwiler, pitching in relief, took a line drive off his right wrist in the fourth inning and survived that as well.
Overall, the Rangers' pitching thrived on a sunny Friday afternoon at Scottsdale Stadium against the 2014 World Series champion Giants in a 3-0 victory that only intensified the competition for the final two spots in the rotation.
"There is a lot of talent here," Detwiler said. "It's going to be a hard-fought battle. Right now, it's not people stepping up as much as jut showing what they can do."
Detwiler, used in relief by the Nationals last season before being traded to the Rangers, came into camp as the leading candidate for the fifth spot. Now, with Yu Darvish lost for the season due to upcoming Tommy John surgery, the Rangers are looking for two starters behind Derek Holland, Colby Lewis and Yovani Gallardo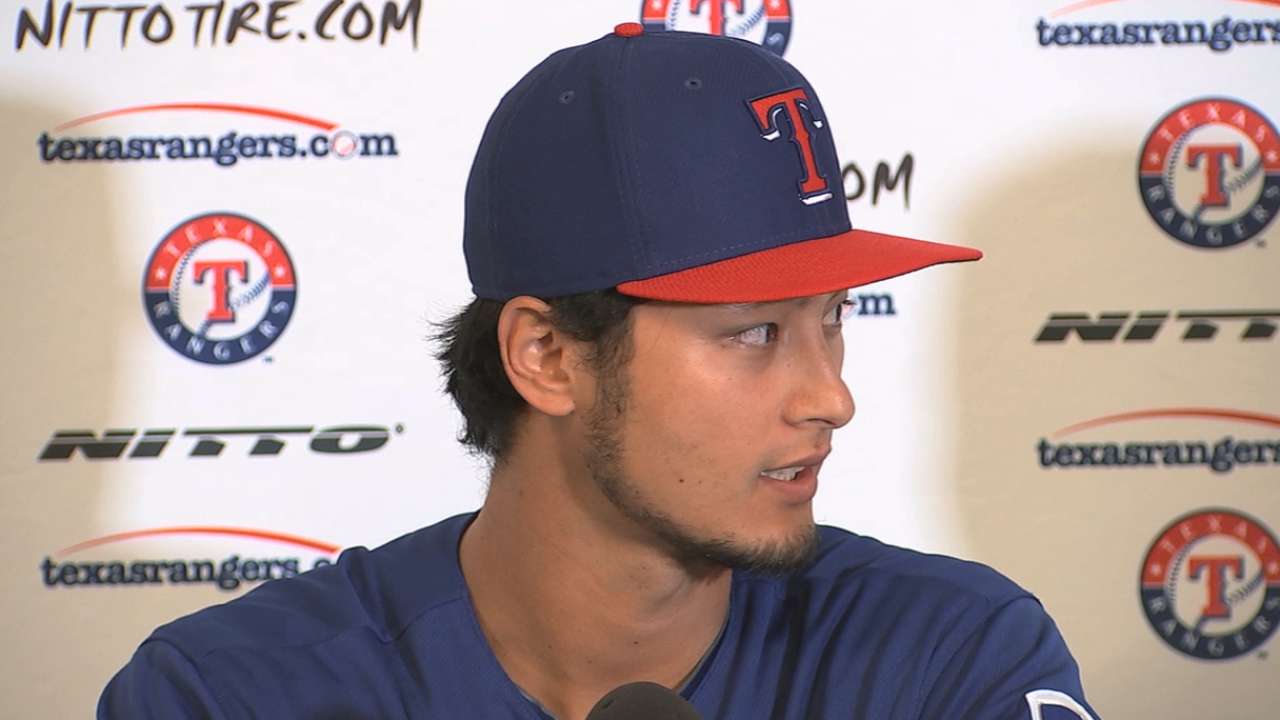 At this moment, it's not so much who will win a job, but who can help make up for the loss of a three-time All-Star. Detwiler delivered two scoreless innings despite taking a line drive off off his wrist. He allowed one run in 2 2/3 innings in his first start against the Brewers.
"Detwiler is showing what we expected," manager Jeff Banister said. "He is showing a sharp breaking ball, that is a pitch we've seen in the past, and the changeup is in play. What I like most is he likes his fastball and is willing to challenge hitters in and out with it."
Detwiler only threw 29 pitches over two innings. The Rangers wanted him to go three, but there were some concerns over the wrist. But X-rays proved negative and he should be ready for his next outing.
"It's moving around pretty good," Detwiler said. "I'm not worried about it."
The injury occurred on the first of nine batters he faced. Buster Posey, leading off the fourth, hit a line drive back up the middle that Detwiler knocked down with his wrist. He got the out at first base and stayed around to pitch two scoreless innings. He allowed two hits and a walk, while striking out two.
It was the second of two strong outings from rotation candidates on Friday. Martinez started the game and pitched 2 2/3 scoreless innings. He allowed two hits and struck out four. Getting out of a first inning jam was what impressed Banister and pitching coach Mike Maddux.
"It could have gotten out of hand there, but it didn't," Maddux said.
Martinez ran into trouble in the first when he gave up a one-out double to Joe Panik and a single to Buster Posey. That put runners at the corners, but Martinez struck out Brandon Belt with a mean changeup and he retired Casey McGehee on a fly to left.
"We have been harping on two outs with runners in scoring position, staying mentally into the game," Martinez said. "Don't give in after you've got the second out. You're not through yet. I just stepped off the mound, regrouped mentally and established a plan of attack."
Martinez then struck out the side in the second and retired the first two hitters in the third on ground balls before coming out of the game. He allowed one run in two innings in his first start. The rotation competition continues to boil with the circumstances more dire because the Rangers don't have Darvish.
"The competition nature is the same as the fifth spot," Martinez said. "There are no guarantees who is going to get it. You can't overwhelm yourself with the opportunity."
Worth noting
• Outfielder Delino DeShields also had to leave the game after three at-bats because of tightness in the right hamstring. He is day to day, but speed is one of the most important parts of his game.
• Infielder Hanser Alberto also left the game with a bruised right triceps muscle after getting hit by a pitch from Giants starter Jake Peavy.
• Alex Claudio pitched 1 2/3 scoreless innings. The left-handed reliever leads the club with five appearances and has a 1.59 ERA. Neftali Feliz earned his first save of the spring.
T.R. Sullivan is a reporter for MLB.com. Read his blog, Postcards from Elysian Fields, and follow him on Twitter @Sullivan_Ranger. This story was not subject to the approval of Major League Baseball or its clubs.