MMA icon St-Pierre delivers message to Rockies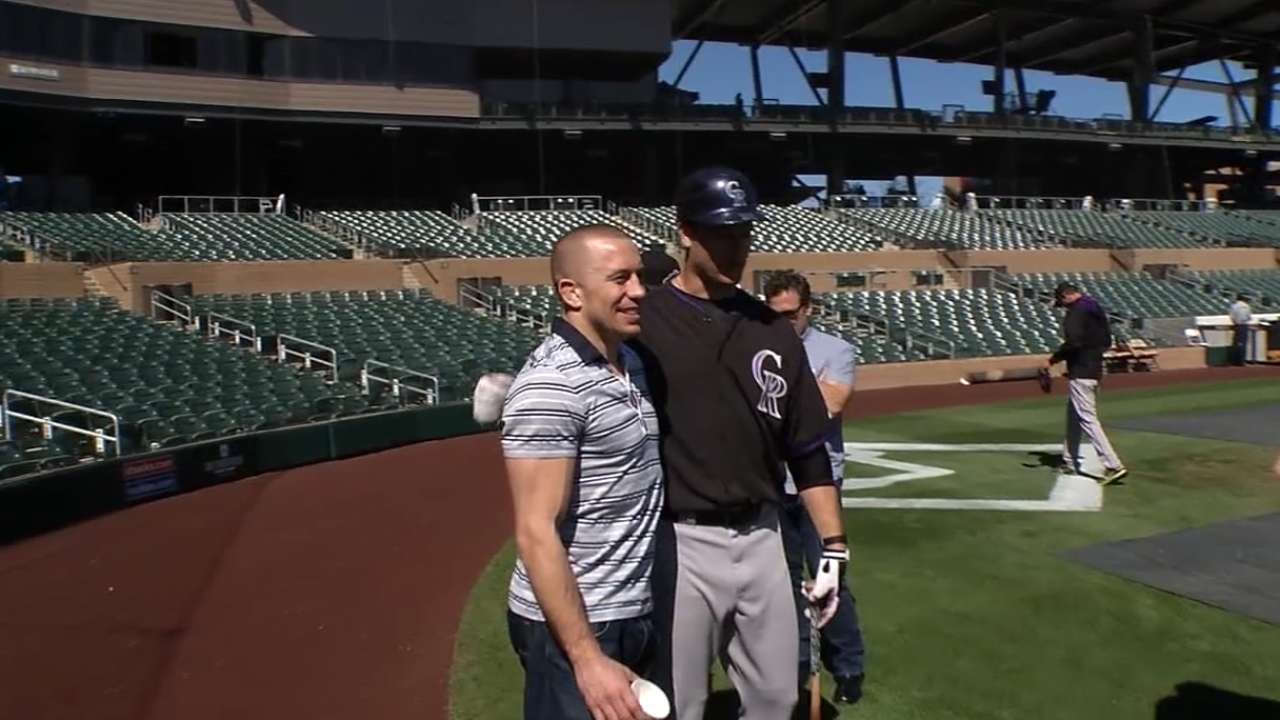 SCOTTSDALE, Ariz. -- Rockies manager Walt Weiss brought in Mixed Martial Arts icon Georges St-Pierre to speak to the team Friday, and the famed fighter delivered a message that Weiss said "was pretty amazing."
Weiss, a longtime MMA fan who trained during the latter part of his playing career and after he retired from the game, said the two didn't know each other personally, but knew some people in the same circles and was able to arrange the presentation.
"He was generous enough to come in and would have stood up in front of us all day and talked to us all day if we had let him," Weiss said. "Just a first-class, humble human being."
St-Pierre only stayed at Salt River Fields for a few hours, but still was able to take in some of the Rockies' pre-game workout and delivered a message of mentality before competition, during competition and different ways to create a competitive edge.
"He was very passionate, very generous with his time," Weiss said. "It was a great day."
There is a very special guest in camp this morning, legendary mixed martial arts champion @GeorgesStPierre. pic.twitter.com/Mj6NkxLCFx

- Colorado Rockies (@Rockies) March 13, 2015
St-Pierre is a Canadian fighter trained in multiple styles who is a two-time welterweight champion of the world (UFC). He owns the most consecutive welterweight title defenses all-time (nine).
Weiss said he was involved in traditional martial arts when he was younger, and became more engrossed as UFC became popular. He said he would recommend it for ballplayers today "in a controlled environment."
"A lot of the strength and conditioning that we see these days even in baseball is very similar," Weiss said. "It's more dynamic and more functional strength and speed, which is what the MMA guys have done for a while."
Joey Nowak is a reporter for MLB.com. Follow him on Twitter at @joeynowak. This story was not subject to the approval of Major League Baseball or its clubs.