Foltynewicz struggles as Martin bolsters rotation case
Top prospect retires two of eight batters faced in rocky outing vs. Tigers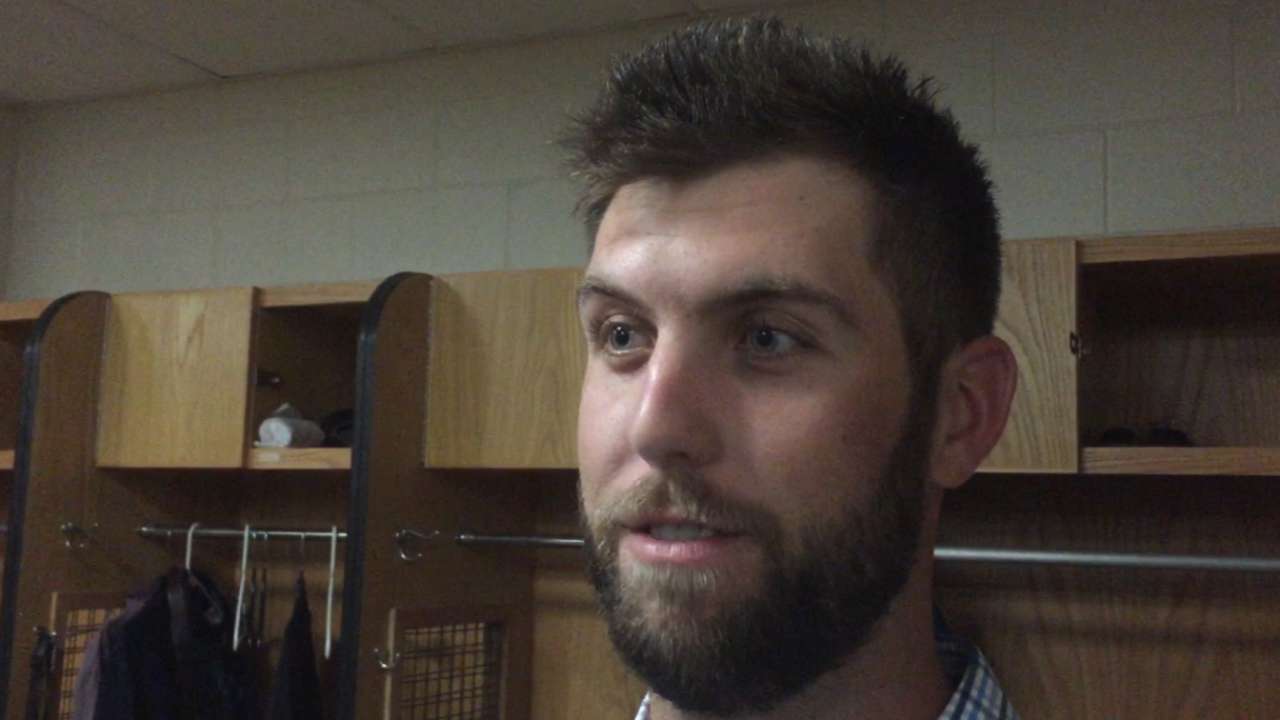 LAKE BUENA VISTA, Fla. -- As Braves top pitching prospect Mike Foltynewicz has created more reason to believe he needs more seasoning at the Minor League level, darkhorse candidate Cody Martin has taken advantage of the chance to add further intrigue to the battle for Atlanta's final two rotation spots.
Much of the focus leading up to Friday's split-squad games was placed on the two prospects -- Foltynewicz and Manny Banuelos -- the Braves were using as starting pitchers. But the excitement surrounding those young pitchers quickly faded as neither one got out of the first inning.
As Foltynewicz was retiring just two of the eight batters he faced during Detroit's five-run first inning at Champion Stadium, Banuelos was recording only two outs during what proved to be a five-run first for the Mets in Port St. Lucie.
"It's just one outing, even though my last one was a little rough and this one was rough, too," Foltynewicz said. "But it's still a little bit early and there are still some things I need to fine-tune so that this stuff doesn't happen when the season actually starts. It's a learning game and I'm going to learn from this outing."
Unfortunately for Foltynewicz, the early part of the exhibition season has indicated he still has plenty to learn. Though he has a strong arm, which routinely produced fastballs that ranged from 95-98 mph Friday, he has displayed a need to gain more consistency with both his location and his secondary pitches.
Through his first two Grapefruit League appearances, Foltynewicz has surrendered seven hits, issued four walks and notched just a pair of strikeouts. He has been considered the Braves' top pitching prospect since he was acquired from the Astros in January. But these early results indicate he might not be quite ready for the Major League level.
"I'm overdoing it a little bit," Foltynewicz said. "You've got a new team you've got to try to impress. I'm out there just trying to do too much. I've just got to stay within myself."
Martin, who tossed three scoreless innings against the Tigers on Friday, was not even mentioned as a rotation candidate until it became apparent Mike Minor will begin the season on the disabled list with a sore left shoulder. But as Martin has completed five scoreless innings through his first two Grapefruit League appearances, he has given the Braves coaching staff reason to think about giving him a shot to begin the year in the Majors.
"The focus is on the other guys," Braves manager Fredi Gonzalez said. "[Martin] is just going to be the darkhorse doing his job, the job he has done the last two or three years [in the Minors]. We'll keep running him out there. He doesn't light up the radar gun, but he gets people out."
Eric Stults appears to be the only candidate who should feel confident about his bid to land one of the two vacant spots in Atlanta's rotation. The other spot could be filled by either Martin, Foltynewicz, injury-prone Wandy Rodriguez or Banuelos, who doesn't seem to be a legit candidate because of the limited innings he totaled after coming back from Tommy John surgery last year.
Mark Bowman is a reporter for MLB.com. This story was not subject to the approval of Major League Baseball or its clubs.