Rough outing vs. Twins gives Sadler something to work on
With Cumpton out, righty looking to help fill gaps in rotation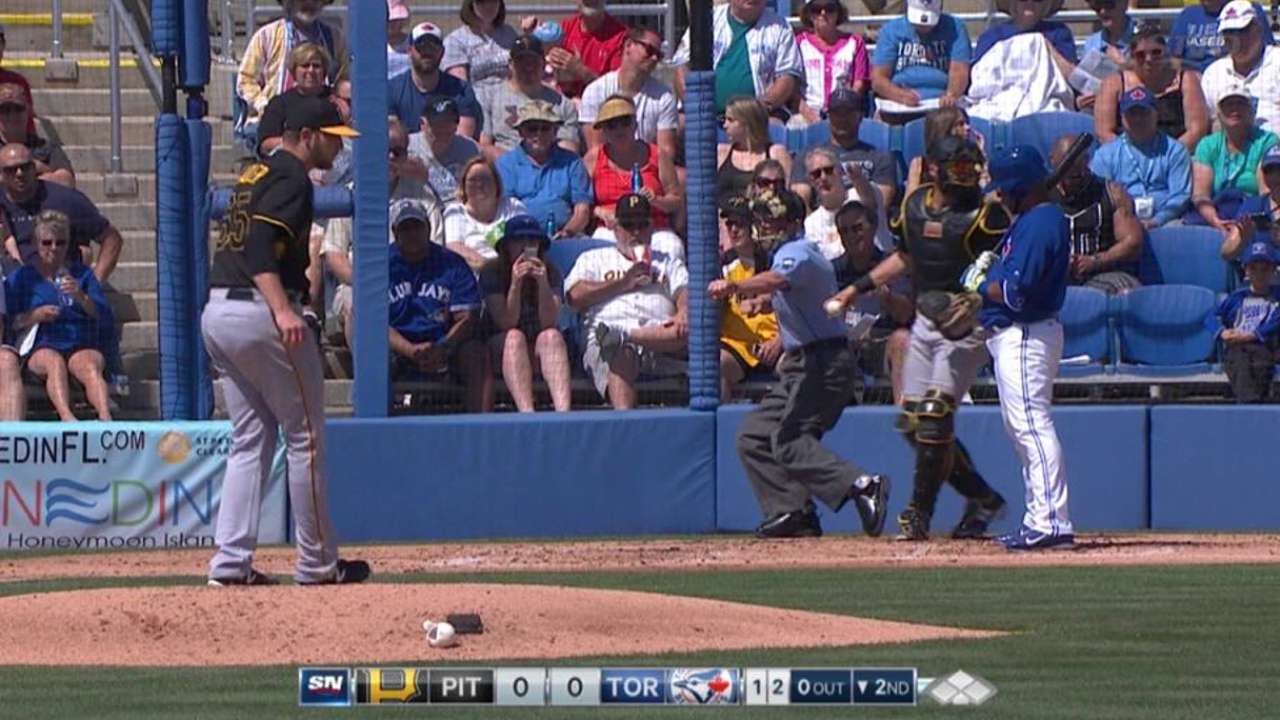 BRADENTON, Fla. -- Right-hander Casey Sadler started off the spring with five hitless innings over two outings, spotting his sinker down in the zone and forcing opposing hitters to put the ball on the ground. In light of the news that Brandon Cumpton will miss the whole season following Tommy John surgery, it was an encouraging performance for the Pirates in terms of early rotation insurance.
But Sadler's third outing was a step in the other direction. He allowed four runs (three earned) on five hits and a walk while striking out two over 2 1/3 innings in the Pirates' 8-3 loss to the Twins at McKechnie Field.
Manager Clint Hurdle summed up the difference with one word: "Location."
"My ball's really effective when it's at the knees and down. A lot of sinkerballers will tell you the same thing," Sadler said. "As soon as that ball gets above the knees, it flattens out. Especially if you're going to pitch in the middle of the plate and pitch to contact, you've really got to stay down in the zone."
Sadler served up a leadoff double to Twins shortstop Danny Santana, who scored on a throwing error by second baseman Neil Walker. Kennys Vargas then launched a two-run homer to left field, putting Minnesota ahead by three runs before Sadler was able to record his second out.
The Twins loaded the bases on a walk and two singles in the third, bringing Sadler's day to an early end. Reliever Wilfredo Boscan gave up an RBI single before getting out of the jam.
"Gives me something to work on a little bit in the next few days' bullpen and then take that into the next game," Sadler said. "Sometimes you've got to have those to really expose some of the things you need to buckle down on. I'm all right with it."
With Cumpton out for the year, Hurdle has mentioned several pitchers who could be called on as the next man up. That group includes Sadler, non-roster left-hander Clayton Richard and hard-throwing right-hander Radhames Liz.
"I feel bad for Cump. He's one of my good friends, and I wish him all the best," Sadler said. "But if that opportunity comes, I'm going to try to do him proud, and I'm going to try to do the Pirates proud and do my job of covering that spot."
Sadler, 24, went 11-4 with a 3.03 ERA in 21 starts with Triple-A Indianapolis last season. He made six appearances with the Pirates, giving up nine runs on 12 hits in 10 1/3 innings. But Sadler believes that experience will benefit him if he's called upon to pitch for the Pirates again this season.
"I'm ready for it. I'm excited," he said. "I've got some things I want to nail down here in Spring Training to make sure that I'm really ready and go from there."
Adam Berry is a reporter for MLB.com. Follow him on Twitter at @adamdberry. This story was not subject to the approval of Major League Baseball or its clubs.