Sore elbow, blister bump Wheeler from start
Mets feel both injuries not serious; Black getting MRI for shoulder trouble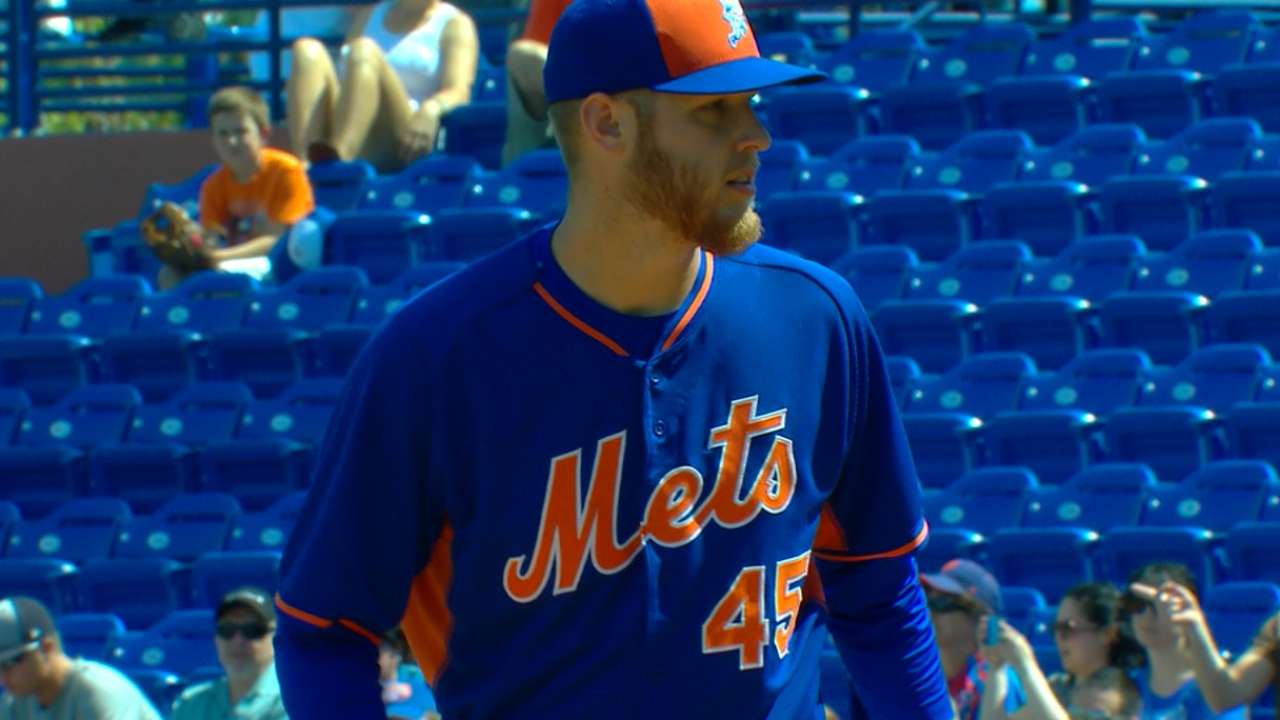 PORT ST. LUCIE, Fla. -- The Mets scratched Zack Wheeler from Saturday's start due to right elbow tendinitis and a blister underneath his right index finger, but do not consider either issue serious. The team also sent reliever Vic Black for an MRI on Friday due to right shoulder tendinitis.
Though Wheeler, 24, experienced similar elbow discomfort last season and received treatment, he did not miss any time. The Mets sent him for testing in the offseason and do not anticipate subjecting him to further tests now.
"He's had all the MRIs that he needs," general manager Sandy Alderson said.
Right-hander Tyler Pill will take Wheeler's place Saturday against the Nationals. Alderson expects Wheeler to skip only one turn through the rotation.
In contention for the Mets' Opening Day start, Wheeler struggled with control Monday in his first spring outing, walking two batters and hitting two others in a 13-2 loss to the Marlins. He is coming off his first full big league season, which saw him go 11-11 with a 3.54 ERA. That includes a 16-start season-ending stretch in which Wheeler went 8-3 with a 2.71 ERA and 96 strikeouts in 96 1/3 innings.
Pointing to that run as evidence Wheeler's elbow tendinitis is not a major issue, Alderson noted the blister is also a recurring injury.
"This is something that he experienced a little bit during the course of last season as well," the GM said. "It was managed, and that's what we expect this season. We backed him off a couple days for that reason. We don't expect this is going to be serious.
"Look at the way he pitched in the second half of the season. He was outstanding. So again, it's an intermittent thing."
Still, the Mets have had their share of arm trouble in recent years, including Tommy John surgeries for Matt Harvey, Bobby Parnell and Jeremy Hefner (twice). Left-handed reliever Josh Edgin is currently debating Tommy John surgery versus rehab for his own elbow injury.
Also the owner of a checkered injury history, Black suffered a herniated disk in his neck and a right rotator cuff strain last season. Alderson said the Mets do not believe those issues are related to Black's current shoulder issue, which he defined as tendinitis.
Black, 26, made his Mets debut in 2013 and was cut from big league camp the following spring, but rebounded to post a 2.60 ERA for the Mets over 41 appearances. He is slated to join Jenrry Mejia and Jeurys Familia at the back of New York's bullpen.
Anthony DiComo is a reporter for MLB.com. Follow him on Twitter @AnthonyDicomo. This story was not subject to the approval of Major League Baseball or its clubs.