Robertson's Angels connection goes back to '02
As outfielder fights for spot, he recalls meeting Scioscia at 16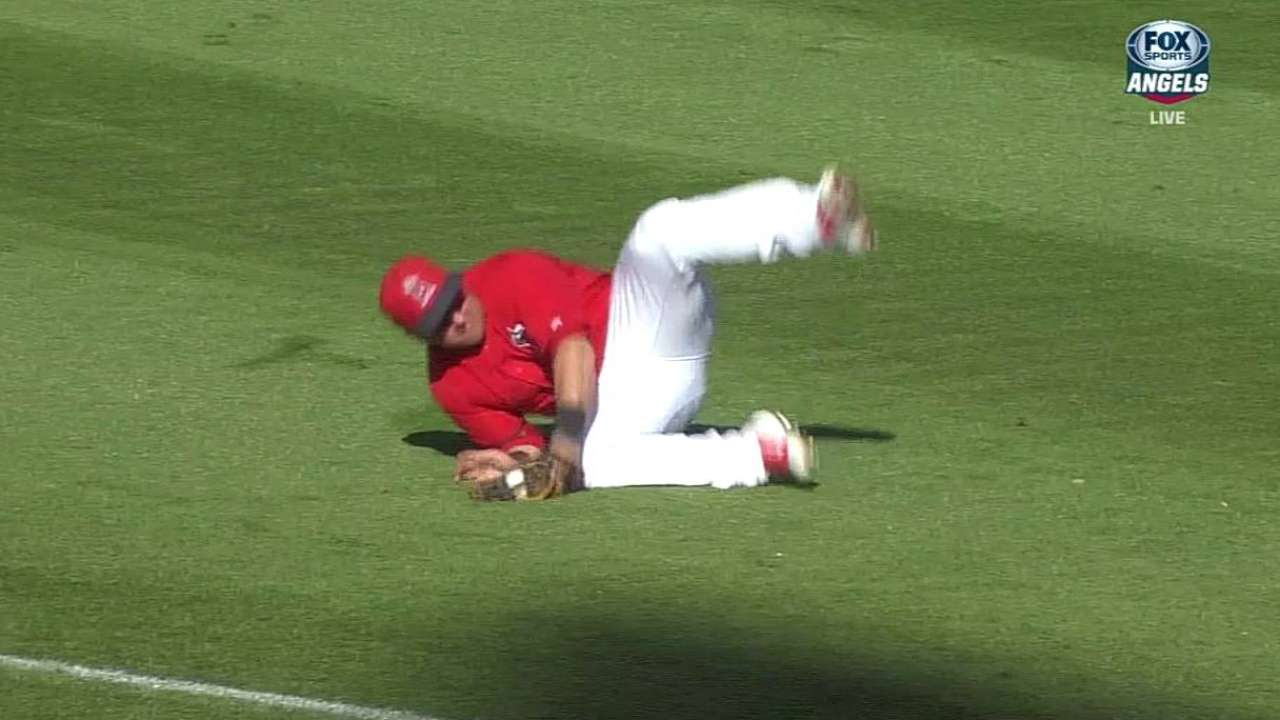 TEMPE, Ariz. -- It was August 2002, the buildup for what would become the Angels' first and so-far only World Series title, and Daniel Robertson had a plan. His mom scored four Diamond Club seats, right behind home plate, and Robertson convinced two of his South Hills High School teammates to follow a postgame tour that was headed near the Angels' clubhouse. They would meet infielder Shawn Wooten, a South Hills product himself, and he would introduce them to all of his teammates and get them a ton of autographs.
"Sixteen-year-old mindset," said Robertson, now a 29-year-old outfielder trying to make the Angels out of Spring Training. "Of course, I was the ring leader in all of this."
When the tour entered the home dugout and traveled down the steps that led to the bowels of Angel Stadium, the crowd hung a right. Robertson and his friends waited it out, turned left towards the Angels' clubhouse -- and there was Mike Scioscia, waiting.
"What are you guys doing?" Scioscia asked, while in the tail end of his third season as the Angels' manager.
"Just trying to find the home locker room," Robertson said, with his retro Angels shirt and cap.
"Well," Scioscia told Robertson, "right at that curve is the security guard, so if you make that turn, you're probably going to get kicked out. If you want to wait for players, you should probably hang out right here."
And so they did. Francisco Rodriguez came out and signed, as did Garret Anderson and several other members of the eventual championship team. But Robertson was disappointed. The guy he really wanted was David Eckstein, the All-Star shortstop who thrived despite his short stature.
See, Robertson and Eckstein have a lot in common, then and especially now.
Robertson was a 33rd round pick seven years ago, is six months away from his 30th birthday and is trying to carve a path to the Majors despite being only 5-foot-8.
Uphill climb?
"Straight uphill," Robertson said. "You might as well call it a cliff. I heard it when I was young -- the big man has to prove he can't play, the small man has to prove that he can. Every day, I have to prove myself."
Robertson thought his baseball career "might be coming to an end" last year. He had a great stint of winter ball in Mexico, but was among the first cuts at Padres camp and was placed on the phantom disabled list with what the team called a "shin contusion." Robertson asked for his release, was eventually sent to the Rangers for cash considerations in late April and finally got his big league chance for an injury-riddled team.
Robertson appeared in 70 games and established himself a guy who could infuse energy, put the ball in play, mash lefties (.821 OPS in 108 plate appearances) and handle all three outfield spots.
The Angels picked him up in a minor trade the following November.
"We go to extremes to find guys who we think are undervalued," Angels general manager Jerry Dipoto said, "and sometimes the guy who is undervalued is the guy who maybe looks a little different than somebody else."
Robertson brought up the 2002 encounter to Scioscia on the first day of camp, but the Angels' manager couldn't remember.
Perhaps he just didn't recognize him.
Robertson is built like a horse jockey now. He spent the offseason training alongside Jonny Gomes and Jacoby Ellsbury and gained about 35 pounds, from 170 to 205, to gain more power. His skill set is too similar to that of Collin Cowgill, who is entrenched as the fourth outfielder, but the Angels love his makeup and see a potential fit at the end of their bench.
"Coming over here, it was very humbling," Robertson said. "I don't think I believed it until I came cruising into the locker room and finally got to meet Sosh for real."
Alden Gonzalez is a reporter for MLB.com. Read his blog, Gonzo and "The Show", and follow him on Twitter @Alden_Gonzalez. This story was not subject to the approval of Major League Baseball or its clubs.