Lennerton finds comfort zone, eyes big leagues
Injuries to Miggy, V-Mart could open roster spot for first baseman
LAKE BUENA VISTA, Fla. -- Jordan Lennerton can't pinpoint when the epiphany happened, but at some point last summer, he realized his identity crisis as a hitter.
Halfway through the season at Triple-A Toledo, the first baseman had more walks than base hits. He a sub-.200 batting average with an on-base percentage topping .300. He was a Futures Game and Triple-A All-Star, yet he was at risk of playing his way out of the Tigers organization -- all for trying to be somebody else.
"I wanted to make sure that it kept going. I didn't want to disappoint," he said. "I wanted to ride that wave and keep performing. I don't think I went about it the right way. I feel like I started pressing. Rather than doing what I felt comfortable doing, I tried to be a player that I wasn't."
He wanted to be a player who could force his way into the Major Leagues, unlocking himself from the jam he faced playing the same position as Miguel Cabrera. Instead, he went in reverse.
"I was walking a lot," Lennerton said. "And I feel like I was walking a lot because I was uncomfortable. I wasn't trusting myself to put a good swing on certain pitches. And so I wouldn't swing at that, and I'd go deep into counts and then end up working a walk.
"... But again, I was trying to do something new. I was trying to create power in a way that I hadn't before, and I got myself in trouble with that. But the second half, I had the realization that this is my career and I've gotten to this point doing a certain thing, being comfortable using the whole field rather than just the right side. And I went back to that and I hit [.337 from July 1 on], kind of salvaged my season and felt good about the way that I finished."
He hit well enough that Tigers officials pushed to re-sign him as a Minor League free agent. Depending on the injury recoveries of Cabrera and Victor Martinez, he could open the season as the Tigers' first baseman.
It's a reversal of roles for someone who just turned 29 last month and seeks his first Major League at-bat. Yet compared to last year, he looks downright relaxed, even confident.
"Lenny's pretty quiet. He goes about his business," manager Brad Ausmus said. "Lenny and [Aaron] Westlake have gotten a lot of at-bats because of the situation with Miggy."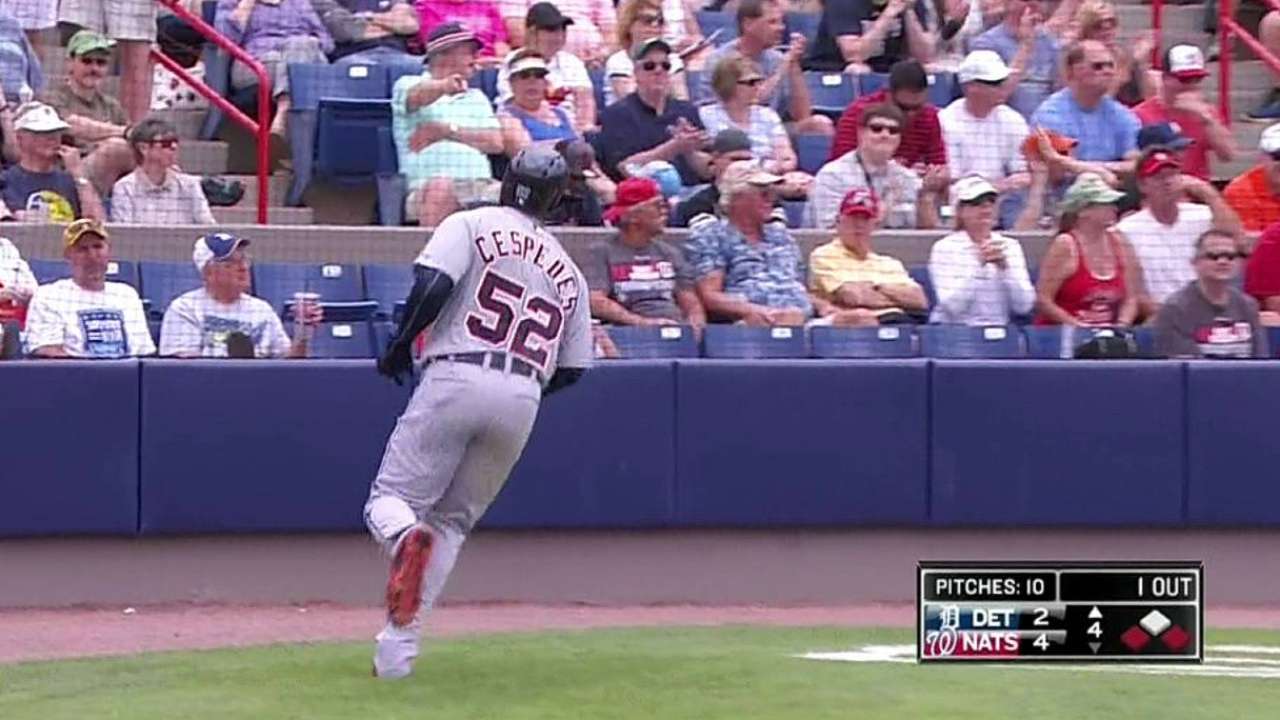 Indeed, after mainly late-inning appearances last spring, he ranks among the team leaders in at-bats.
"All you want in Spring Training is playing time in front of the people who make decisions," he said. "That's all you can ask for from them. The rest is up to me."
So far, he's taking advantage. Lennerton's 2-for-4, two-run performance Friday included a double off Jose Veras and raised his average to .350. He's not crushing home runs, but he's producing.
He has Tigers officials closely watching, given their situation. He also has the attention of opposing scouts.
"Ultimately, I want to be able to play for the Detroit Tigers, but playing in the big leagues is the big picture," he said. "If I had my choice, I'd be a Detroit Tiger."
Jason Beck is a reporter for MLB.com. Read Beck's Blog and follow him on Twitter @beckjason. This story was not subject to the approval of Major League Baseball or its clubs.