Thome stays the same as role develops
White Sox special assistant to GM remains same good guy he was as player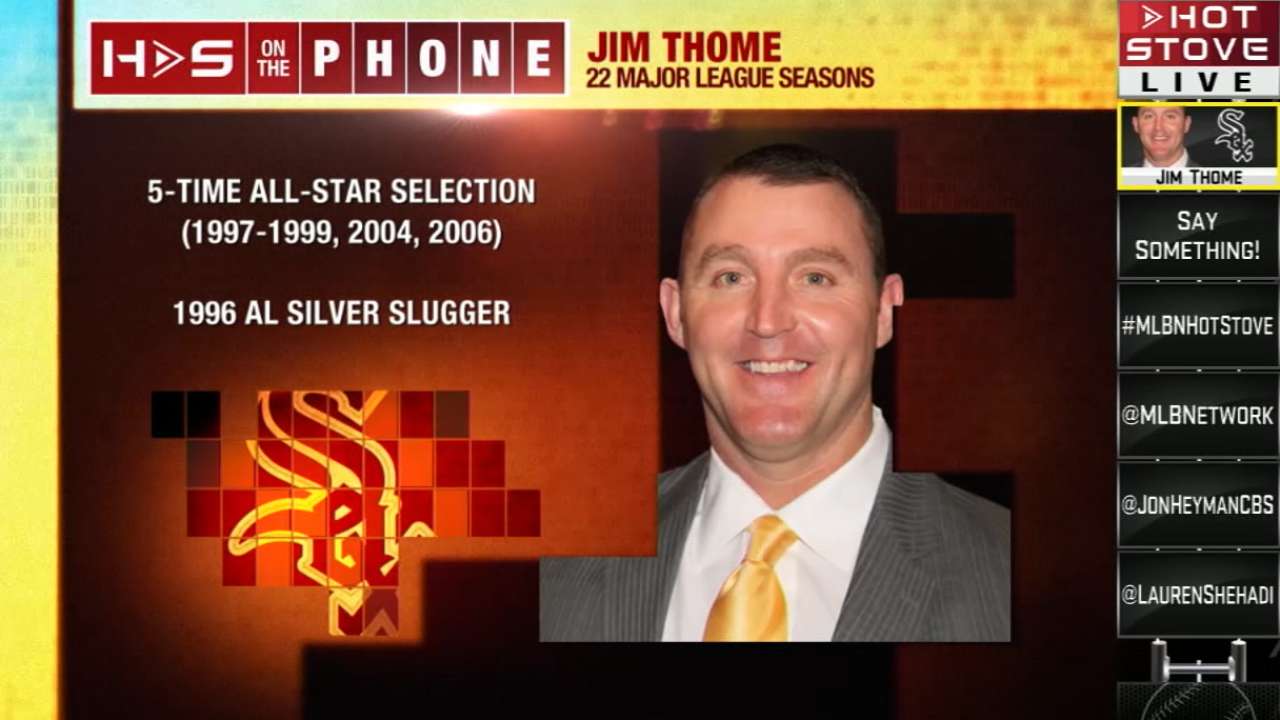 GLENDALE, Ariz. - Jim Thome is a nice guy.
That fact has become as commonly known around baseball over the past 25 years as three strikes make up an out, three outs end an inning and a team needs to score one more run than the opposition to win a game. It's a trait Thome takes great pride in possessing, certainly holding as much pride as the 612 homers, 1,699 RBIs, .402 on-base percentage and .554 slugging percentage amassed over 22 big league seasons when Thome wasn't quite as pleasant to opposing pitchers.
"You definitely want to be looked at as a nice guy. You don't want to treat people bad," said a smiling Thome during a wide-ranging conversation with MLB.com at Camelback Ranch. "You look at a guy's background and I think ultimately it comes from their family, your mom and dad, and the people that you involve yourself around.
"If that's what people say, it's a compliment. That means at the end of the day, you are treating people right. And you want them to treat you like you are treating them. I always wanted to be a nice guy, a nice teammate. But I wanted to be the opposite when I was hitting. The competing end of it was totally different than the guy I was."
Thome has the perfect opportunity to match that competitive baseball attitude with his friendly personality in his third year as special assistant to White Sox general manager Rick Hahn. Since being hired in July, '13, Thome goes out periodically to work with a player who Hahn or executive vice president Ken Williams or assistant general manager Buddy Bell want him to see.
"He's a great human being," said White Sox third-base prospect Matt Davidson of Thome. "Very positive and obviously has a ton of experience. He instills so much confidence and self-belief. That's the basis of being a really good person, one, and baseball player, two."
"It blows your mind to think he has 600 home runs," said White Sox outfield prospect Trayce Thompson, who worked with Thome and Minor League hitting coordinator Vance Law in September. "He's going to be a Hall of Famer. But he makes it very easy. He's just a normal guy, very approachable."
Seeing these young players do well is almost like Thome seeing his kids do well.
"Ultimately, that's what it's all about for me," Thome said. "That's if they square a ball up and they get a base hit ... (Courtney) Hawkins the other day, he hits a ball off the backdrop. It's nice to see young players or established veterans in the big leagues. If you can help them in any way, I think ultimately that's what it's all about."
Then, there's the flexibility provided by this job for Thome to spend quality time with his family. His son, Landon, is a chip off the old block, throwing right-handed and hitting left-handed. He's a big fan of Joe Mauer, as a catcher in his own right. His daughter, Lila, is an accomplished performer in musical theater, and Thome's schedule allows him to catch all her shows.
Managing might be in the cards someday, but that is decision he'll make with his family down the road. For now, Thome focuses on enjoying life's perfect blend, not worrying about the future.
"I don't want to be the guy that's saying, 'I need to do this or I need to do that,'" Thome said. "I just enjoy where I'm at. My family ultimately is No. 1. I played so long and being away from them, and this job gives me really both. It's nice. And I enjoy it. I really do."
Scott Merkin is a reporter for MLB.com. Read his blog, Merk's Works, and follow him on Twitter @scottmerkin. This story was not subject to the approval of Major League Baseball or its clubs.