Best of Fantasy411 Twitter chat with Fred Zinkie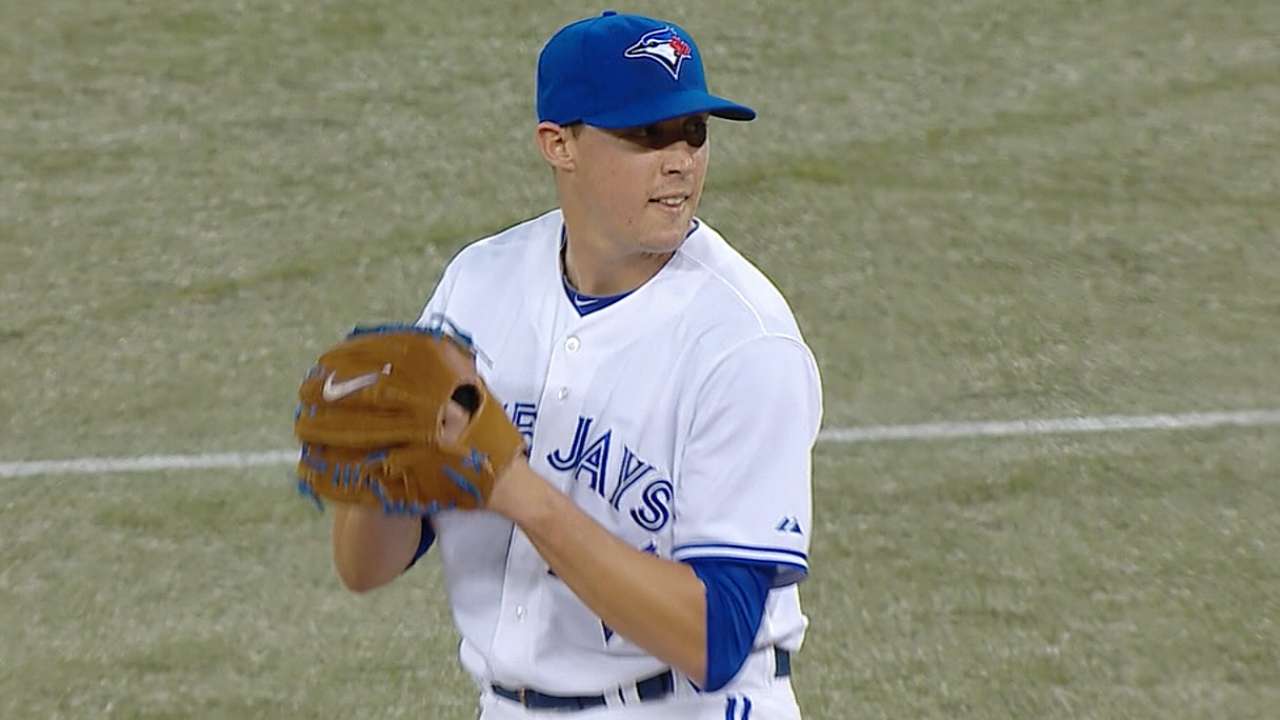 MLB.com fantasy guru Fred Zinkie fielded questions from fans during a live Twitter chat at @Fantasy411 Friday. To learn from someone whose been there and won that, check out the chat transcript below and check out the @Fantasy411 Twitter handle, MLB.com's Player Preview and MLB.com's fantasy home. Questions and answers have been edited for clarity.
Q: @ChaseMonkey1: Now that Spring Training is under way, who are some new sleepers that have popped up on the radar?
A: Aaron Sanchez and Marcus Semien.
Q: ‪@mikeyfnrocs‪: Who do you have as outfield sleepers?‬‬‬
A: Mookie Betts, A.J. Pollock, Adam Eaton and Steven Souza Jr. are solid sleepers for 2015.
Q: @Grayson_R93: Garrett Richards or Jake Arrieta?
A: Arrieta.
Q: @mymanjamey: In a head-to-head league with daily substitutions allowed, should the emphasis be on pitchers or hitters? And what position would you recommend drafting first?
A: In head-to-head leagues, stay balanced. And don't worry about position early. Get studs. Address position needs later.
Q: @FunnestLeague: I'm keeping Paul Goldschmidt, Freddie Freeman and Ryan Braun. How would that change your draft strategy?
A: Look to draft a middle infielder and starting pitcher in the first two rounds.
Q: ‪@Lmg11455‪: Who should I definitely target in an auction?‬‬
A: Chase value. Don't fixate on one player.
Q: ‪@AngelsTalk02‪: Adam LaRoche, Chris Davis or Justin Morneau for first base this season?‬‬‬
A: Davis.
Q: ‪@jquiles3:‪ Would you take an ace before they are gone?‬‬‬
A: Picking a starter by the end of Round 3 is a good idea.
Q: ‪@Austin_clem21‪: Who do you take second overall, assuming Mike Trout goes first?‬‬‬
A: Andrew McCutchen, barely over Clayton Kershaw, Giancarlo Stanton and Paul Goldschmidt.
Q: ‪@FantasyBB15‪: Rank the Cuban prospects for a dynasty league: Yoan Moncada, Yasmany Tomas, Hector Olivera.‬‬‬
A: Moncada, Tomas, Olivera.
Q: ‪@ProskeyMatt:‪ Prince Fielder or Joey Votto ‬?‬‬
A: Fielder, but it's close.
Q: ‪@christcard1:‪ ‬How about a few sleeper closers for 2015? Maybe a guy or two not currently slated to close.‬‬
A: Luke Gregerson, Joakim Soria and Ken Giles.
Q: ‪@hulkyhulkster‪ @mymanjamey: Is the 15th overall pick too high for Troy Tulowitzki? ‬‬
A: Yes, 15th overall is too high for Tulowitzki.
Q: ‪@delvec19‪: Miguel Cabrera, Jose Bautista or Clayton Kershaw?‬‬‬
A: Kershaw.
Q: ‪@hulkyhulkster‪: Johnny Cueto or Adam Wainwright? ‬‬‬
A: Cueto. Wainwright has too many injury concerns right now.
Q: ‪@ProskeyMatt‪: Rank Jordan Zimmermann, Jake Arrieta, Jeff Samardzija and Sonny Gray ‬.‬‬
A: Zimmermann, Samardzija, Arrieta, Gray.
Q: ‪@Peter_Hamner:‪ Garrett Richards or Tyson Ross? ‬‬‬
A: Ross.
Q: ‪@WilcoWacko:‪ Please rank Rusney Castillo, Melky Cabrera, Gregory Polanco, Mookie Betts, Marcell Ozuna and Jayson Werth in a points league‬.‬‬
A: Betts, Werth, Cabrera, Polanco, Castillo, Ozuna.
Q: ‪@brianwaggs‪: In an on-base percentage league, please rank David Ortiz, Joey Votto, Victor Martinez and Todd Frazier. ‬‬‬
A: Votto, Ortiz, Martinez, Frazier.
Q: ‪@AnthonySManna:‪ Max Scherzer, Chris Sale, or David Price? ‬‬‬
A: Scherzer, barely over Sale.
Q: ‪@chrisbahnNJ: Starling Marte or Christian Yelich? ‬‬‬
A: Marte.
Q: ‪@_jakesilv‪: Should I draft Alex Rodriguez as a sleeper? Maybe as a bench player in case he gets hot?‬‬‬
A: I probably would not draft him.
Q: ‪@jcsaravia05‪: How do you rank Jacoby Ellsbury, Michael Brantley, George Springer, Yoenis Cespedes, Corey Dickerson and Bryce Harper? ‬‬‬
A: Brantley, Ellsbury, Dickerson, Springer, Cespedes, Harper.
Q: ‪@abuckley6:‪ Who's the better outfielder in 2015: Yasiel Puig or Adam Jones? And Ryan Braun or Bryce Harper?‬‬‬
A: Jones and Braun.
Q: ‪@mhensonrn‪: What's the theory behind keeping hitting over pitching?‬‬‬
A: It's easier to find emerging starting pitchers during the season.
Q: ‪@abuckley6:‪ How about Joey Votto? Should I avoid or is there value where he's being selected?‬‬‬
A: Likely avoid, based on his ADP.
Q: ‪@BreanneMyBaby:‪ Who is more of a risk for the next couple years: Adam Wainwright or Troy Tulowitzki?‬‬‬
A: Wainwright.
Q: ‪@SWill03‪: Mookie Betts or Javier Baez in a 5x5 roto keep-forever league?‬‬‬
A: Betts, who may be a stud one day.
Q: ‪@my88dodgers:‪ Who should be the top-five players taken in a fantasy draft?‬‬‬
A: Mike Trout, Andrew McCutchen, Clayton Kershaw, Paul Goldschmidt and Giancarlo Stanton.
Q: ‪@BeachClubRealty:‪ Andrew McCutchen or Paul Goldschmidt if I am in a 13-team OBP league‬?‬‬
A: McCutchen.
Q: ‪@ballparkboys:‪ Thinking of zigging while others zag by taking Clayton Kershaw and Max Scherzer in the first two rounds. Thoughts‬?‬‬
A: You can win that way, but it's hard.
Q: ‪@jbShoesgetter‪: When is too early to draft Clayton Kershaw?‬‬‬
A: First overall. Anything after that is defensible.
Q: ‪@blofgren‪: Rank these long-term keepers: Addison Russell, Corey Seager, Carlos Rodon, Julio Urias ‬‬‬
A: Seager, Russell, Rodon, Urias.
Fred Zinkie is a Fantasy writer for MLB.com. This story was not subject to the approval of Major League Baseball or its clubs.