MLB.com Columnist
Phil Rogers
Miami guy Latos, Marlins have a lot to gain from new partnership
Right-hander makes impressive spring debut with three scoreless innings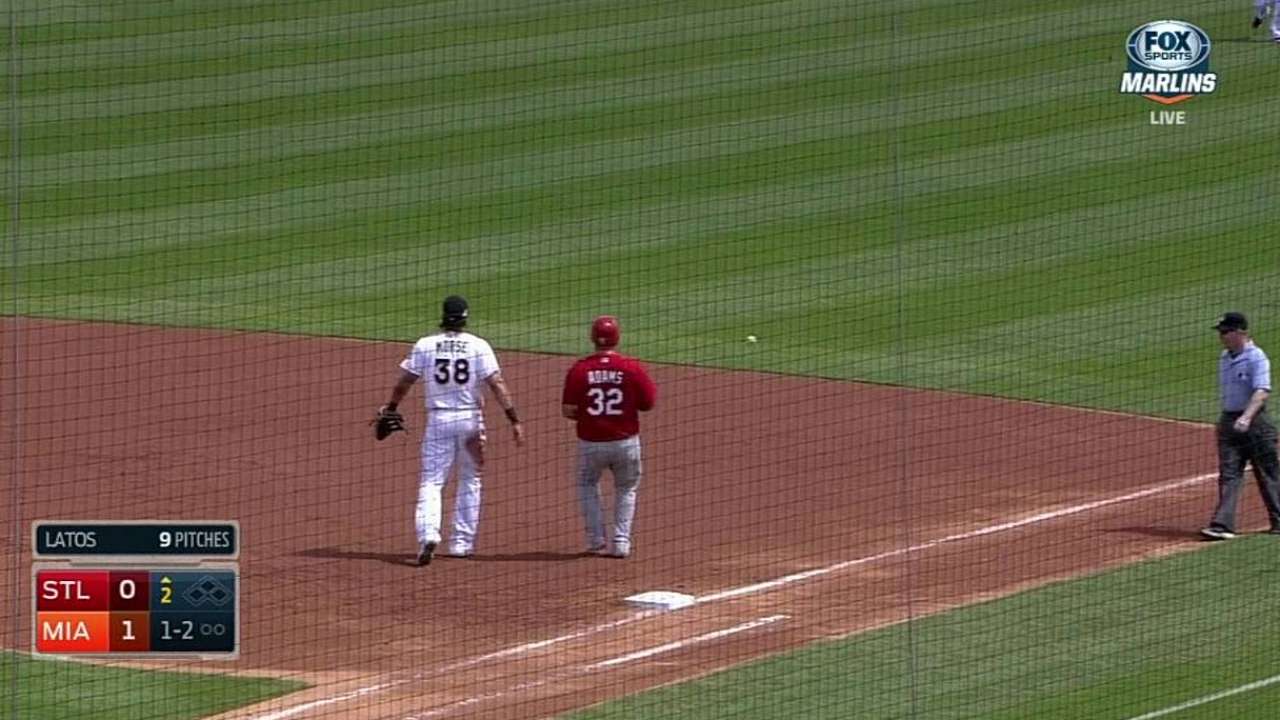 JUPITER, Fla. -- This is how they drew it up.
Mat Latos was on the mound, mixing pitches and getting outs. The reworked Marlins lineup was producing runs behind him, without even leaning on Giancarlo Stanton.
It was a perfect blend, almost exactly as president of baseball operations Michael Hill and general manager Dan Jennings envisioned it. Give them something similar 15-20 times during the upcoming season and they might succeed in making Marlins Park the place to be in August and September.
October? Why not?
"I don't need to see them play to know how good they are,'' Latos said after leaving with a 4-0 lead over the Cardinals after three innings in his Grapefruit League debut. "You look at some of the names. We've got a great team. We've got a great ballclub.''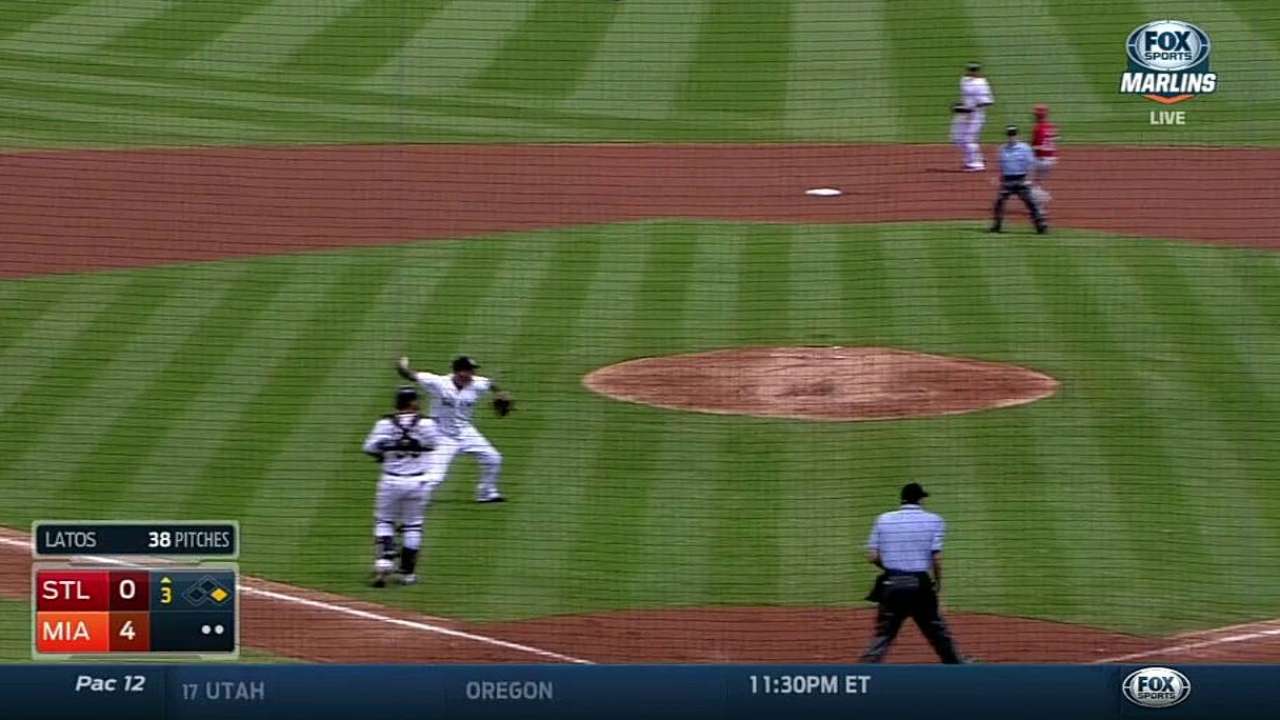 Latos, only 27 and eligible for free agency after the season, joins a strong starting rotation that will get only stronger when Jose Fernandez returns at mid-season. His job is to join Henderson Alvarez at the front of the rotation while Fernandez completes his recovery from Tommy John surgery.
The rewards could be huge for him and his hometown if he recovers from a snakebitten 2014 season in Cincinnati to maximize the potential he has flashed since his time at Coconut Creek High School in Broward County, north of Miami.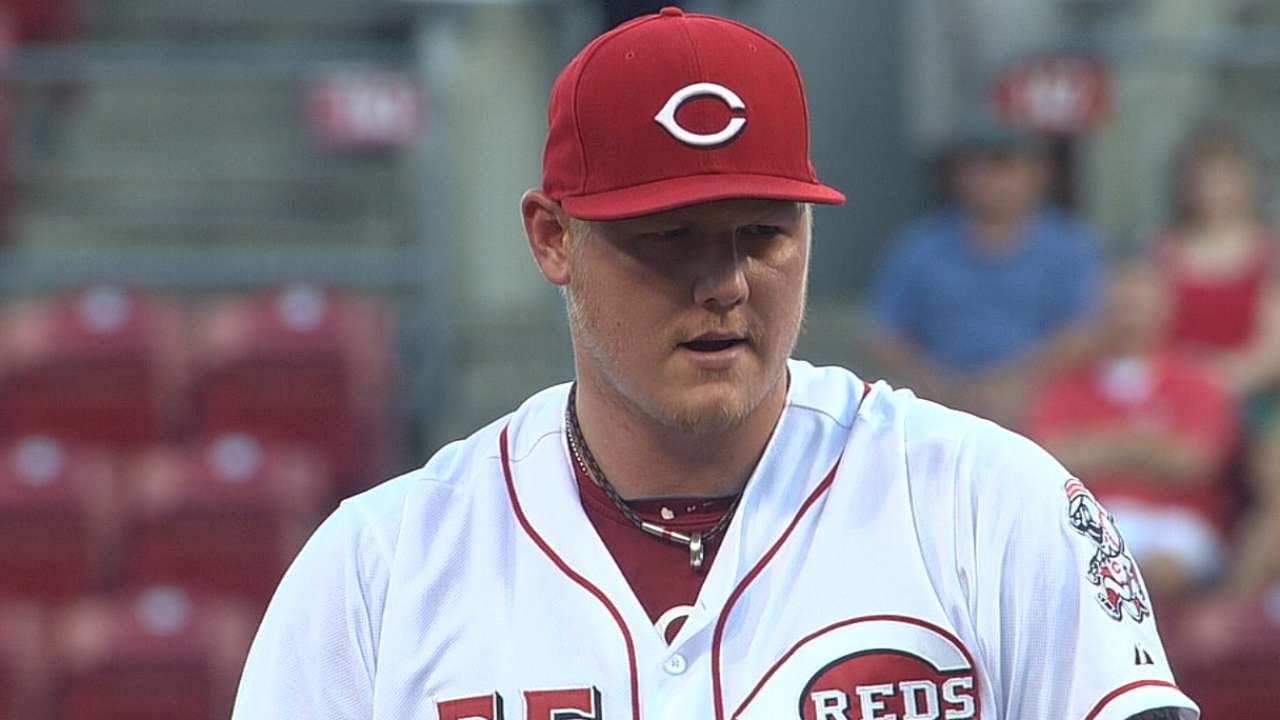 A baby-faced power forward type, Latos earned some Cy Young mentions as a 22-year-old with the Padres, but has remained something of a tease. He's made 31-plus starts four times, working 200-plus innings twice, but is still looking for a 15-win season.
Say he turns in an 18-7 season with the 3.10 ERA he had for the Reds two seasons ago. What do you think that might be worth on the free-agent market come December, when he will turn 28?
What would it mean to the Marlins? They signed Stanton to a $325 million contract and then made a series of win-now moves believing they can reach the postseason only two years after the surprising trades that sent Jose Reyes and Mark Buehrle to the Blue Jays and Hanley Ramirez to the Dodgers.
"He could be huge for us,'' Marlins manager Mike Redmond said. "That's why we went out and traded for him. This guy has pitched in big games. He's won big games. He's won a lot of games. That's the guy we need. We need him to come out and pitch and win ballgames for us. It's a big year for him too.''
Latos understands the consequences, both for his career and the team in its fourth season at Marlins Park, where it ranked 27th with an average crowd of 21,386 last season.
"From what I remember, whenever they brought over Buehrle and Reyes and them, they had pretty good crowds until they traded them,'' Latos said. "Yeah, I think there's a lot riding on our shoulders now as far as having a big year. If we have a big year, we'll have a lot more people showing up. That's what the game is about. You want to see kids out there, getting into games, just fans in general getting into baseball games.''
Latos is said to have slid from the first or second round of the 2006 Draft because of a polarizing personality as much as contract demands. He was traded to the Reds for a huge package of talent (including Yasmani Grandal and Yonder Alonso) just after his 24th birthday and was on the move again last December, two days after his 27th birthday.
Reds general manager Walt Jocketty told him he had to clear payroll flexibility, and he understood. But he was already hard at work trying to rebound from a year in which he had to rehab from minor elbow surgery and knee surgery, then was shut down in August with a bone bruise in his elbow.
Latos had a workout room added to his home in Cincinnati. He was doing physical therapy when Jocketty called with news of the trade.
Shortly thereafter, he says, Joey Votto called to wish him well. So did Sean Marshall. But none of his other former teammates bothered, which might explain why he took some verbal shots at the Reds after reporting to camp with the Marlins. There were immediate replies from Arizona, with Skip Schumaker even dropping the dreaded "addition by subtraction'' line onto Latos.
These are the kind of exchanges that have been known to motivate talented players. And there's never been much doubt about Latos' abilities.
He says he was aware of the talent around him before he was traded to the Marlins.
"I was excited,'' Latos said about the change of scenery. "Coming into my last year before free agency, my agent asked me, 'What are some teams you're interested in? Maybe we make a phone call. Maybe they make a phone call to us.' One of the two teams on my list was Miami. I looked at some of the young talent that they can control -- [Christian] Yelich, [Marcell] Ozuna, Fernandez. They just traded for [Jarred] Cosart, another guy they can control for quite a few years. Glad to see Stanton signed and stayed. He's pretty much Mr. Miami.''
It was the oldest Marlin, 41-year-old Ichiro Suzuki, who captured Latos' attention in a game that Miami would win 6-3. Signed to be a depth piece behind the outfield trio of Stanton, Ozuna and Yelich, he came up firing on a Stephen Piscotty single and cut down Mark Reynolds trying to score from second base.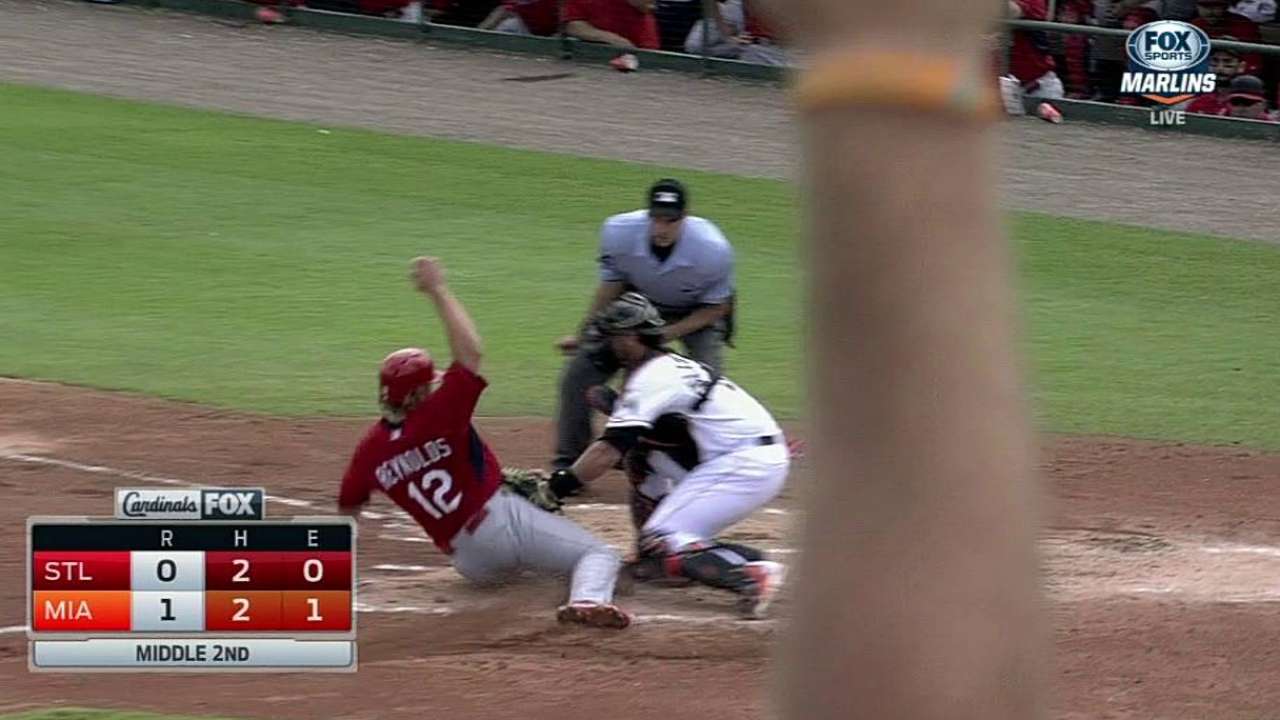 "Ichiro's 100 years old and still throwing rockets,'' Latos said. "That guy, I want his arm when I'm his age. I definitely want his arm.''
The Marlins are thrilled to have Latos' arm, especially in a season when he has as much riding on his success as his team. Don't be surprised if the timing works out for both parties.
Phil Rogers is a columnist for MLB.com. This story was not subject to the approval of Major League Baseball or its clubs.