Puerto Rican trio strong in win over Pirates
Vargas, Rosario, Berrios all contributed in game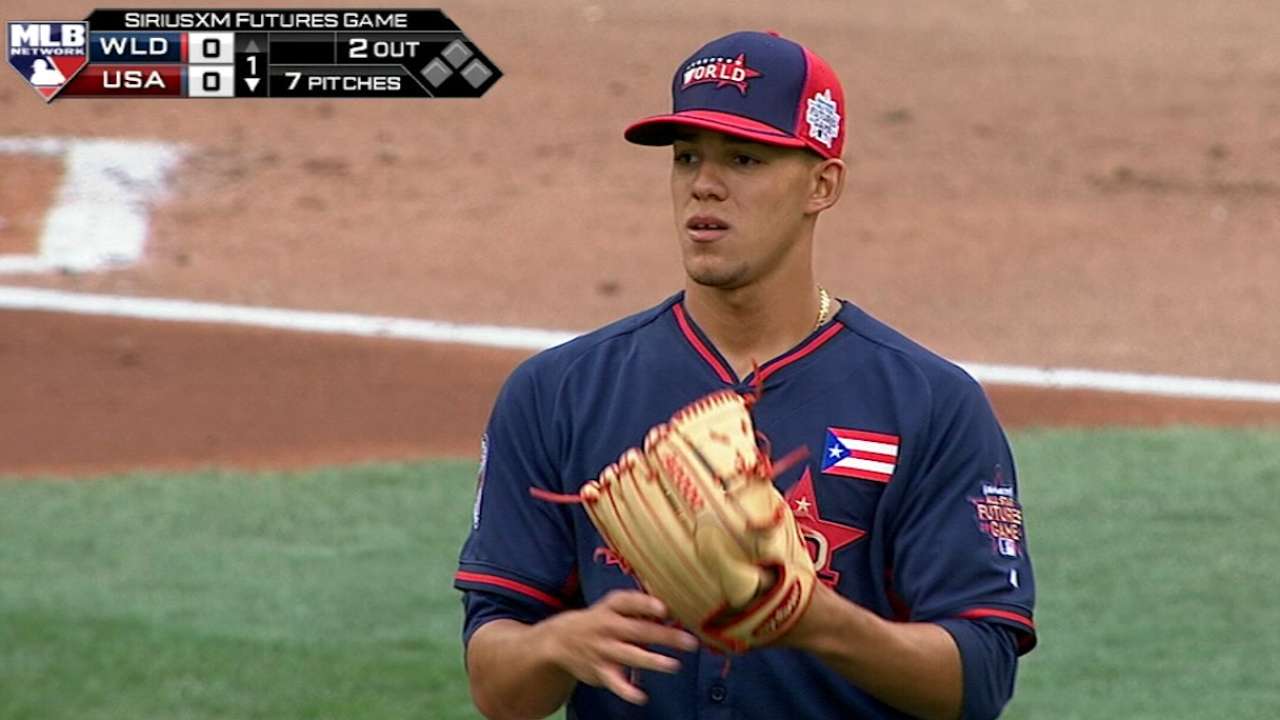 BRADENTON, Fla. -- It was an impressive showing from a trio of Twins who hail from Puerto Rico on Friday, as first baseman Kennys Vargas, outfielder Eddie Rosario and right-hander Jose Berrios all had a major impact in Minnesota's 8-3 win over the Pirates.
Vargas and Rosario both connected on two-run blasts, while Berrios tossed three scoreless innings with two strikeouts. Vargas finished 3-for-3 at the plate, and he homered in the same game as Rosario for the second time this week, as they also did against the Blue Jays on Tuesday.
"I think Vargas and Rosario might have a little competition going because they always homer in the same game," Twins manager Paul Molitor said with a laugh. "It was good to see Kennys swing the bat well. There was a little breeze going out to left, but he hit that ball very well. And his other hits were squared up nicely.
"Eddie is swinging it good. He's putting together some good at-bats, and any time you go opposite field is impressive. And our little man, Mr. Berrios, has had three solid outings. He's had some baserunners on but doesn't seem to get rattled."
Vargas, who is expected to be the club's everyday designated hitter this season, is hitting .375 this spring with two homers and three RBIs in six games. He even lumbered around the bases to score from first base on a double from Oswaldo Arcia in the fifth.
"We've talked a lot about it, but you have to take pride in your baserunning no matter what your speed is," Molitor said. "The good thing was he ran hard to third."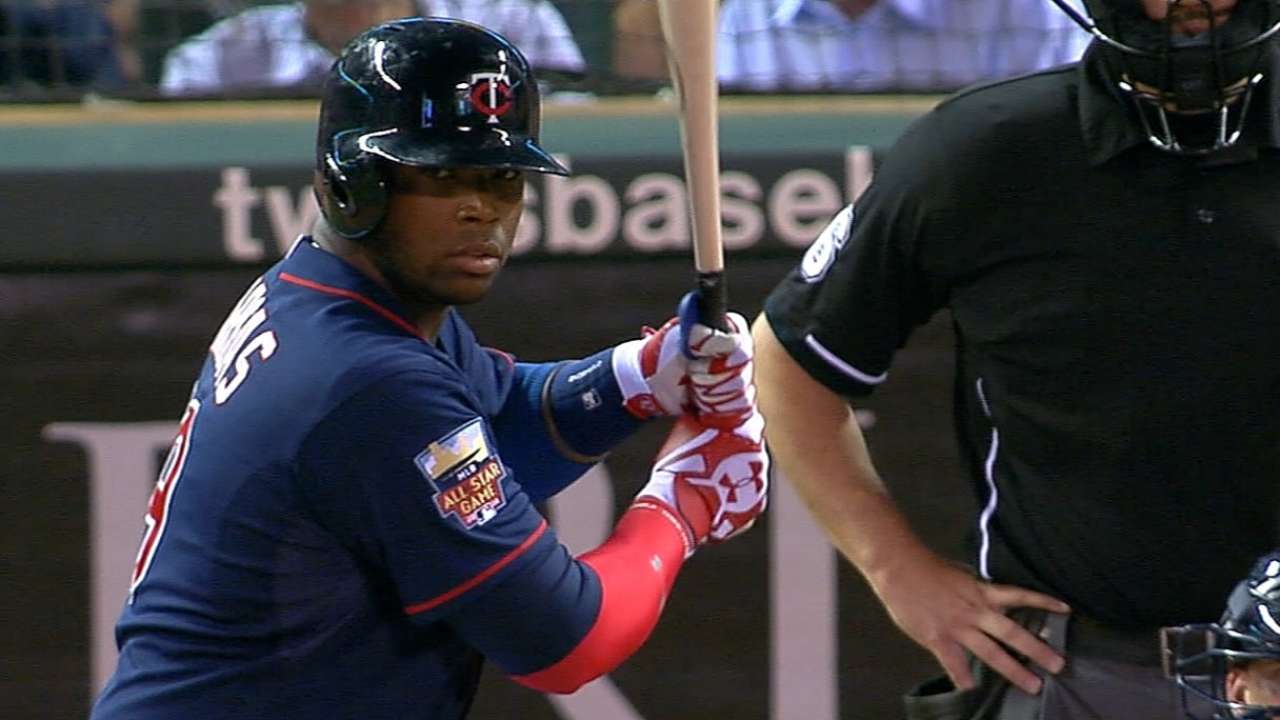 Rosario, a former Top 100 prospect by MLB.com, also kept his hot start going, as he went 1-for-3 with a two-run blast in the fifth. It was the second homer of the spring for Rosario, who is hitting .313 with a double and four RBIs in seven Grapefruit League games.
"They kept throwing sinker away, sinker away, so I hit it to the opposite field," Rosario said of his homer. "So it worked with an opposite-field home run."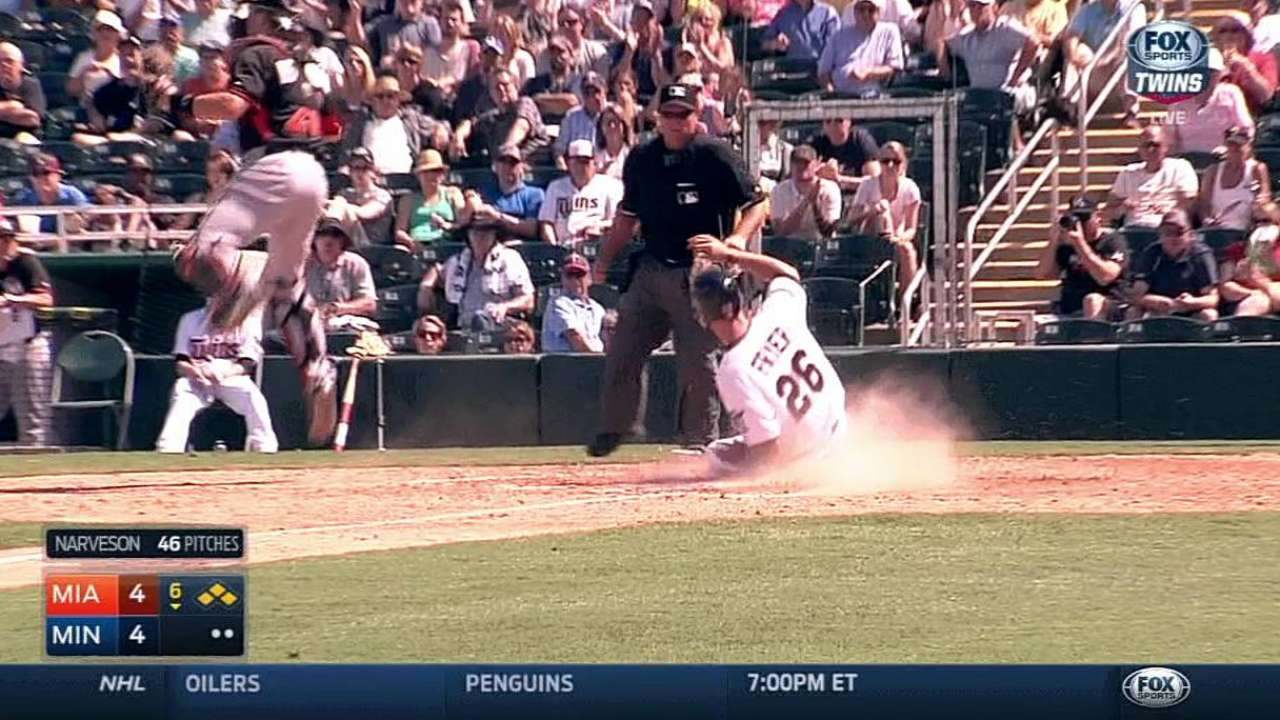 Berrios, ranked as the No. 33 overall prospect by MLB.com, also shined, throwing three scoreless innings. The 20-year-old right-hander has now tossed six scoreless innings in Grapefruit League play, and also threw two strong innings against the University of Minnesota on March 4. Berrios has made it his goal to make the club out of Spring Training but is more likely to start the year in the Minors.
"He's a very confident young man," Molitor said. "He has lofty goals, and why not? It's good to be able to have vision about yourself."
Rhett Bollinger is a reporter for MLB.com. Read his blog, Bollinger Beat, and follow him on Twitter @RhettBollinger. This story was not subject to the approval of Major League Baseball or its clubs.