Biddle looking to be an important part of Phillies rotation
After two injury filled season, young lefty could make an big impact this season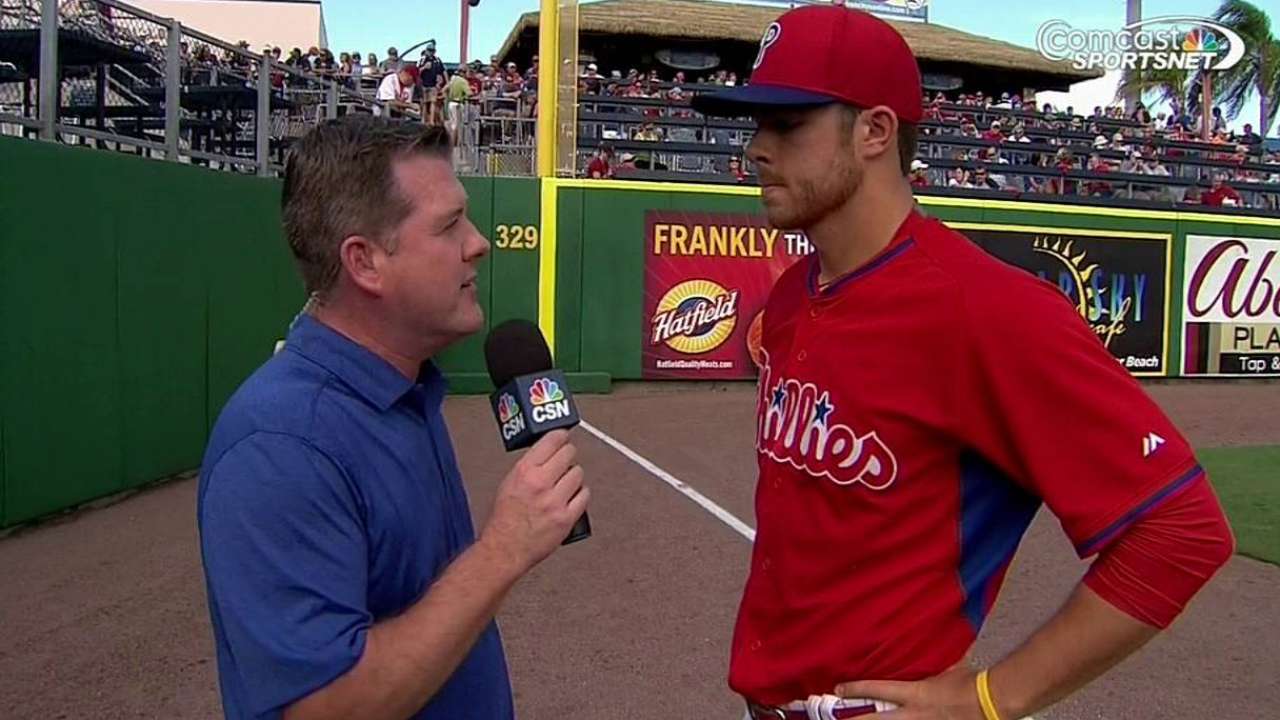 CLEARWATER, Fla. -- This season could set up pretty nicely for Phillies prospect Jesse Biddle.
The Phillies entered Spring Training with a dearth of starting pitching and it looks even thinner with the tear in Cliff Lee's left elbow and Aaron Harang missing more time because of lower back discomfort, although the Phillies said they are not concerned about it.
But if Biddle -- the club's No. 9 prospect -- follows a couple years of adversity with a strong showing in 2015, it is not a stretch to think he could join the big leagues before the end of the season.
"It's not really about how things went last year," Biddle said Friday at Bright House Field. "It's not really about whatever happened on the field, off the field. I have a lot of people in my corner, a lot of people sticking up for me and a lot of people that have been really supporting me, whether it's coaches here or coaches back home. I don't have any worries about this season. I feel great. My arm feels great. That's the most important thing."
Biddle, the Philadelphia native drafted in the first round of the 2010 First-Year Player Draft, allowed two hits and struck out one in two scoreless innings Friday in a 2-1 victory over the Rays.
But with Minor League camp rolling at the Carpenter Complex, it could have been his final big league appearance this spring.
He hopes to be back soon.
Biddle, 23, will have to put everything together to make it happen. The Phillies first want him to become a strike-throwing machine.
They also want to see him better handle adversity.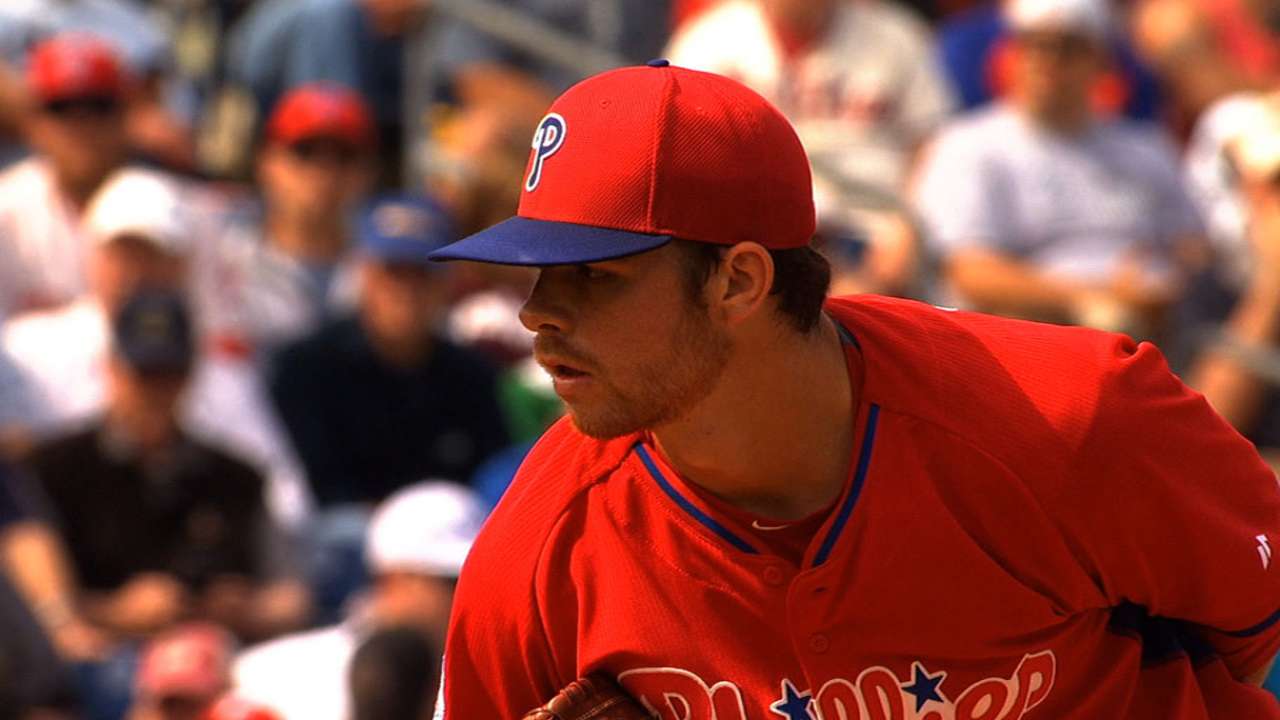 Biddle's physical and mental battles are well documented. He pitched through whooping cough and plantar fasciitis in his left foot in 2013 with Double-A Reading. He acknowledged that offseason he carried his poor performances with him too long.
He returned to Reading in 2014 as a tune-up for an anticipated quick promotion to Triple-A, but it never came. He struggled, saying he was "miserable" at one point. The Phillies put him on the temporary inactive list and sent him to Florida because they believed he needed a mental break.
He returned, but missed the rest of the season with a strained right quadriceps. He made just two starts in winter ball because of a sore left elbow.
"Anybody giving up 10 runs in an outing when they know they can do a lot better is going to be miserable," said Biddle, referring to his trip to the inactive list. "The thing I've learned and the thing I've really been paying attention to is, this pressure that people talk about, this pressure I'm getting from the fan base or from my family or whatever, it's just support. It is love for me.
"The pressure I feel is the pressure I put on myself. There is a certain amount of expectations I have for myself to succeed. Sometimes I think maybe I do put too much pressure on myself because I want to pitch well for the people supporting me. But that's something I can change and adjust."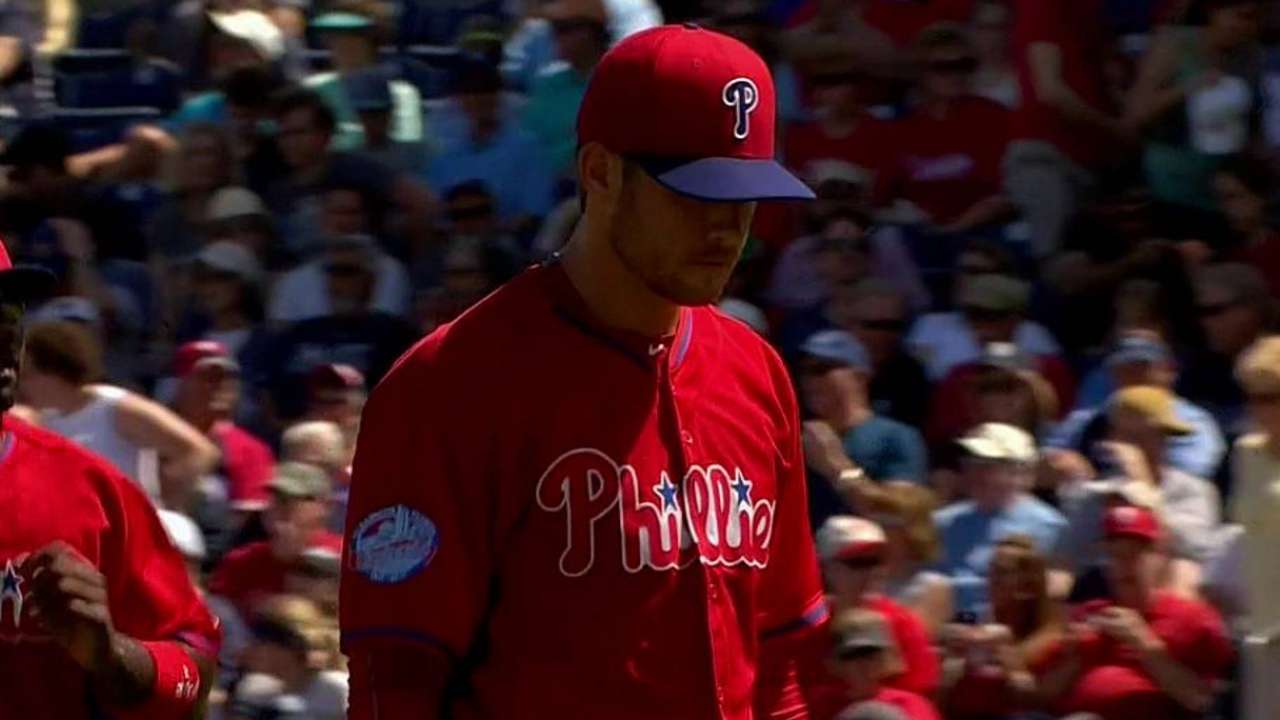 Biddle said he suffered a concussion last season when a piece of hail struck him during a storm in Reading. He tried to pitch through it, not realizing at the time he had a concussion.
Phillies general manager Ruben Amaro Jr. acknowledged concussion symptoms, but told CSNPhilly.com, "I don't know if it was a full-blown concussion. That wasn't the reason we gave him the break."
Asked about the apparent discrepancy, Biddle said, "I can't really speak to that. I'm not in charge of how we handle them releasing information about my situation. But whatever it was, going down to Florida was the best thing that happened to me. It was the best thing I could have done, so the Phillies made the right call in that aspect. They took really good care of me."
But that is in the past. Biddle is ready to let his pitching take care of his future. He believes it will.
"Do I have every bit of confidence in myself?" Biddle said. "Absolutely. I think there's nothing really holding me back except myself. I think I have the talent to do it. I think I definitely will do it."
Todd Zolecki is a reporter for MLB.com. This story was not subject to the approval of Major League Baseball or its clubs.