Thome on Hall of Fame, 612 home runs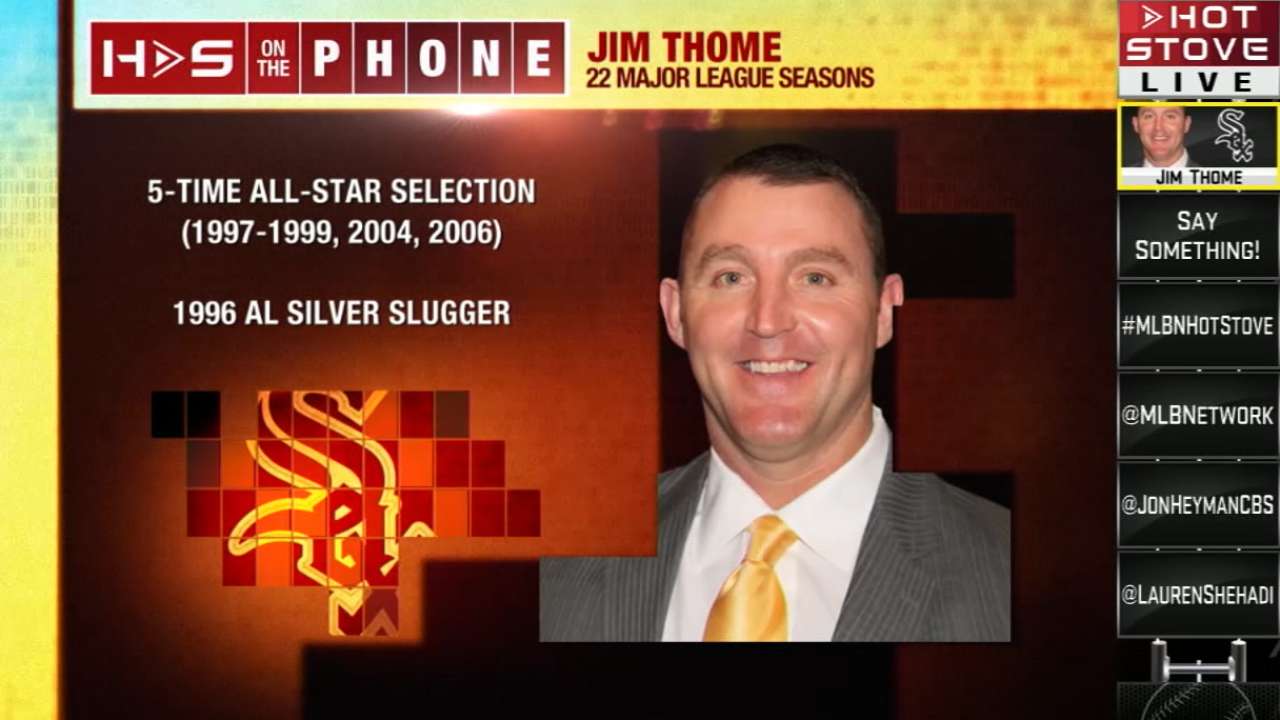 GLENDALE, Ariz. - Don't take the following words from Jim Thome as a Hall of Fame campaign pitch when he becomes eligible in 2018. His career numbers certainly seem to speak for themselves.
But the man with 612 homers someday would like to be enshrined in Cooperstown.
"You know, I can't lie. It would be a great honor," said Thome, speaking to MLB.com before going to work at Camelback Ranch as a special assistant to White Sox general manager Rick Hahn. "We as players are all kind of superstitious in that regard.
"It's not something I go down the hall and talk about. If somebody asks me, it would be. You hold your chest out high. You would be amongst the greatest fraternity in the game of baseball. But you also let that process play itself out. It would be a very special day. It would, if that was able to take place."
Thome hit .276 with a .402 on-base percentage and .554 slugging percentage over 22 seasons playing for the Indians, Phillies, White Sox, Orioles, Twins and Dodgers. He had 1,699 RBIs, and ranks seventh all-time with his 1,747 walks. He also stands seventh all-time with those 612 homers and as one of only eight to surpass 600, a total he can appreciate more now that his playing days are done, but one that the good-natured Thome gives credit to others for helping him achieve.
"I never thought a lot about it when I played," Thome said. "You are in the grind, but now looking back, I feel proud that you are around the names of Willie Mays and Hank Aaron. It's overwhelming at times to see those names and the special group that you are with, but I didn't play the game to hit 600 homers.
"When I signed, I was a Midwestern kid. I was able to be around great coaches, great teammates, great organizations that won. Ultimately I personally fed off each of that: the good organizations, the good players. You're only as good as the teammates around you. If they do well, you are going to get pitches to hit."
Scott Merkin is a reporter for MLB.com. Read his blog, Merk's Works, and follow him on Twitter @scottmerkin. This story was not subject to the approval of Major League Baseball or its clubs.