MLB.com Columnist
Lyle Spencer
Kazmir hoping to take comeback up a notch in 2015 as A's co-ace
Veteran lefty eyes consistency in his second year in Oakland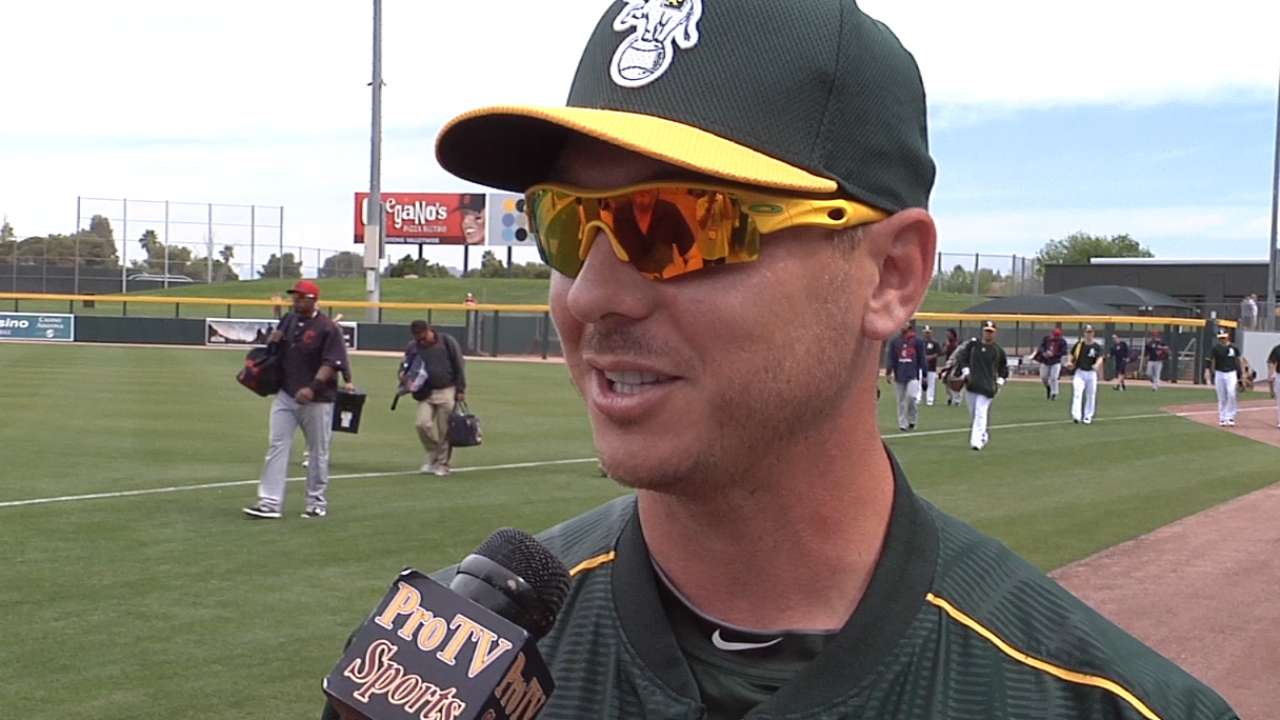 MESA, Ariz. -- In what A's manager Bob Melvin has called a "resurrection," Scott Kazmir is back on top of the heap as the co-ace in Oakland with young Sonny Gray. A remarkable story just keeps getting better.
"It's like the third year of my second career," Kazmir said, beaming.
He turned 31 in January, but Kazmir seems older than that. The kid with the golden arm threw his first Major League pitch at age 20, for the Rays after the Mets regrettably sacrificed him in a trade. He made the American League All-Star team at 22, and led the league in strikeouts at 23.
By 27, he was out of the game, seemingly for good -- the blazing fastball and power slider that brought him to the big time on the fast track having abandoned him.
That was 2011. Kazmir gave up five runs while getting four outs in what turned out to be his final start for the Angels. He had a fastball in the mid-80s and a changeup, nothing more. There was no snap in what had once been a devastating slider. The Angels, cutting their losses, waved goodbye, and soon so did the rest of baseball.
The cool, velvet-smooth southpaw from Houston had other ideas. Kazmir wasn't going to give up on himself and his talent. He would heal, physically and mentally, and take another shot at it.
Kazmir was 15-9 with a 3.55 ERA last season, helping drive the A's to a fateful AL Wild Card date with the Royals. He'd gone 10-9, 4.04 in Cleveland in 2013, launching his comeback under the patient direction of manager Terry Francona.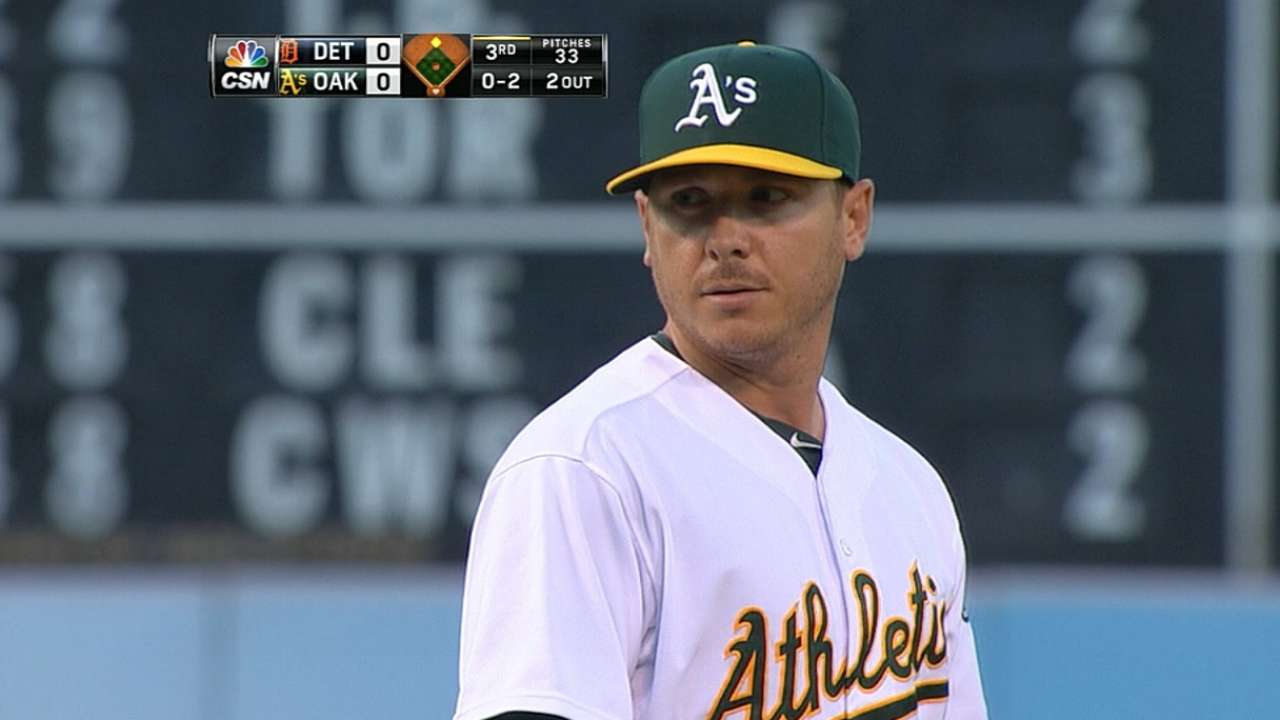 His aim, more true than ever, is to take it up another notch in 2015. He plans to get deeper in games with increased precision, finish stronger and help lead a young staff loaded with talent.
"I feel great," said Kazmir, who worked two innings against the Mariners in his first Cactus League test on Wednesday with a funny guy named Will Ferrell behind him at shortstop. "With everything I've gone through, I have a better idea what I'm doing -- and more pitches in my repertoire."
In his youth with the Rays, Kazmir blew hitters away with his "hard fastball and hard slider." He didn't need anything else. Now he has what he calls a "full tool box" consisting of four-seam fastball, two-seamer, cutter, slider, curve and changeup.
Kazmir brought himself back, doing his homework. The secret was his discovery of the overriding importance of developing and maintaining a strong lower-body base, along with balance and flexibility.
"I have so much more control of my fastball," he said. "I used to throw as hard as I could. Now I can add and subtract, move it around. I have so much more direction. It's night and day."
He has "completely shut down running on asphalt, pounding the legs," sparing wear on his body. He does his flexibility and range of motion drills, logging miles on the stationary bike and hours running on the outfield grass.
Kazmir is happy to dispense any advice the A's young arms might request as they bid for openings in the rotation behind the co-aces.
"This is probably the best corps of arms, depth-wise, I've ever been part of," Kazmir said. "I'm watching them -- bullpens, [simulated] games -- and to say their stuff plays in the Major Leagues is an understatement."
Kazmir can't expect to match his 32 1/3 innings jump from 2013 to '14, reaching 190 1/3 last season. But if he adds half that many, he'll equal his career high of 206 2/3 in '07 when he led the AL with 239 strikeouts and 34 starts.
His one final barrier is showing his former employer, the Angels, he's all the way back. Poundings they gave him closing August in back-to-back starts -- 13 earned runs in a total of 4 1/3 innings -- hiked his ERA from 2.73 to 3.39. He was 11-3, 2.38 in his first 19 starts, making his third All-Star team, but 4-6, 5.42 in 13 outings after the break.
"I hated what happened [with the Angels], but I needed the time away to figure things out," Kazmir said. "I wasn't using my lower half; I was too side to side. I was trying to throw with a groin injury, which made things worse.
"After what I've gone through," he said, grinning, "I think I can handle just about anything."
Lyle Spencer is a national reporter and columnist for MLB.com. Follow him on Twitter @LyleMSpencer. This story was not subject to the approval of Major League Baseball or its clubs.