Lamb intent on making D-backs' Opening Day roster
GOODYEAR, Ariz. -- In a perfect world, Yasmany Tomas' transition to third will be smooth and the 24-year old Cuban will start for the D-backs on Opening Day.
However, Tomas has struggled with consistency early in spring and may need some more time to learn the position, presumably opening the door for Jake Lamb.
"As far as winning the job, you've just got to work your tail off, make the routine plays [and] take good [at-bats] during the game," Lamb said. "You've got to go out, compete every day and force the coaching staff to put you in the lineup with your play."
Lamb has appeared in eight of the D-backs' 10 Cactus League games.
However, after hitting .327 in 108 Minor League games last season, Lamb hit just .230 in 37 games with the D-backs over the season's final two months and is struggling to hit in Spring Training.
"It's just a learning process for some guys," D-backs manager Chip Hale said. "When guys don't have a lot of Major League experience, some of the Major League pitchers are pretty darn good."
While Lamb has struggled a bit with the bat, the D-backs' No. 3 prospect, according to MLB.com, has excelled with the glove.
"I feel great at third, defensively," Lamb said. "The one thing I'm trying to get better at is positioning. That just kind of comes with knowing your pitching staff, knowing the hitters you're playing against, and that just comes with experience, more playing time."
Hale also has been impressed with Lamb's defense.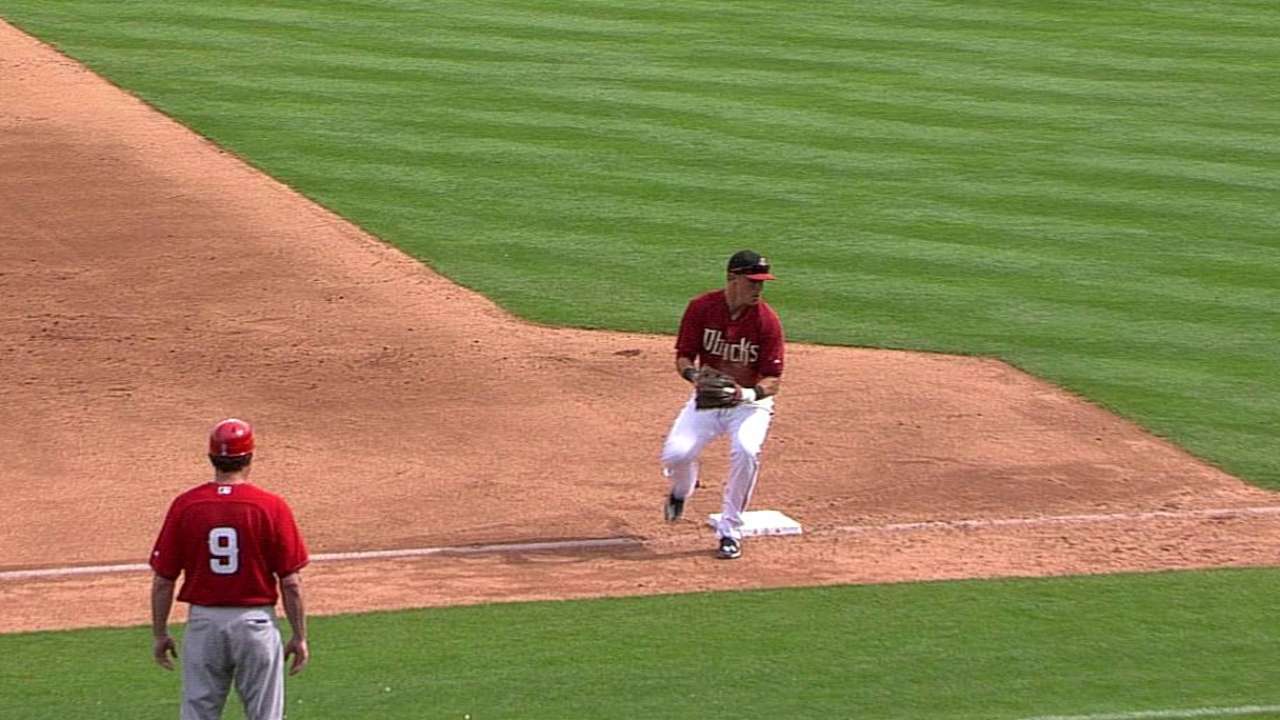 "Jake's done a good job, and his defense has been very impressive, as advertised," Hale said. "The people in our Minor League system have told us he's an above-average Major League third baseman. I'm very impressed."
The 24-year-old made his Major League debut on Aug. 7 last season, and while some players use their brief stints in the Majors to motivate them, Lamb is different.
"It helps in the sense of getting to know the coaching staff and the guys on this team, but I didn't need any extra motivation to make the Opening Day roster," Lamb said. "That was my goal going into the season, and that's still my goal until it happens."
Other notes from Friday…
• Cliff Pennington was back in the lineup Friday, batting second and playing shortstop.
"[His wife] had the baby and everything is OK at home, so he's able to come back," Hale said. "He's been working out for two or three days now, and he thinks he's ready to play in a game. Veteran like that, you trust he knows his body, so we'll see how long we have him out there today, and then probably get him back out there tomorrow."
• Minor League spring games start next week, meaning it's time to start trimming down the roster. The D-backs will make their first cuts Sunday, but Hale has not made up his mind, and players still have a chance to impress him.
"They can always impress," Hale said. "We can change our mind at anytime."
• Tomas was initially in Friday's lineup but showed up to camp with a headache, so he didn't play.
William Boor is a reporter for MLB.com. Follow him on Twitter at @wboor. This story was not subject to the approval of Major League Baseball or its clubs.