Swisher gets some swings in during simulated game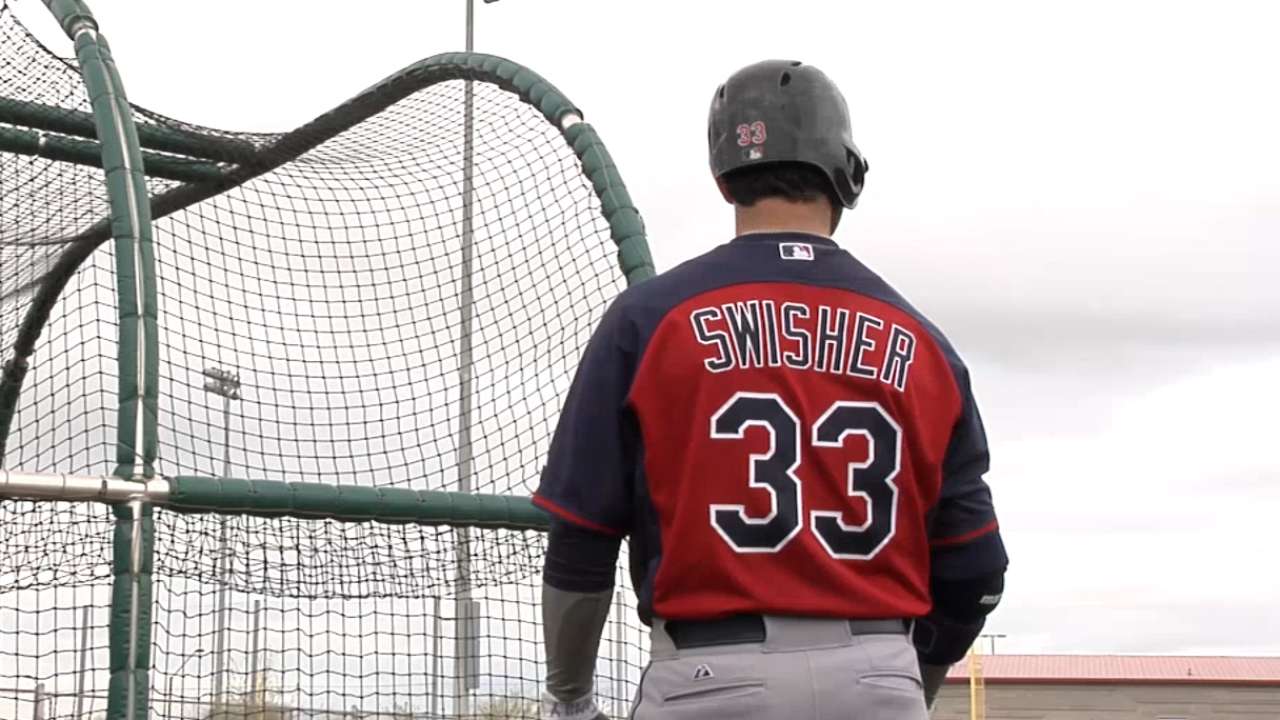 GOODYEAR, Ariz. -- Nick Swisher is around his Indians teammates each day, but there is still a feeling of seclusion as he plods along through his rehab from two knee surgeries. When the veteran heard there was a simulated game on Thursday, he had a request for the medical staff.
"I was like, 'Just let me stand in there. Let me at least be part of something,'" Swisher said on Friday morning. "I feel like when you get injured and you have surgery, you don't necessarily feel like you're part of something, just because your timing is off with everyone else's timing."
Swisher received the go-ahead to take part in Thursday's simulated game, marking his first action in a game environment this spring. The veteran switch-hitter had four total plate appearances against Indians pitchers Corey Kluber, Marc Rzepczynski and Kyle Crockett. Only after Swisher's final at-bat did he run up the first-base line.
Indians manager Terry Francona said it was another positive step for Swisher.
"I don't know if 10 days ago he could've really thought about doing that," Francona said. "He's making progress -- that's the whole idea."
The 34-year-old Swisher, who underwent surgery on both knees on Aug. 20 last season, has advanced to agility drills in his spring running program. The next steps before suiting up for exhibition games would be running the bases and adding outfield drills, but the timetable for adding those elements to his schedule remains cloudy.
While Swisher continues to aim for being ready by Opening Day, Francona reiterated that there is no deadline for the veteran's return.
"Opening Day can be an artificial deadline, and we don't want to do that," Francona said. "There's things to keep in mind once he starts playing. He doesn't have any at-bats under his belt, and he won't be able to play back-to-back days [right away]. It's not like you can just give him a week to get ready."
For now, Swisher is happy to have at least experienced being back on the field and around his teammates in a game setting.
"It was fun," Swisher said. "It was great to go out there and just get back on the field again. That's what I was most excited about. I was like, 'Bro, I don't care who I'm in there against. Let's go.' ... Everything went well -- no pain. I took a couple good rips with no pain. That was nice."
Jordan Bastian is a reporter for MLB.com. Read his blog, Major League Bastian, and follow him on Twitter @MLBastian. This story was not subject to the approval of Major League Baseball or its clubs.