Tribe prospect Frazier flashes power in win over Cubs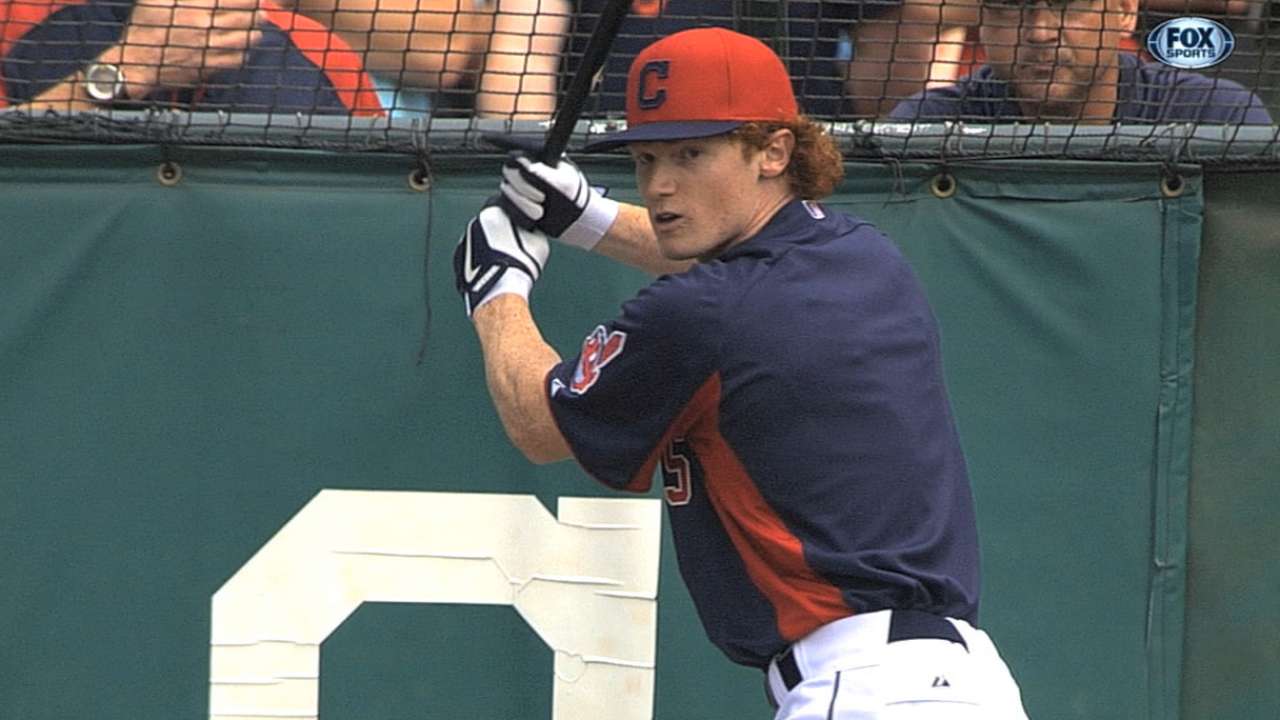 MESA, Ariz. -- Clint Frazier, the Tribe's No. 2 prospect and the club's first-round pick in the 2013 Draft, launched a three-run home run Friday afternoon to help lead an Indians split-squad to a 7-4 victory over a Cubs split-squad.
For the Cubs, Matt Szczur launched his second Cactus League home run, while Chris Coghlan singled and stole a base.
Yan Gomes put the Indians in front in the top of the first inning with a long homer to left. Following the pitch, Cubs starter Tsuyoshi Wada was removed from the game with tightness in his left groin, and he was taken for a precautionary MRI exam.
Szczur pulled the Cubs even in the bottom of the frame with a solo shot of his own, but it was pretty much all Indians from there.
Jerry Sands' RBI single put Cleveland ahead in the top of the third inning, after Mike Aviles (3-for-4) and Gomes had each reached base. That's when Frazier delivered the decisive blow, a shot halfway up the bermuda-grass hill behind the left-center-field fence.
"It's a good experience for me, just being out here with [manager Terry Francona] and a bunch of the big league guys," said Frazier. "Just being in this atmosphere was something I couldn't put into words right now. Being able to hit a home run, and even just being part of the game, is something I'll remember."
T.J. House, one of a handful of Indians starters in competition for the two remaining rotation spots, looked sharp, aside from the home run by Szczur. In 4 2/3 innings, House allowed only one other baserunner, while striking out six.
Chicago's Hunter Cervenka struck out three and surrendered one hit over two scoreless relief frames.
Up next: In a game that can be seen live on MLB.TV and heard live on Gameday Audio, right-hander Carlos Carrasco is scheduled to work four innings on Saturday when the Tribe heads to Glendale to take on the Dodgers at 4:05 p.m. ET. Righty Josh Tomlin, who is competing for a spot in the rotation, is slated to follow with two innings after a recent bout with a shoulder issue. Slugger Brandon Moss missed Friday's games due to illness, but is tentatively penciled in to play right field.
AJ Cassavell is a reporter for MLB.com. Follow him on Twitter @ajcassavell. This story was not subject to the approval of Major League Baseball or its clubs.