Brotherly love: Juan Gomes following in Yan's footsteps
Indians catcher entering third year with club as brother tries to find place in organization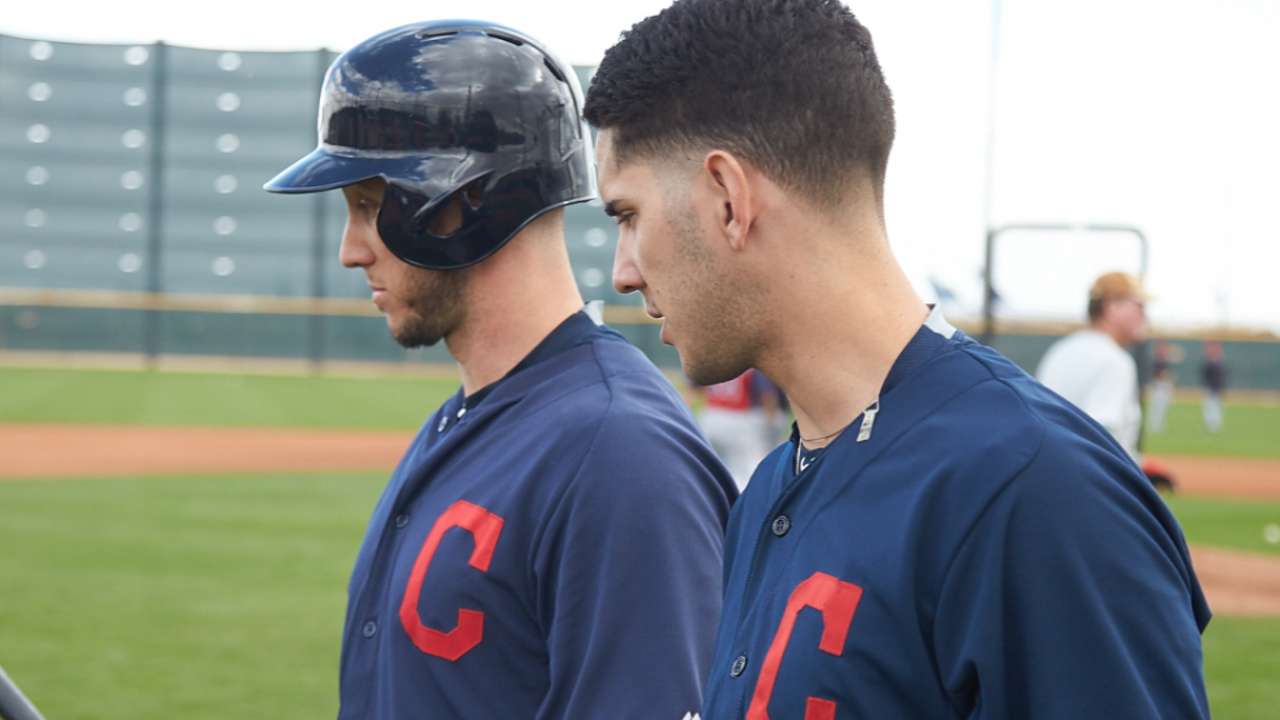 GOODYEAR, Ariz. -- It is an annual rite of spring. Early in camp, a select group Minor Leaguers are asked to don double ear-flap helmets, head over to the Major League workout and serve as baserunners for pick-off plays, run-downs and cut-off drills.
On the first day that Cleveland required some extra bodies this spring, Minor League catcher Juan Gomes was asked to help out. He later found himself sprinting home from third base, pushing toward the plate as his big brother, Yan, collected a throw and slid across the dirt for a tag -- a hard tag.
"If you tag him too hard, I'm going to tell your mom!" Mike Aviles shouted from the infield.
The Gomes brothers laughed.
This was no ordinary practice for them.
For Yan and Juan Gomes, this was the first time in their lives that they shared a baseball field as teammates. They are the only two Brazilian-born players to be drafted in Major League Baseball, and they are both now a part of Cleveland's organization. Yan has established himself as one of the top young catchers in the game. Juan now has a chance to chase down his own big league dreams.
"It's a blessing to be able to be on the same field on my brother," Juan said, "and be able to learn with him."
It meant a lot to the Gomes family that the Indians took a chance on Juan last June. Cleveland selected him with the 1,118th overall pick in the 37th round of the First-Year Player Draft, knowing the kind of drive and work ethic that runs in the Gomes blood. The road for a low-round pick is daunting, but at least the Indians have offered an on-ramp.
"It just means I get to watch over him now," Yan said. "With how hard he's worked and how much he has done, for him to get a shot, it's the shot that he wanted. Now, it's all up to him to do what he needs to do with it."
The 23-year-old Juan Gomes understands how hard he will have to work to earn a regular role in Cleveland's system. He also knows that first impressions can go a long way in establishing a relationship with a team and its decision-makers.
After spending the first part of his offseason at his home in Florida, Juan moved to Tennessee to train with his brother for the last month before Spring Training. Juan Gomes then reported to Minor League camp roughly a month early, has helped catch big league bullpens and is letting it be known that he is willing to try other positions, if that will help his case.
"I'm not taking a day for granted," Juan said, "especially now with my brother here -- just being able to follow his footsteps. People tell me he's a good clubhouse guy, he's a leader. It's good to know that. It's reassuring to know that, and to know that I'm in good hands. He likes the organization. I'm loving it. It's a blessing."
Juan took classes at Odessa Junior College in Texas last year and was trying to transfer to University of Texas of the Permian Basin, but was ineligible for the collegiate baseball season. He worked out for for a handful of teams, including the Indians, but expected to go undrafted. After talking to scouts and coaches, Juan figured he would need to sign as a Minor League free agent.
On June 7 last summer, Juan was at home with his parents, Decio and Claudia, watching the Indians' game against the Rangers. In the sixth inning, Yan drilled a 1-1 pitch from Texas' Nick Tepesch to center field, crushing a three-run home run. As Yan made his way around the bases, his little brother smiled and suddenly had a good feeling.
"I kind of sat back and just let it soak in with my family," Juan said. "I knew something good was about to happen."
Decio was sitting off to the side, browsing the internet and keeping an eye both on Cleveland's game and the results of Day 3 of the Draft. That's when he saw it. Juan's name. Decio jumped from his seat, looked at his wife and son and said, "Your name!"
"It was like a heart attack," Juan said with a laugh. "That's when, just tears. That's all I can say. Just tears and happiness through me and my mom and my dad together there. It was good."
Back in Texas, Yan retreated to the visitors' clubhouse after the Tribe's 8-3 victory over the Rangers, sat at his locker and retrieved his cell phone. He saw a stream of alerts and messages waiting for him. Gomes then headed out into the ballpark's tunnel, where he placed an unforgettable call to his little brother.
"It was a pretty exciting moment," Yan said with a smile. "The way he tells the story, he's very emotional and very passionate."
The Indians know what they have in Yan Gomes. He is entering only his third season with Cleveland, and he just finished his first full year as the team's starting catcher. Gomes boasts one of the best arms in the game, rates highly with game-calling and pitch-framing, and picked up a Silver Slugger for his offense last season. Last spring, he signed a six-year, $23-million extension.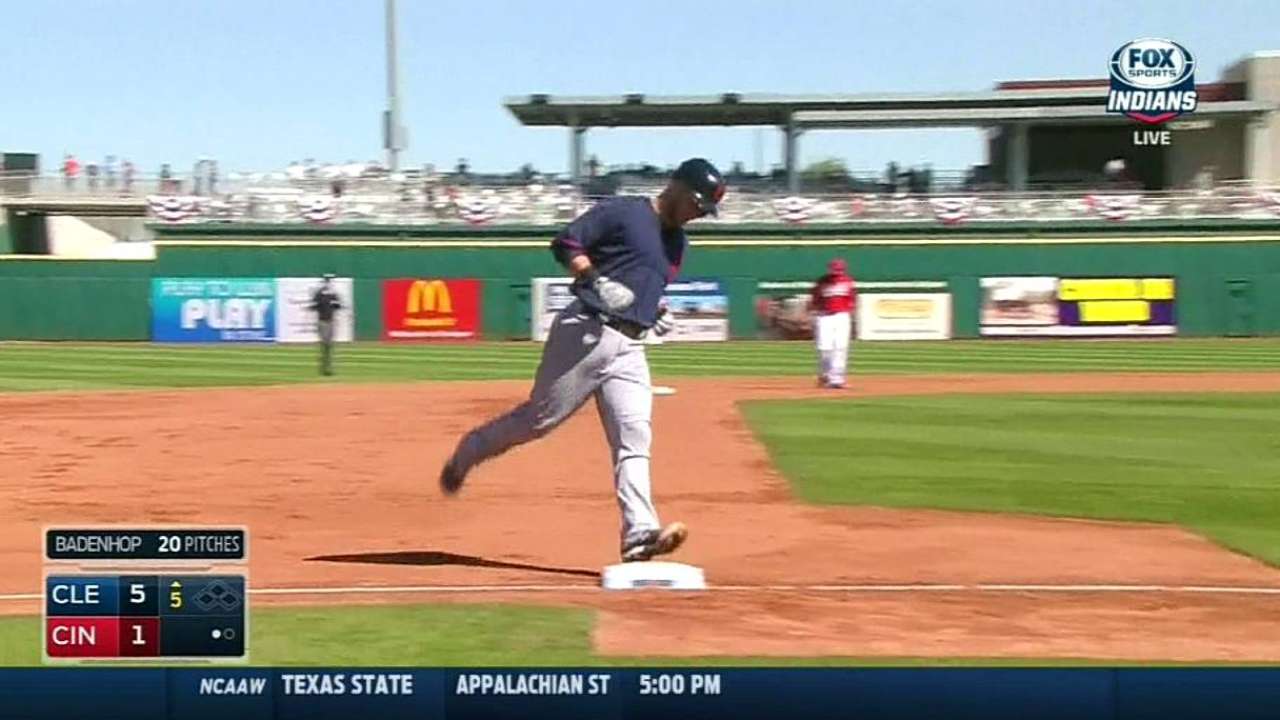 Gomes, 27, became the first Brazilian-born player to to be drafted and then to reach the Major Leagues, and he was named MLB's ambassador to Brazil after the 2013 season. Gomes takes a lot of pride in being a leader and example for kids back in Brazil, but the catcher has also emerged as a leader for Cleveland's pitching staff and in the locker room.
The Indians see some of those character traits in Juan, too.
"I would love to meet their parents," said Carter Hawkins, the Indians' director of player development. "Both kids that they produced are unbelievably motivated and unbelievably focused on goals. That obviously has allowed them to achieve a lot in a short time. Juan was a guy that our scouts always had an eye on."
Being four years apart, the Gomes brothers never really had the chance to play baseball together or watch each other's games. When Yan graduated from Miami Southridge High School, Juan was just starting there. Through his college years and then into the Minor Leagues, Yan did not have the chance to keep a close eye on Juan's games.
There were plenty of phone calls and conversations, but this spring brought them together on a baseball field.
"It's kind of cool just seeing him out there. He's always asking questions," said Yan, who then let out a slight laugh. "It's nice, but sometimes it can get annoying."
Little brothers can be that way, but it's nothing a hard tag on the practice field can't fix.
Jordan Bastian is a reporter for MLB.com. Read his blog, Major League Bastian, and follow him on Twitter @MLBastian. This story was not subject to the approval of Major League Baseball or its clubs.