Hamburger making most of opportunity with Twins
Righty in running to earn spot in Minnesota's bullpen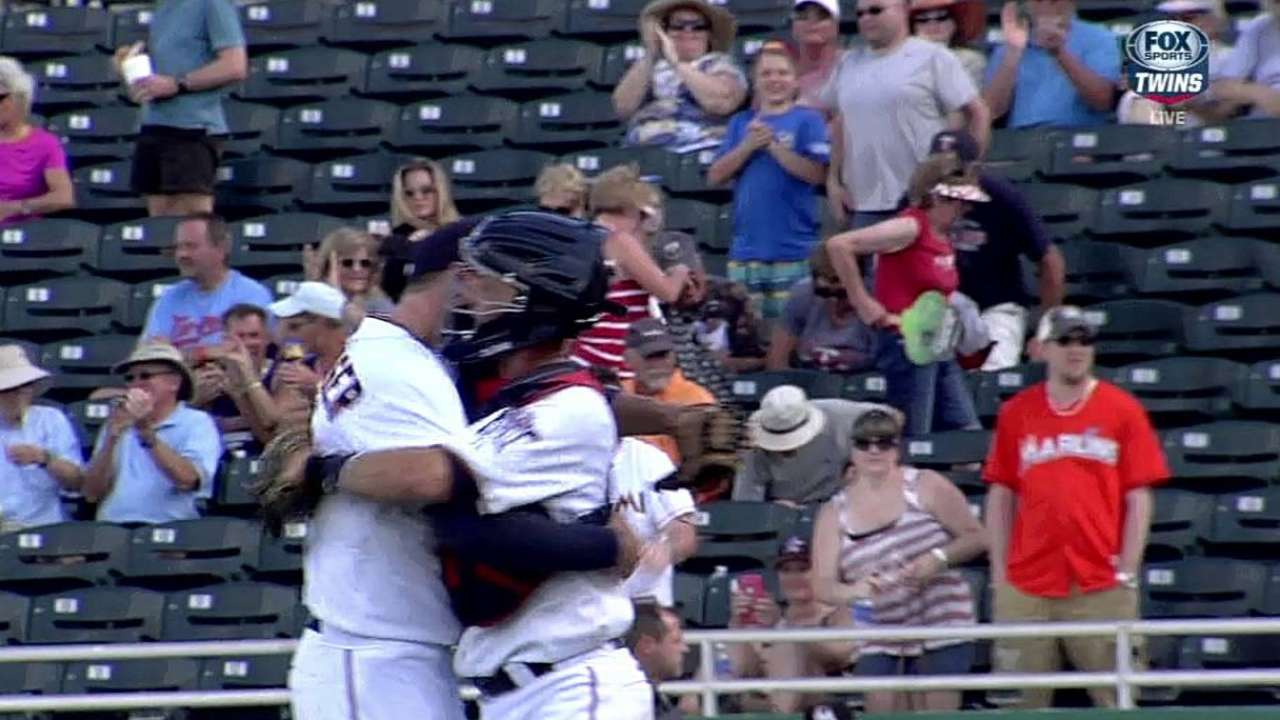 BRADENTON, Fla. -- Mark Hamburger is no stranger to the Twins organization.
Hamburger originally signed with the club after an open tryout in 2007, but he was traded to the Rangers the next year for current Twins bullpen coach Eddie Guardado, who likes to joke that he asked management why he was traded for a hamburger.
But jokes aside, Hamburger made his Major League debut three years later with the Rangers in 2011, posting a 4.50 ERA in eight innings as a September callup to become just the third player signed by the Twins in an open tryout to reach the Majors.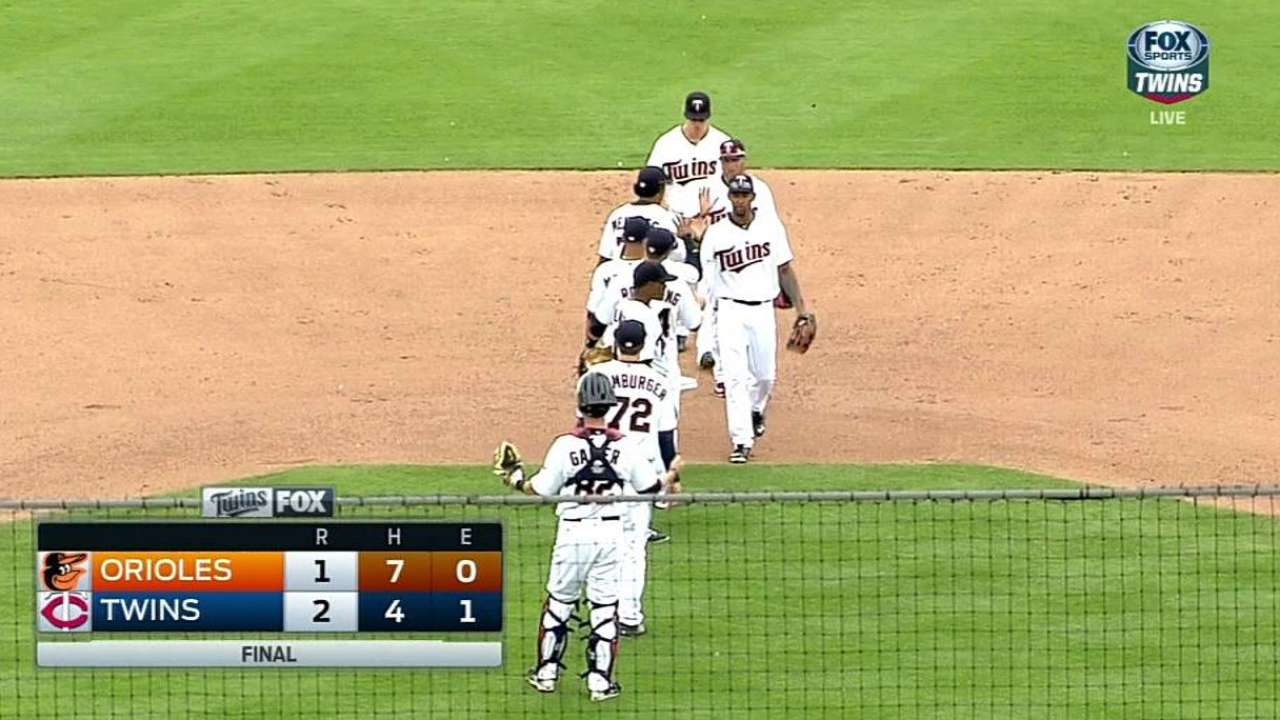 Unfortunately for Hamburger, however, he hasn't pitched in the big leagues since and has seen his fair share of setbacks, including a 50-game suspension for the use of marijuana in 2013. But the Twins still liked Hamburger and advised him to pitch for the independent St. Paul Saints in '13 before seeing enough of him to sign him to a Minor League deal last season.
Hamburger sat out the 50 games and went on to pitch well with Double-A New Britain and Triple-A Rochester with a combined 3.69 ERA and 54 strikeouts in 70 2/3 innings. It earned him his first invite to Major League camp with the Twins, and he's been making the most of it this spring.
The 28-year-old right-hander has thrown five scoreless innings, allowing just one hit, in his three appearances. Despite the fact he's not on the 40-man roster, Twins manager Paul Molitor said Hamburger has put himself squarely into the mix for a spot in the bullpen.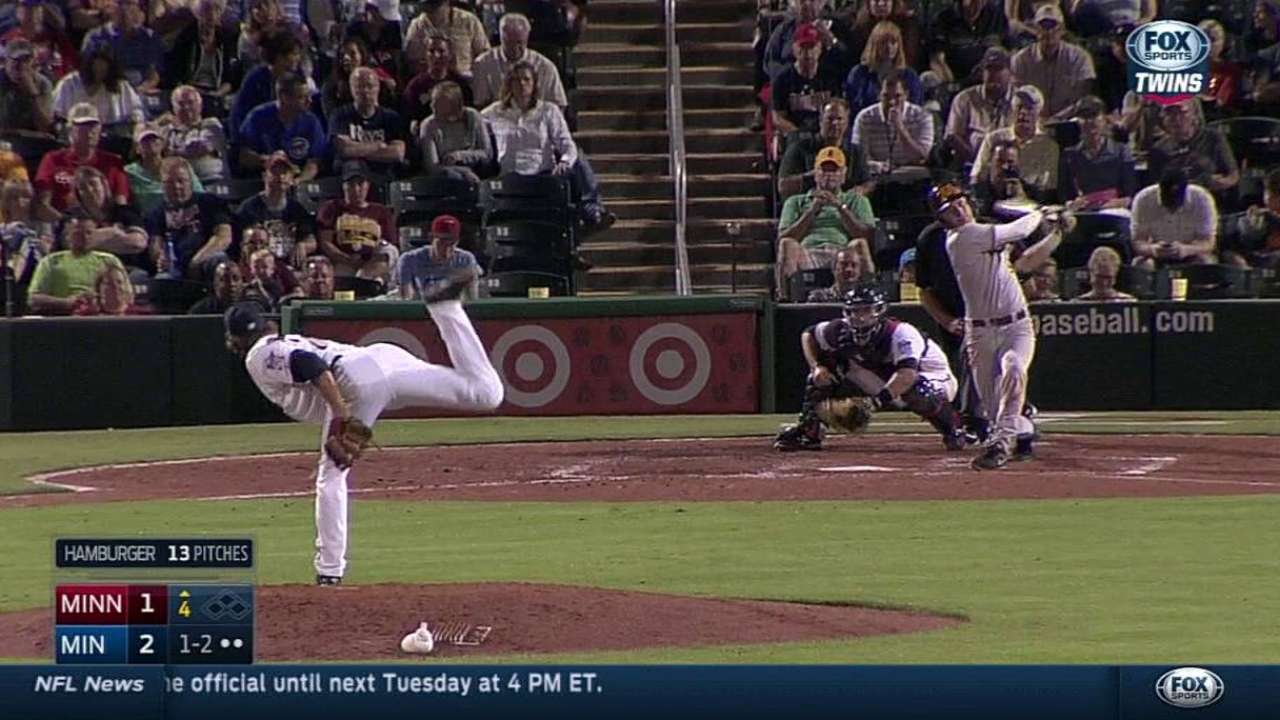 "I have to say he's in the race," Molitor said. "He's had three outings, and he's been effective. He's different. He has different release points and pitches. He's a confident young man to put himself in this position. We're somewhat open-minded to that competition, and I think it would be foolish not to give people looks throughout the spring."
His story also isn't lost on Twins general manager Terry Ryan, who said Hamburger is making the most of his opportunity.
"He's getting a second chance and maybe even a third," Ryan said. "He paid his penalty, which is OK. He's going to get another opportunity. He came in here ready to go, I can tell you that."
Rhett Bollinger is a reporter for MLB.com. Read his blog, Bollinger Beat, and follow him on Twitter @RhettBollinger. This story was not subject to the approval of Major League Baseball or its clubs.