Pedro: Rules good to help pace of play evolve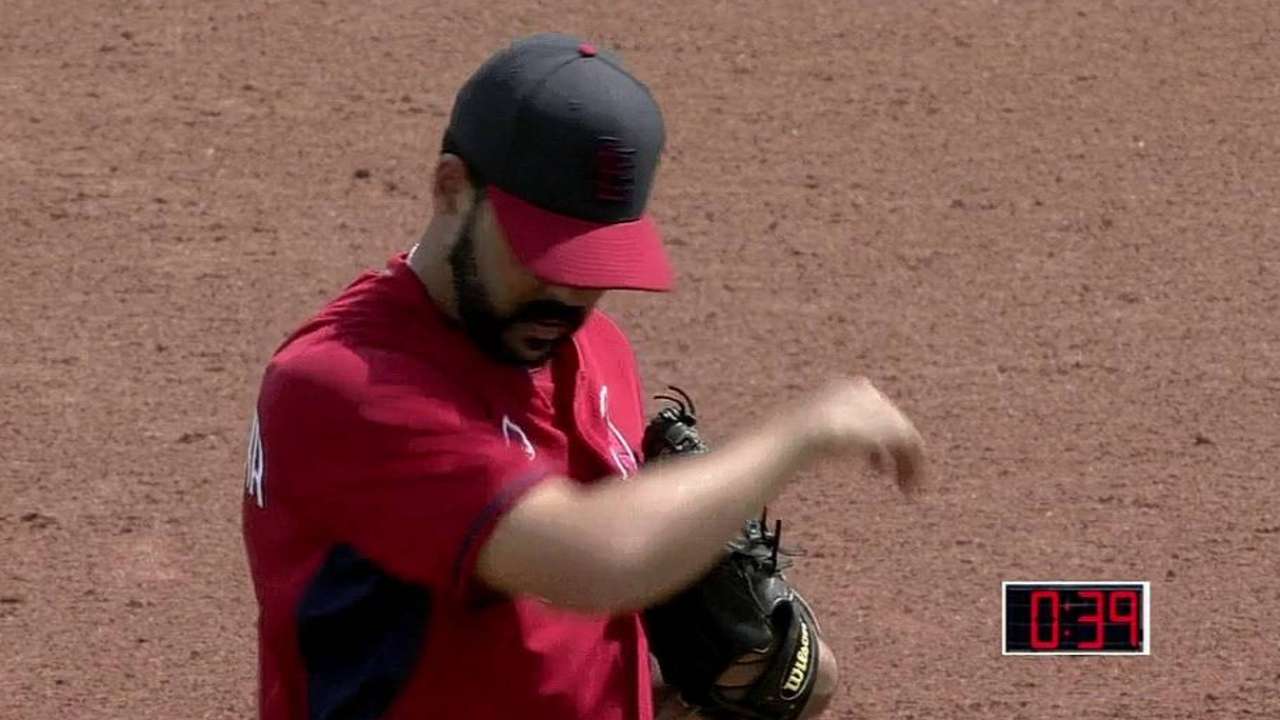 FORT MYERS, Fla. -- Pedro Martinez liked to work fast. Get the ball back from the catcher and throw it. It worked for him. Martinez won three Cy Young Awards and will be inducted into the National Baseball Hall of Fame and Museum in Cooperstown in July.
So it's not surprising that Martinez is generally in favor of the efforts Major League Baseball is making to improve the pace of play this season, initiatives that include tightening the time between innings and setting rules on when a hitter may step out of the batter's box.
Martinez works as a special advisor to Red Sox general manager Ben Cherington. While at Jet Blue Park on Thursday to work with some of the team's pitchers, he expanded on his thoughts on the subject.
In a perfect world, Martinez said, players would be taught at a young age not to dawdle.
"I think it should be taught to the player way before they reach the big leagues," Martinez said. "I think it should be taught at the first level. 'You have to keep this pace, pretty much in this time range.' Then everything will change. The game will probably evolve itself and everybody will get used to reacting quicker. Because this is a quick game. Believe it or not. We just make it look like it's a lot slower.
"I think [MLB's efforts] has a little bit of an upside to it. ... I think efficiency, as far as using your time during the game, is so important. For pitchers, it's actually deceiving. You don't allow the hitter to wander so much. You don't allow them to think so much about what they're going to do. And that's why you're probably going to see a lot of hitters feeling awkward about rushing what they're doing."
Intuitively, it would seem that the emphasis of speeding things up should help the pitchers. After all, one of the widely held truisms of the game is that pitchers who work fast help themselves. They get in a better rhythm. The defense stays on its toes. Even without a pitch clock, which will be used at Double-A and Triple-A this season, doesn't this all favor pitchers by encouraging them to do what they should be doing anyway?
"Not really, because sometimes you have a hard time warming up," Martinez said. "That's something the hitters probably are not aware of, that getting [warmed up] can take a little while, especially for older pitchers that really need to crank that arm up. So it can be a disadvantage."
Still, Martinez agreed that the two minutes and 25 seconds that is set aside for commercials during local telecasts should be sufficient for anybody to be ready to start the next inning.
"To me, that's more than enough," Martinez said. "Way more than enough."
Martinez laughed and said that he was not fond of the impact that coverage can have on the length of games. But he's also a realist.
"I wanted to get the game going right away. But baseball is a business also," Martinez said. "Commercials are a huge part of the business. You have to deal with TV. The exposure baseball gets through TV actually delays the game a little bit. It's not actually how we play, it's the commercials and the activities that they do in the middle of the game that sometimes cause a delay."
Again, Martinez is optimistic that all involved will make adjustments as time goes on.
"I would like organizations to try to reach the players, hitters and pitchers, how to adjust to a quicker game," Martinez said. "I think it's a lot more fun for the families, it's easier to get home [earlier]. Kids have to go to school the next day.
"It's important that we quicken the game. But I think it's something that has to evolve, something that we have to practice."
Which, when you get down to it, is exactly what players and teams are doing every day in Spring Training.
Paul Hagen is a reporter for MLB.com. This story was not subject to the approval of Major League Baseball or its clubs.