Raburn's setback minor; Walters likely sidelined longer
Vet feeling better after planned knee injection; utility man dealing with oblique issue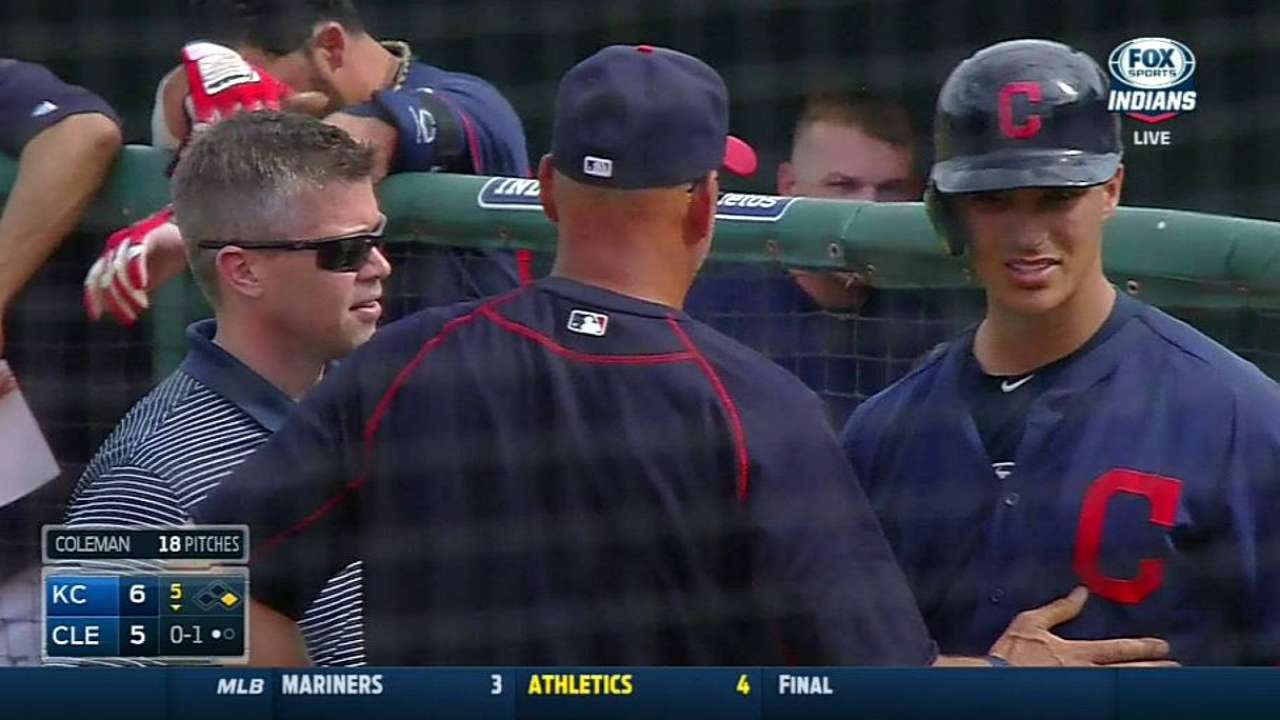 GOODYEAR, Ariz. -- Ryan Raburn was in a good mood on Friday morning, and he does not believe his latest left knee setback is serious enough to keep him off the field for too long. Zach Walters declined comment about his right side injury, which could shelve him for a considerable amount of time.
"He's pretty sore," Indians manager Terry Francona said of Walters. "We're going to have to get him checked and see where that goes."
Francona said the 25-year-old Walters initially indicated that his lower back was hurting on Thursday, when the utility man exited Cleveland's tilt against Kansas City after a painful swing in the fifth inning. On Friday, the Indians' medical staff determined that the source of the issue was Walters' right oblique, and follow-up tests will take place to gather more information.
As for the 33-year-old Raburn, Francona said the veteran received a lubricant injection and had his ailing left knee drained of fluid after also leaving Thursday's game early. Raburn, who had surgery on the knee in September, said he has fought mild soreness throughout spring, but things flared up while legging out a double in the first inning against the Royals.
"I came around first, and my spike just caught. When it did, my leg wanted to go out," Raburn said. "It just fired it up. It was barking, but it's good now. No problem."
Francona said the injection was already in the plans prior to Thursday's minor setback, and he noted that Raburn is scheduled to return to the field for Saturday's game against the Dodgers.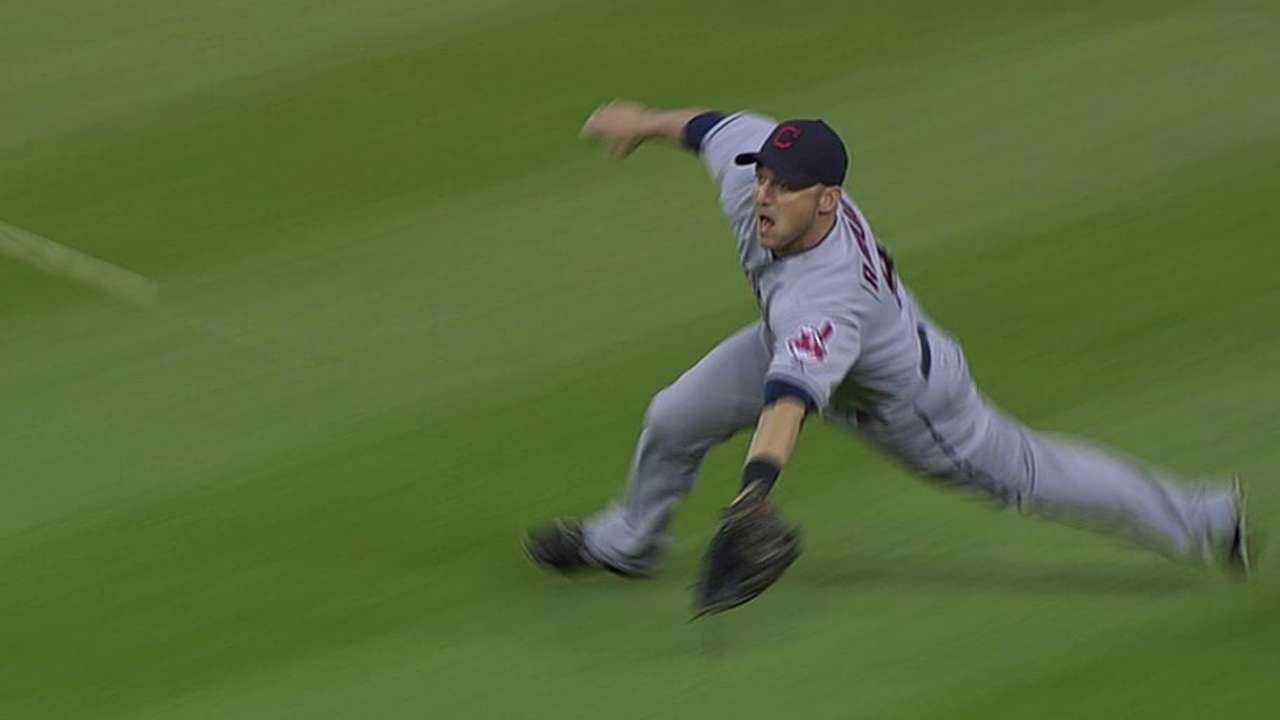 Here's the rest of the Friday morning roundup:
• Three of Cleveland's Top 30 Prospects (as ranked by MLB.com) were in Friday's split-squad road game lineup against the Cubs. That list included shortstop Francisco Lindor (No. 1), outfielder Clint Frazier (No. 2) and outfielder Tyler Naquin (No. 5). The game marks Frazier's first Major League contest.
"I'm sure if you're a baseball fan, you're going to want to see Frazier and Lindor, along with us," said Francona. "So, it'll be a fun day."
• For good reason, the highly-touted Lindor tends to draw the spotlight among Cleveland's Minor Leaguers. As a result, Francona believes 23-year-old shortstop Erik Gonzalez (No. 11 in MLB.com's rankings for Indians prospects) has flown under the radar.
"It's going to be really interesting to see where [Gonzalez's] career goes," said Francona. "Man, he can do some things that are pretty interesting."
• Right-hander Josh Tomlin was recently slowed by soreness in his throwing shoulder, but he threw off a mound with no issues on Thursday, and he is slated to log two innings against the Dodgers on Saturday.
"The shoulder is kind of a scary thing," Tomlin said. "I had the docs look at it and it was just inflammation in there. A few days off from throwing and it went down, and now I don't feel it any more."
• Throughout this spring, a flu bug has made its way around Cleveland's clubhouse. The latest victim is outfielder Brandon Moss, who was held out of the lineup on Friday. Francona said the hope is that Moss feels improved enough on Saturday to resume playing in games.
• Third-base prospect Giovanny Urshela (No. 4 on MLB.com's Top 30 Indians Prospects list) was scratched from Thursday's lineup with back stiffness, and he was again held out of games on Friday. Francona said the team plans on giving Urshela a few days to let the issue calm down.
Jordan Bastian is a reporter for MLB.com. Read his blog, Major League Bastian, and follow him on Twitter @MLBastian. This story was not subject to the approval of Major League Baseball or its clubs.