Taillon back to throwing live batting practice
After Tommy John surgery last April, prospect feels strong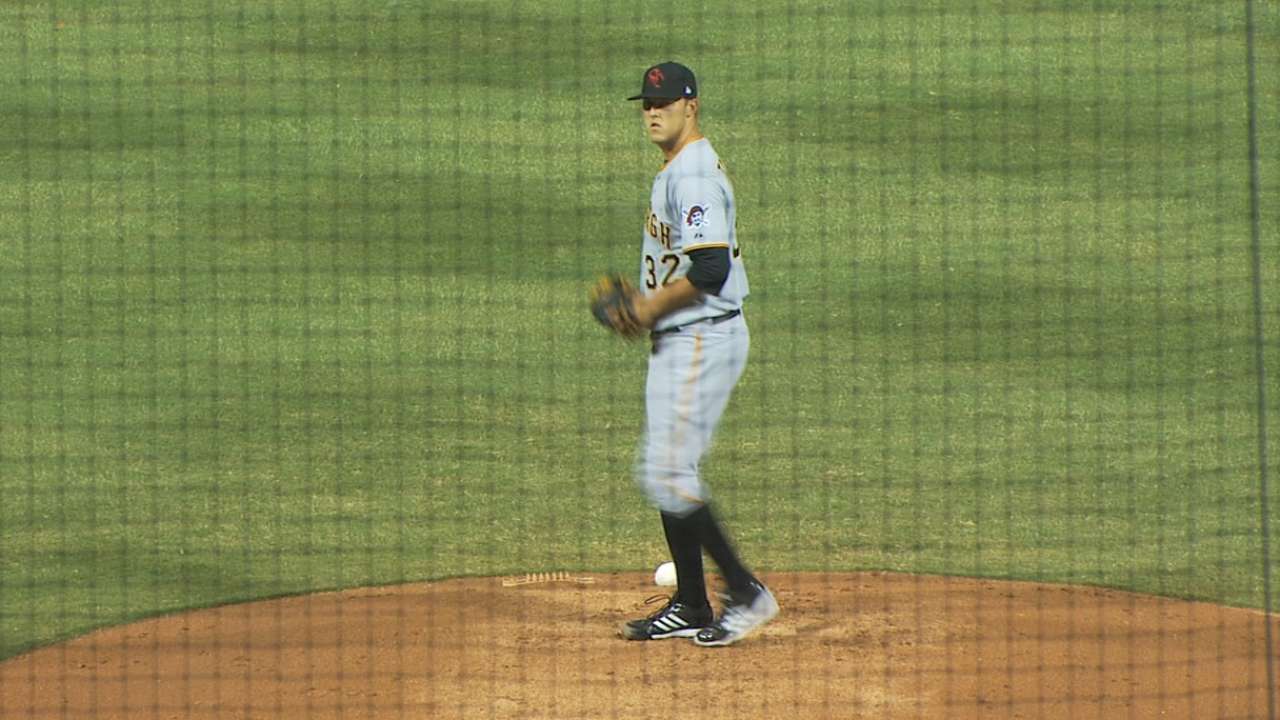 BRADENTON, Fla. -- For the first time in nearly a year, Pirates pitching prospect Jameson Taillon stood on the mound in the middle of a baseball diamond, not in a bullpen, and saw hitters staring back at him.
Taillon threw live batting practice Friday morning at Pirate City, his first time facing hitters since undergoing Tommy John surgery last April. He tossed about 25 pitches in a "pregame" bullpen session, then headed to the mound and threw 20 pitches, all fastballs and changeups, to Corey Hart and a pair of Minor Leaguers.
"It was coming out good," Taillon said afterward. "It felt clean. It felt strong."
It wasn't exactly a game-like situation for Taillon, the Pirates' No. 2 prospect. He had a screen set up in front of him to protect him, and the three batters rotated in and out after seeing a few pitches each.
"At the same time, it was really exciting for me because it was completely different for me to be out on the field with no bullpen around me," Taillon said. "That was good. ... They weren't swinging out of their shoes or anything. But still, having a hitter in there, that's a different sight for you."
Taillon will likely repeat this routine for a few more weeks, throwing a bullpen session on Tuesday and live BP on Friday. After that will come simulated games, when Taillon can face batters without a screen in front of him and without telling them which pitch is coming next.
The 23-year-old right-hander has been throwing all his pitches this spring. But he didn't use his curveball, his most effective strikeout pitch, when facing hitters Friday morning.
"It's feeling really good," said Taillon, the No. 32 prospect in baseball according to MLBPipeline.com. "I think the reasoning behind not throwing it in BP is smart -- just ease your way into it, don't unleash everything. It's a strikeout pitch. You don't want to go out there and try to strike guys out the first time. That pitch is coming along really well. Good break, feels good, it's not making me sore or anything, so I'm encouraged by that."
When camp breaks, Taillon will head to extended spring training, where he expects to make his first real start. He said Friday he hasn't had any discussions yet about which Minor League affiliate he will report to after that.
Taillon finished the 2013 season with Triple-A Indianapolis, where he went 1-3 with a 3.89 ERA in six starts, but it's more likely that he would begin the year at a lower level, perhaps with Class A Advanced Bradenton in the Florida State League.
Considering the last time he faced hitters was in a Minor League Spring Training game almost a year ago, the Pirates might not want to throw Taillon into the fire at the highest Minor League level, much less one playing in front of bigger crowds in a colder climate.
But that decision can wait. For now, Taillon is simply pleased with the progress he's made.
"Another increase, another step," he said. "I'm excited to see how I respond and how the next one goes."
Adam Berry is a reporter for MLB.com. Follow him on Twitter at @adamdberry. This story was not subject to the approval of Major League Baseball or its clubs.