Willis ends comeback, intends to retire
Lefty earned NL Rookie of the Year Award in 2003, won league-high 22 games in '05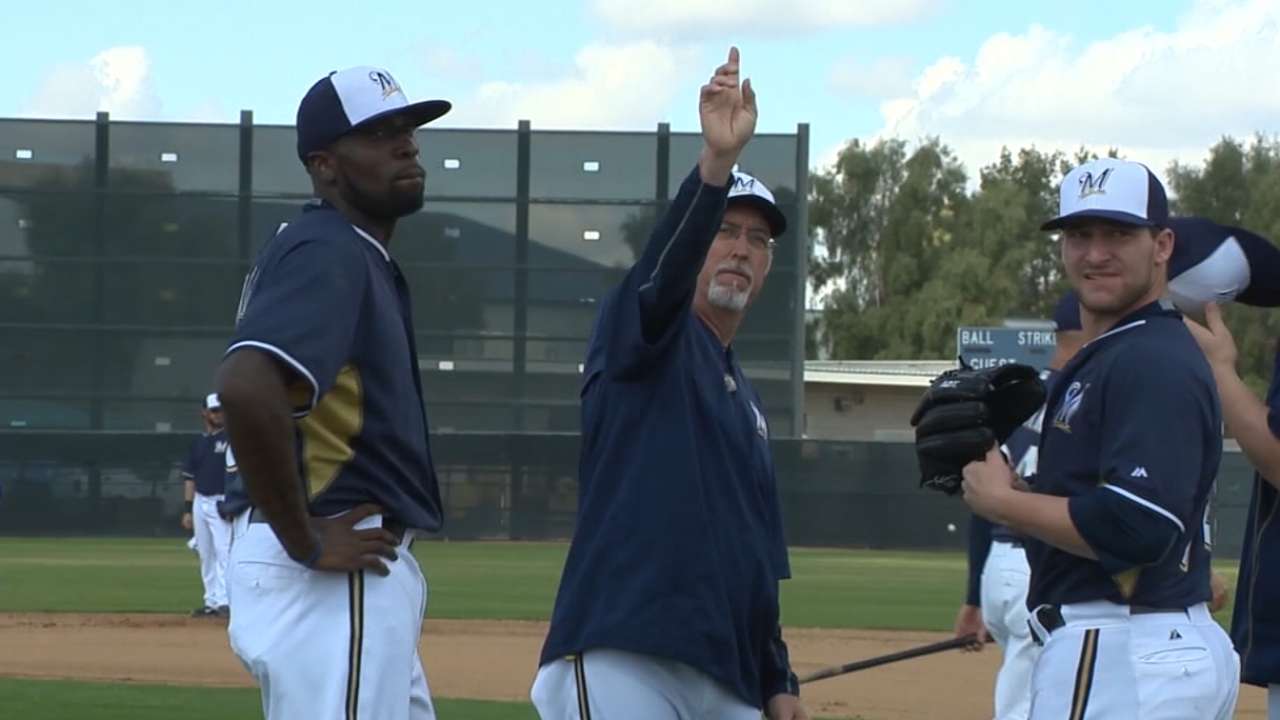 PHOENIX -- A dozen years after he bounced onto the baseball scene as a 21-year-old with seemingly endless energy, Dontrelle Willis' body is telling him to call it a career.
Willis, who had hoped for one last comeback bid with the Brewers, has informed the team he intends to retire. After a series of encouraging bullpen sessions early in Spring Training, he developed a stiff neck that prevented him from pitching in a game. Willis spent the past few days discussing his options with family and reached a decision to hang up his spikes at 33.
"He just said the physical part of it, coming in and trying to get out there on the field, has worn on him," Brewers manager Ron Roenicke said. "He may slide in [Saturday] morning to say bye to the guys, but he's been thinking about this for a few days and struggling with what he wants to do. He still wants to compete, but he knows physically that he's having a tough time getting out there."
Willis was the 2003 National League Rookie of the Year Award winner, a two-time NL All-Star and the runner-up to Chris Carpenter for the NL Cy Young Award in 2005, when Willis won 22 games and led the Major Leagues with seven complete games and five shutouts with the Marlins. After two more solid seasons in South Florida, he was traded to the Tigers along with Miguel Cabrera in a blockbuster trade, and while Cabrera's career took off, Willis' faded because of injuries.
"I know he's given it everything he has to try to come back," Marlins manager Mike Redmond, who caught Willis in his playing days, said. "My memories of the years with Dontrelle are nothing but positive. He was fun to catch. He brought an energy like I don't think anybody in Miami had seen before. He energized our ball club in 2003 when we needed it and was a big part of our success in winning the World Series, that's for sure. He's had a heck of a career.
"At the end of the day he can rest knowing that he totally threw it all out on the field and gave it everything he has, and that's a testament to Dontrelle and the kind of guy and person he is. ... It was fun (catching him). You knew every time he went out there you had a chance to win. And he could hit, and we all remember the way he ran the bases."
Willis hadn't made more than 15 appearances in a season since 2007, and he hasn't appeared in the Majors since 2011, when Willis had a stint with the Reds. After an initial retirement in '12, Willis tried comebacks with the Cubs and Giants, but he was thwarted by shoulder and elbow trouble.
When Willis signed a Minor League contract with the Brewers, he characterized it as one last shot.
"I'm not scared of the next life," Willis said last month. "I'm not scared if this doesn't work out."
Even though Willis never pitched, he impacted Brewers camp, Roenicke said.
"What's tough is he's at an age where he's not really old enough to retire, but the physical part of it, he has been battling that for I don't know how many years now," Roenicke said. "It wears on you, mentally.
"[Pitching coach Rick Kranitz] told me coming in here he was going to be a good guy in camp with his personality, the way he pushes guys and works hard. So for us, I'm glad he came in. Whether he pitched for us or not, I'm glad he came in."
Adam McCalvy is a reporter for MLB.com. Read his blog, Brew Beat, and follow him on Twitter at @AdamMcCalvy. This story was not subject to the approval of Major League Baseball or its clubs.