Rosario, Polanco look strong early in camp
Both prospects have shown improvement, impressed manager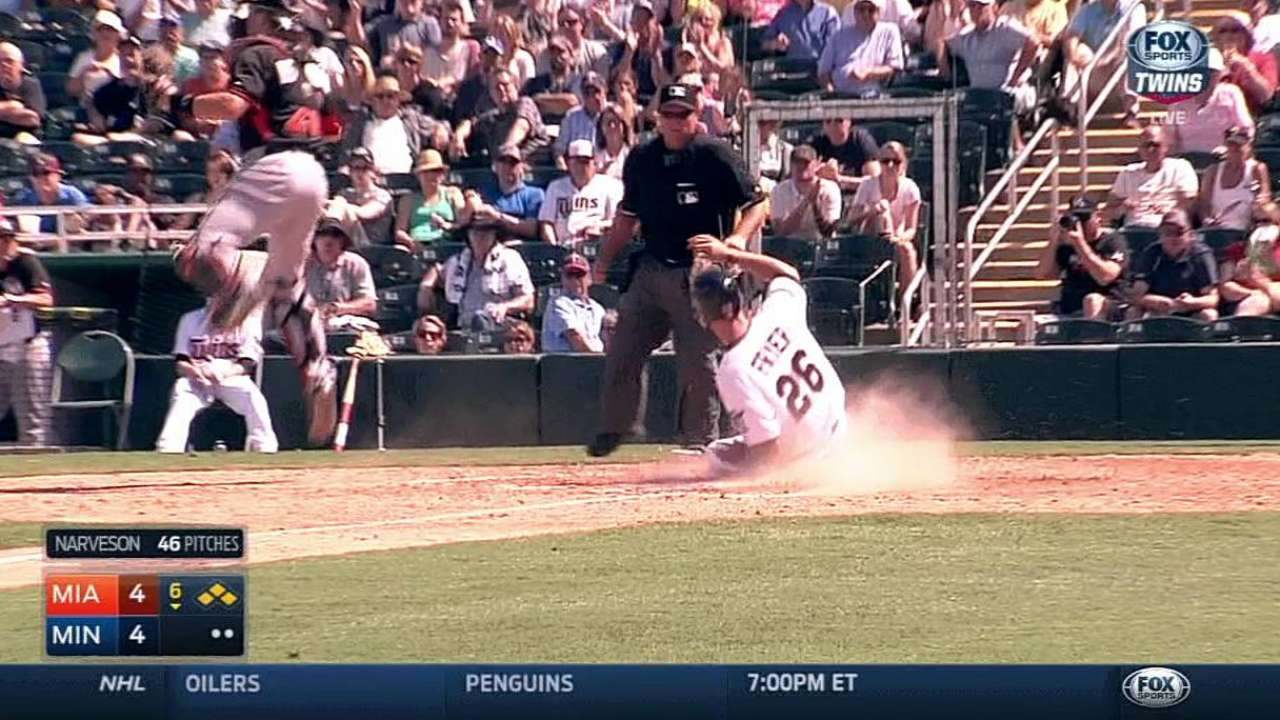 BRADENTON, Fla. -- A pair of highly regarded prospects have caught the eye of Twins manager Paul Molitor, and this time it's not Byron Buxton and Miguel Sano.
Outfielder Eddie Rosario and middle infielder Jorge Polanco have both impressed early in camp, as they're both off to hot starts offensively, while Molitor also believes Polanco's defense has improved at shortstop.
Rosario, who was ranked as the No. 60 overall prospect by MLB.com before the 2014 season, fell out of the Top 100 this year after being suspended 50 games last season for a drug of abuse and struggling at Double-A New Britain. But Rosario, 23, bounced back with a strong showing in the Arizona Fall League, finishing second in the league with a .330 average and 10 stolen bases in 24 games.
He's carried that over into Spring Training, and his work ethic, an issue for him in the Minors, has impressed Molitor.
"We've always said, this guy's going to hit wherever he's at, but I like how he's gone about his work," Molitor said. "I've been around enough to know that wasn't one of his strong suits coming through the organization. The ability to hit, a lot of people are confident that's going to happen eventually. He stays in there against lefties really well."
Polanco, meanwhile, has fared well offensively in Grapefruit League play, and he also homered against the University of Minnesota and in a "B" game against the Pirates. But more importantly, he's showed the skills necessary to stick at shortstop, which was something Molitor admitted he was skeptical about while watching him in his previous role as a Minor League instructor.
"He's been impressive this spring," Molitor said. "He's gotten bigger and stronger. I didn't see him last other than his short stint in the Majors, but as far as his defense, I had my druthers whether he could play shortstop with the pace of the game up here. But it looks like it's improved to the point where you could consider him for either position up here."
Polanco, 21, made his Major League debut last year when he was called up straight from Class A Advanced Fort Myers and played five games, going 2-for-6 with a double and a triple. Polanco, who finished the year at Double-A, played mostly as a shortstop last year, starting 119 games there and 10 at second. He'll continue to see action at both spots this season.
"He's made progress and strides," Twins general manager Terry Ryan said. "He's got enough arm, he's got enough athleticism and his feet are pretty good. But his bat is his best skill, I'll tell you that. But we're going to continue to experiment with him at shortstop."
Rhett Bollinger is a reporter for MLB.com. Read his blog, Bollinger Beat, and follow him on Twitter @RhettBollinger. This story was not subject to the approval of Major League Baseball or its clubs.