MLB.com Columnist
Jim Callis
Breaking down the Giants' 2015 Top 30 Prospects
Most of organization's talent in form of relief, but three already champions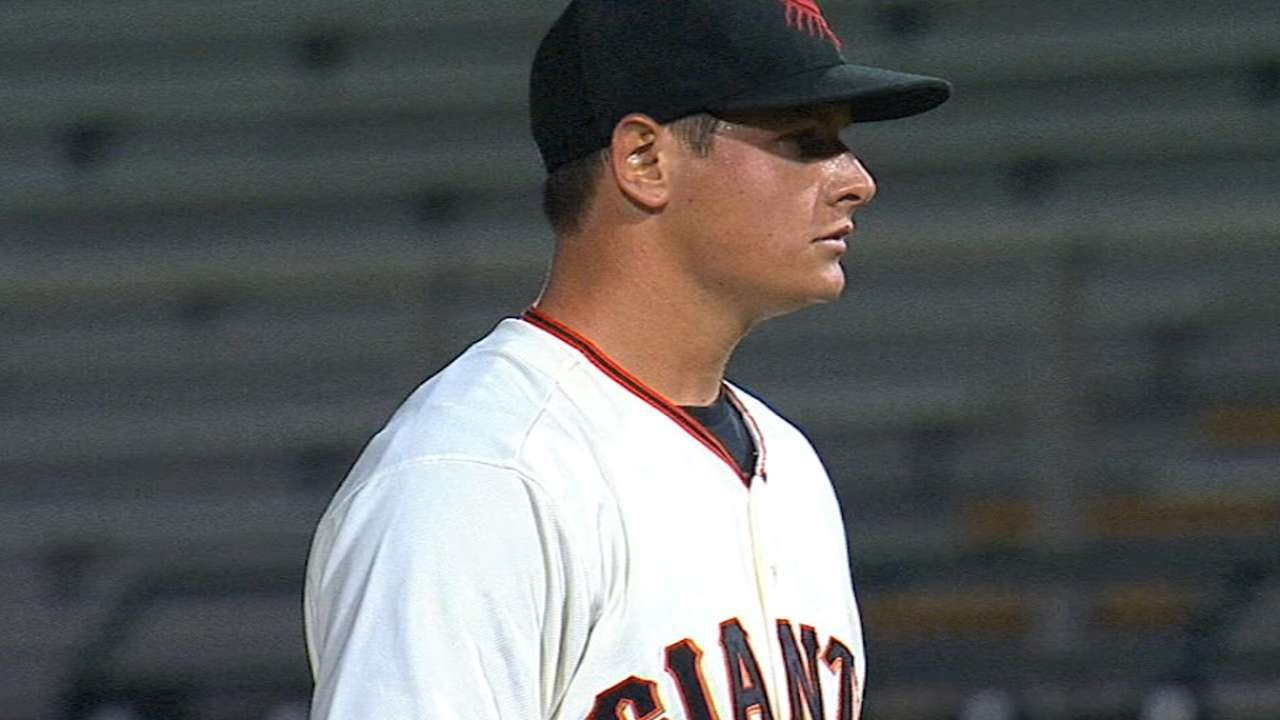 The Giants haven't received acclaim as one of baseball's better farm systems since the end of last decade, when Buster Posey and Madison Bumgarner were charging up the ladder. That hasn't stopped them from winning three of the last five World Series, and they've had the prospect ammunition to plug holes with trades when needed.
Right-hander Kyle Crick (No. 80) is the only Giants prospect on MLBPipeline.com's Top 100 Prospect list, though the system can make a claim few other can with three prospects who already have World Series rings. Catcher Andrew Susac, shortstop Matt Duffy and right-hander Hunter Strickland never received much hype, but they helped the big league club during last October's title run.
San Francisco may not get much more homegrown help beyond some relievers in the next couple of seasons. The organization's knack for developing pitchers is reflected in the fact that 12 of its 16 best prospects do their work on the mound. Crick, Keury Mella and Tyler Beede all have the ceilings of front-line starters, while Steven Okert is one of the best lefty relievers in the Minors.
Giants' 2015 Top 30 Prospects list
Biggest jump: Mella, RHP (2014: 19 | 2015: 3)
Biggest fall: Derek Law, RHP (2014: 10 | 2015: 23)
Best tools
Players are graded on a 20-80 scouting scale for future tools -- 20-30 is well below average, 40 is below average, 50 is average, 60 is above average and 70-80 is well above average.
Hit: Christian Arroyo (55)
Power: Adam Duvall (60)
Run: Gary Brown (70)
Arm: Dylan Davis (70)
Defense: Gary Brown (55)
Fastball: Ray Black (80)
Curveball: Derek Law (60)
Slider: Okert (60)
Changeup: Ty Blach (60)
Control: Strickland (60)
How they were built
Draft: 22
International: 7
Waivers: 1
Breakdown by ETA
2015: 7
2016: 7
2017: 12
2018: 2
2019: 2
Breakdown by position
C: 2
1B: 2
2B: 0
3B: 1
SS: 3
OF: 6
RHP: 12
LHP: 4
Jim Callis is a reporter for MLB.com and writes a blog, Callis' Corner. Follow @jimcallisMLB on Twitter. This story was not subject to the approval of Major League Baseball or its clubs.