McGwire among eight eligible for Cardinals Hall of Fame
First in series profiling modern Cards greats up for honor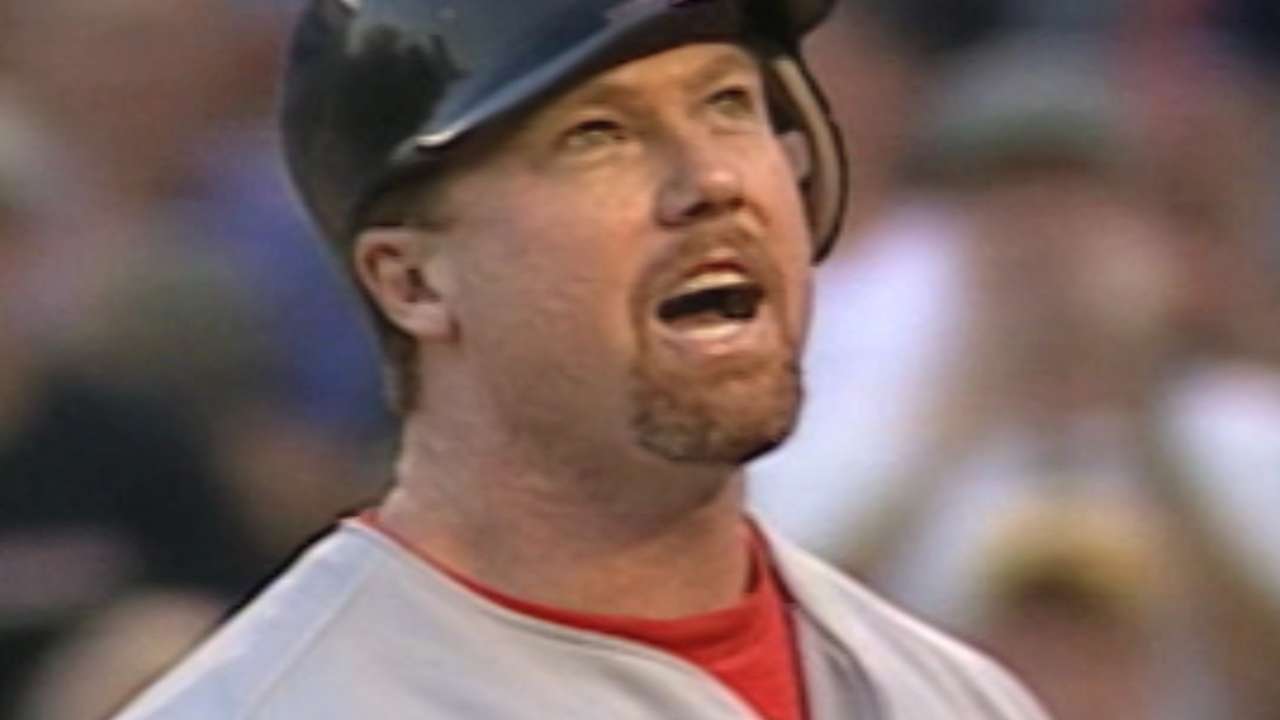 This is the first in a series of stories profiling the eight modern candidates on the Cardinals' 2015 Hall of Fame ballot.
In July 1997, with his contract with Oakland set to expire at the end of the season after 11 years donning hunter green and California gold, it was difficult for Mark McGwire to imagine a future in Cardinal red. A Southern California native, he wasn't shy about his desire to someday play at home.
"Right after the All-Star break in '97, the Oakland A's were playing the Angels, and all the Angels players were telling me, 'Hey, be ready, pack up, a trade is going to happen and you're going to go to Anaheim,'" McGwire said. "St. Louis, it wasn't even on the radar."
But on July 31, the day of the Trade Deadline, a slumping Cardinals team shipped a trio of pitchers -- T.J. Mathews, Eric Ludwick and Blake Stein -- to Oakland for the 33-year-old slugger. Then, McGwire turned heads by re-signing with the club for four more seasons. Despite his four-and-a-half-season tenure in St. Louis, the former first baseman left his mark on the franchise with a record-breaking 1998 season and three All-Star campaigns. It was enough to earn him consideration for the Cardinals Hall of Fame gallery in 2014, and he returns to the ballot this spring.
From now until April 20, fans can vote at cardinals.com/HOF for up to two of the eight modern legends -- McGwire, Matt Morris, Keith Hernandez, Steve Carlton, Bob Forsch, Edgar Renteria, Ted Simmons and Joe Torre.
The top two vote-getters will be enshrined during an Aug. 15 ceremony at Ballpark Village, joining the 26 who already have plaques hanging in the hall.
In his second season in St. Louis, McGwire and Cubs right fielder Sammy Sosa captivated the nation in a race to break Roger Maris' single-season home run record, set at 61 in 1961.
"The whole season was, I would have to say, very stressful," said McGwire, now the Dodgers' hitting coach. "I don't think any athlete at that time had to deal with the individual achievements where the country follows on a daily basis. ... We've had some athletes that carried teams or had some team things, Michael Jordan, Magic Johnson, you could go down the line, but [not] as far as an individual accomplishment where the country really took over."
McGwire and Sosa, as well as Seattle's Ken Griffey Jr., hit homer after homer at a record pace. On Sept. 7, McGwire matched Maris' record 61 homers. The next day, hours before he would get his first crack at breaking the record, McGwire remembers it being very calm, a far cry from the media frenzy that followed him and Sosa the entire season. In the fourth inning, he lined the first pitch from Chicago's Steve Trachsel -- a sinker, as McGwire recalls it -- just beyond the left-field wall, becoming the new single-season home run king. And it was only fitting that No. 62 came at home against Sosa's Cubs.
"Sammy pushed me all year," said McGwire, who would finish the season with 70 homers. "At that time, in Sammy's career, people knew that he hit home runs, but he didn't start really hitting them until I think it was late May and June. And then he came on, and he came on strong."
The 12-time All-Star spent two more seasons in St. Louis, retiring as a Cardinal in 2001. His impressive 16-year resume earned him a place on the National Baseball Hall of Fame ballot in 2007, where he has remained for nine years, his Cooperstown candidacy divisive due to his 2010 admission of PED use.
McGwire returned to St. Louis in 2010, serving as the club's hitting coach for three seasons.
Chad Thornburg is a reporter for MLB.com. This story was not subject to the approval of Major League Baseball or its clubs.