Archer pitches well, but Rays offense held in check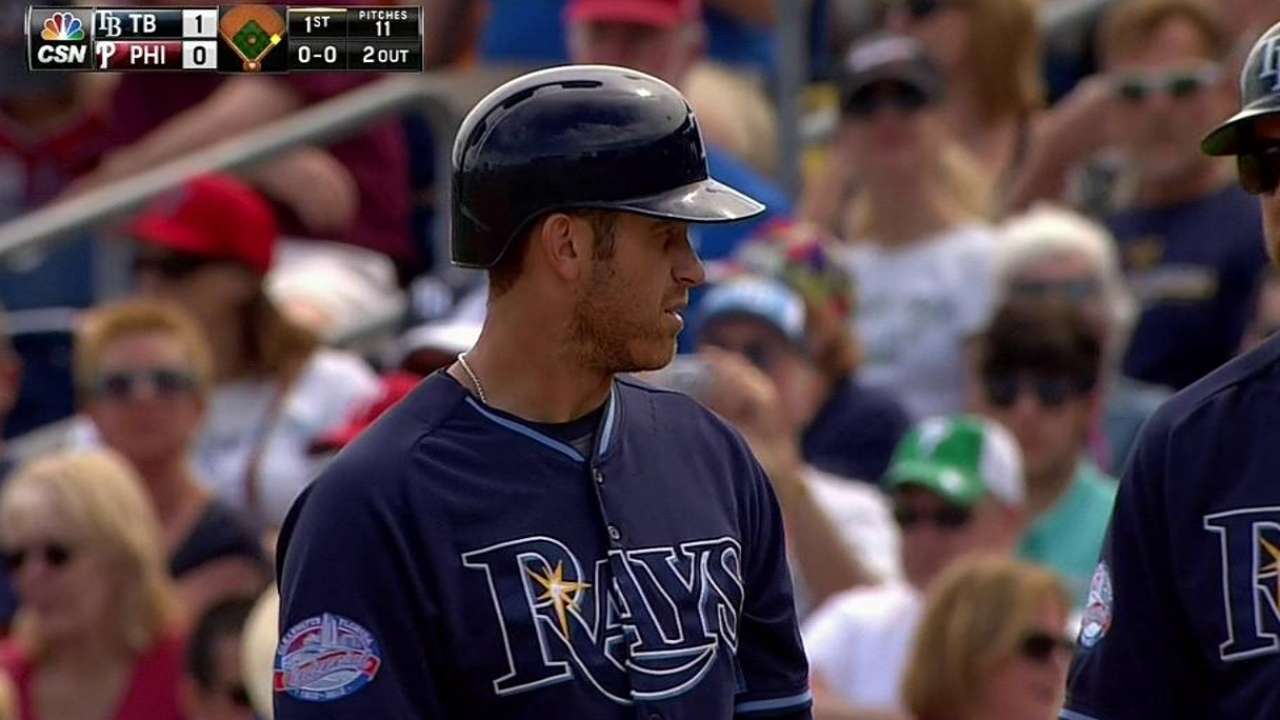 CLEARWATER, Fla. -- The Phillies know they are not going to hit for much power this season, so they need everything they can get from Ryan Howard.
Howard hit a two-run home run in the fourth inning against right-hander Chris Archer in Friday's 2-1 victory over the Rays at Bright House Field.
It was Howard's first homer of the spring.
"I'm just going to go out there and do what I can do," Howard said. "The approach is try to put a good swing on the ball. If I can get extra-base hits, home runs, whatever I can do to try to help get those guys in. We've been doing a great job of being able to go out and execute."
Howard hit a first-pitch changeup from Archer.
"He left a changeup up," Howard said. "I had a good pass at it. I feel like my first AB, felt good, felt like I was seeing the ball pretty well. He threw me a good changeup early on to strike me out, 3-2. But, the second AB, changeup up, put a good pass on it."
When asked about the pitch to Howard, Archer said, "When you don't execute something that's 88 mph and you have a 30-home run, 100-RBIs guy, if you don't execute, it's going to get banged. And we have a lot of those guys in our division. ... [It was a] 0-0 changeup, couldn't-put-it-on-a-tee-any-better home run."
Another key piece for the Phillies this season, Chase Utley, made his spring debut, batting third as the DH.
Utley struck out in the first inning before singling to right-center field to lead off the fourth inning. He was then pulled from the game for a pinch-runner, ending his day 1-for-2 at the plate.
Utley had not played in a game this spring because of a sprained right ankle, which he injured in January when he stepped on a baseball. Utley's ankle has made incremental progress over the past several weeks, and he has progressed enough to step into the batter's box and potentially run the bases.
The Rays scored their only run in the first inning when Evan Longoria singled to score Asdrubal Cabrera, who moved into scoring position on an error from Phillies second baseman Cesar Hernandez.
Up Next: Manager Kevin Cash said he will use something closely approximating his Opening Day lineup for the second straight game when Tampa Bay plays the Orioles on Saturday at Ed Smith Stadium. You can watch the game live on MLB.TV at 1:05 p.m ET. Right-hander Nathan Karns, who is competing for a rotation spot, will make his third Grapefruit League start of the spring. Also expected to pitch: Jose Dominguez, Jeff Beliveau, Steven Geltz, Jhan Marinez and Robert Zarate.
Todd Zolecki is a reporter for MLB.com. This story was not subject to the approval of Major League Baseball or its clubs.